The Biggest Changes 'Elvis' Makes to Colonel Tom Parker's True Story
If there's one thing viewers take away from Baz Luhrmann's new film Elvis it's that Presley's manager Colonel Tom Parker is the villain of the piece.
Elvis' (Austin Butler) long-time manager, portrayed by Tom Hanks, is depicted as a selfish, calculating man who tried to control the singer's every move, all in the name of making money that he could then gamble away.
Alanna Nash, the Colonel's biographer who wrote The Colonel: The Extraordinary Story of Colonel Tom Parker and Elvis Presley, spoke to Variety about how much of the film is true, and what is fiction.
The Biggest Changes 'Elvis' Makes to Colonel Tom Parker's True Story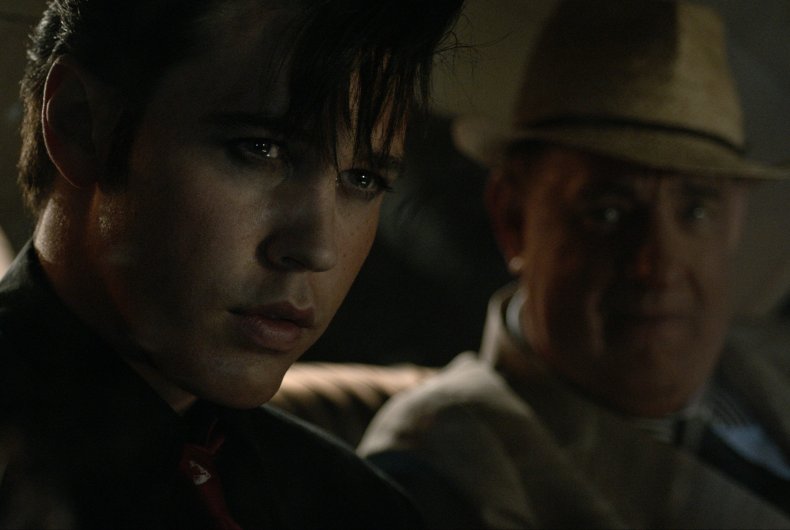 Nash said of Elvis' late manager: "The Colonel is a complicated character, and while he always took too much of Presley's money, he made some very sound decisions for him. Luhrmann hasn't really given him his due by a long shot."
Here are all the biggest changes to Parker's story made in the film.
1. Colonel Tom Parker Didn't Try to Alter Elvis' Image
Elvis depicts the singer in all his hip-swinging glory, but it suggests that the Colonel tried to make Elvis change his image by getting him to stop performing in such a provocative manner.
Nash told the publication that this was simply not true, and that the Colonel left all decisions with regards to performance to Elvis because he "brought folks into the big tent" and that's what he was focused on.
"Parker loved it that Elvis was like a male striptease artist ... like the bally girls on the carnivals. That sold tickets!" Nash explained.
The biographer added that Parker didn't tell Elvis not to move his hips at a concert, a rule the singer disobeys in the film and leads to a riot at the '50s concert.
2. Elvis' Manager Wasn't Threatened by the Government
In Elvis, Parker is shown meeting with a secret government organization who threatened to reveal the manager's past if he didn't stop Elvis from corrupting the youth with his performances.
Nash explained that this was entirely untrue, describing the moment as "total and unequivocal bunk" that had been created for the purpose of the film.
The writer added that when Parker enlisted in the U.S. Army he had declared that he was a Dutch citizen, making the idea he was threatened with his identity being revealed a complete fallacy.
3. Colonel Tom Parker Didn't Make Elvis Go To The Army to Give Him a More Wholesome Image
In the film, Luhrmann suggests Colonel Parker persuaded Elvis to go into the U.S. Army in order to give him a more wholesome image so he could move away from the sexually-charged performances he was known for.
According to Nash, making Elvis enter the army was Parker's idea but both he and the singer believed that rock 'n' roll wouldn't last so he needed to make a change so that his career could be extended.
Nash explained that while Elvis was in the army Parker made sure to organize several appearances in movies for him so that he could have more family appeal, which would help his career last, but that when the singer stepped out on stage he was free to perform how he wanted to.
4. He Didn't Try to Make Elvis' '68 Comeback Special Christmas Themed
In Elvis, the King of Rock and Roll's '68 Comeback Special is depicted as being planned as a Christmas special complete with decorations and a festive jumper.
Instead of going with the Colonel's plan Elvis goes behind his back to give the show a different tone, wearing leather and singing his hits the way he wants to all while Parker tries to get him to wear a Christmas jumper.
This idea, Nash explained, was "Luhrmann being the showman," and that while the special was intended to be a Christmas special because it came out in December there was no such plan to give it a festive theme.
5. No, Elvis Didn't Fire Colonel Tom Parker From the Stage at Las Vegas
In the later years of his life Elvis performed several Las Vegas residency shows after the Colonel made a deal to keep him there in order to pay for his large gambling debt.
During one of the performances depicted in the film Elvis turns on his manager and in a dramatic moment decides to fire him onstage, the manager then issues the Presley family a detailed invoice that they simply couldn't afford to pay back.
Nash explained that while Parker did indeed give the Presley family an invoice for all his work that they couldn't refund when he was fired, Elvis did not fire him from the stage.
The biographer said that the singer and manager had an incident backstage in Las Vegas in 1974 which saw both talk about firing before eventually quitting their roles. It was then the manager who issued the invoice and they chose instead to return to the way things were.
Nash added: "Elvis would never have been so crass as to have fired Colonel from the stage."
'Elvis' is out in theaters now.