Emma Thompson Photos Spark Debate About 'Fat Suits' in Movies
A photo of Emma Thompson in character as Agatha Trunchbull in the upcoming remake of Matilda has sparked an online debate about whether actors should continue to use so-called fat suits in movies.
Matilda the Musical, which is set to be released this year by Netflix, offers a modern spin on the classic 1996 movie, while also folding in elements of Tim Minchin's 2011 London stage production, punctuating the storyline with songs.
When Netflix recently unveiled the first trailer for the production, Thompson was barely recognizable, sporting a prosthetic nose and worse-for-wear teeth as Crunchem Hall Primary School's frightening headmistress Miss Trunchbull.
Thompson also appeared more fuller-figured than usual, prompting journalist Emmie Harrison-West to write an op-ed for U.K. newspaper Metro titled: "Do we really need another skinny actress in a fat suit?"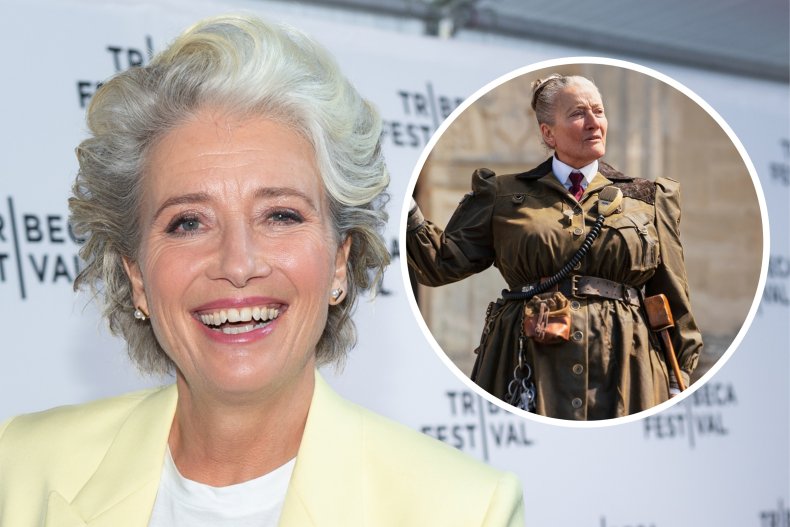 Harrison-West wrote that such suits have become so normalized over the years that "some people probably haven't even noticed—and that is what is so frustrating."
The writer went on to state that this isn't Thompson's first foray into donning prosthetics to alter her appearance, having sported "fake bingo wings and jowls" for The Legend of Barney Thomson and adding to her frame for Love Actually.
She went on to write that "seeing slim actresses in fat suits hurts. It's fatphobic and proves, yet again, that plus-sized women have to work harder to be recognised for jobs that should, by right, be theirs.
She added that Amy Adams, Courteney Cox, Renee Zellweger, Gwyneth Paltrow, Julia Roberts, Mila Kunis and Sarah Paulson are also guilty of making themselves look larger with prosthetics.
She concluded: "Continuing to ignore the countless talented actors in the plus-sized community in favour of slimmer people is so degrading."
On Monday, Metro shared excerpts of the article on Twitter, where it soon sparked a debate over whether actors should continue to wear such prosthetics in movies.
Reacting to the op-ed, comedian Guy Branum tweeted: "I love Emma Thompson so much, but it was so strange to watch her do talk show appearances about body acceptance for Good Luck to You, Leo Grande then make jokes about how gross her fat suit character in Matilda is."
Also siding with the article's author, another Twitter user commented: "Fat actresses exist. They want work. Instead, they hire thin people and make them look fat. It makes no f****** sense."
However, another pointed out that while they didn't necessarily disagree with the writer that Miss Trunchbull, who was played by Pam Ferris in the original movie, was the best choice to illustrate the message, given her description.
"I agree with a lot of the sentiment in this article, HOWEVER, Trunchbull is the worst example to prove that point," they said. "She's not thicc plus-size, she's Olympic class Shot-put/Javelin/Hammer Throw plus size. She's a tank.
"Anyone that plays Trunchbull has to be a tank or in a body suit that gives the actor the very specific body shape Trunchbull has always been portrayed as having. Trunchbull's size is never the butt of a joke, nor is she a sexualized character (it's a Roald Dahl book). She does, however, have to be big, scary muscle big."
"But she's not a character equivalent to, say, Tom Cruise in Tropic Thunder or Meet the Klumps," they went on. "Those ARE uses of fat suits and plus-size bodies that should be left in previous decades.
"Emma Thompson, chosen for her acting ability, to play a large character whose size isn't played for laughs, nor is it really thematically [relevant] to the plot, but is an essential part of the characters aesthetic, isn't really the same thing as the other examples in this article."
Irish TV producer Maïa Dunphy also pointed out Miss Trunchbull's physique and physical strength, describing the villainous character as "almost super-human."
"Sigh. This is getting ludicrous," Dunphy wrote. "And for the sake of balance, [Trunchbull] is never (as I remember) described as 'fat'. She's like a bull. She's super-strong and almost super-human. She could tear the phone book in half. She's a fantasy character built like a phone box.
"Anyone playing Trunchball as described in the book would need prosthetics (and probably even a bit of CGI). She's an ox!"
Amy Alkon, author of syndicated advice column Ask the Advice Goddess, also counted herself among the article's detractors, stating that Miss Trunchbull's features, like those of so many other Roald Dahl characters, are exaggerated.
"Emma Thompson's character is just true to the f****** work it's based on!" Alkon noted. "Roald Dahl describes TrunchBULL as 'a gigantic holy terror, a fierce tyrranical monster who frightened the life out of pupils and teachers alike.'
After sharing a link to an illustration of the famed character on the Roald Dahl website, Alkon added: "There was the 'Me Decade.' This appears to be the 'It's All About Me Century.'
"Guess what: It's often not. Dahl is responsible for Willie Wonka, James & the Giant Peach, & countless other cartoonish characters. Cartoons are EXAGGERATED -- or they are BORING. Not. About. You."
Newsweek has contacted representatives of Thompson and Netflix for comment.
In the upcoming movie, Alisha Weir plays titular character, while Lashana Lynch takes on the role of inspirational teacher Miss Honey.
The plot follows Matilda Wormwood, a sweet child who feels misunderstood both at school and home. After embracing a world of books, she soon develops mysterious powers.
On its website, Netflix says the film "tells the story of an extraordinary girl, with a vivid imagination, who dares to take a stand to change her story with miraculous results."
Matilda the Musical is set to be released in the U.S. and Canada on December 2, the same day that the film will be unveiled in U.K. theaters.