Emmys 2016: 'Game of Thrones' Cast Tease Big Battle in Season 7 and Will There Be a Spin-Off?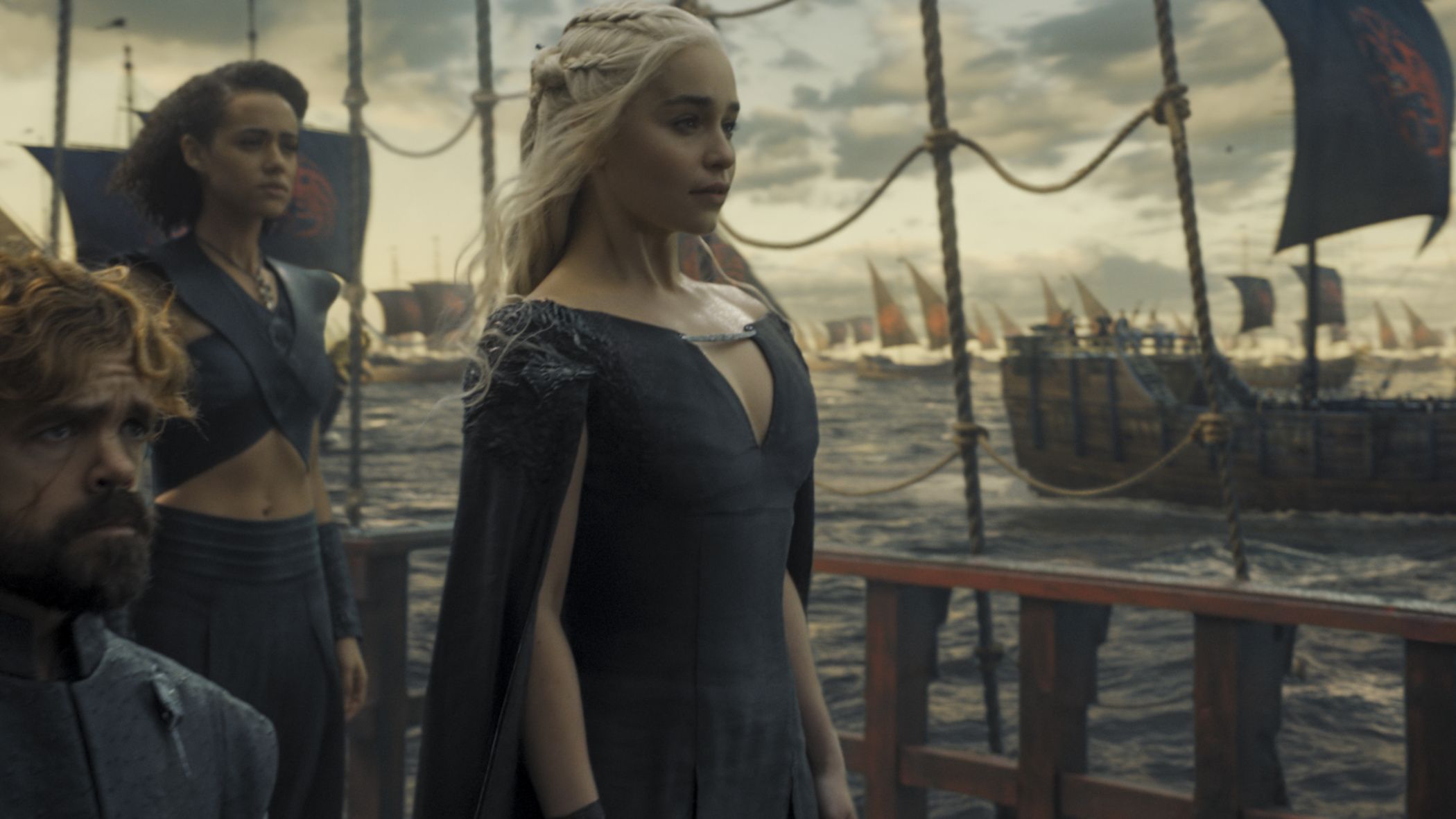 Things have been fairly quiet on the Game of Thrones front in recent weeks—since HBO announced the show will end after eight seasons in August, to be precise—but after its cast, producers, David Benioff and D.B. Weiss, and A Song of Ice and Fire author George R.R. Martin steamrolled the Emmy Awards last night, plenty of new details emerged about season seven and beyond.
Thrones cleaned up at the Emmys Sunday night, collecting Outstanding Drama Series for the second year running, and, more impressively, bringing its total Emmy haul to 38 wins over six years—the most for a fiction series in the ceremony's history (Frasier was the previous record-holder, winning 37 awards in its lifetime).
Here is what we learned about Game of Thrones seasons seven and eight—and whether a spin-off could be in the works.
Sophie Turner teases a 'satisfying' season ahead
The Game of Thrones cast have been spending their summer devouring the scripts for next year's season, but, of course, us mere mortals will have to wait until next summer to see it all play out on HBO.
Speaking on E! News' red carpet show Sunday night, Sansa Stark actor Sophie Turner said she was left "speechless" by the new scripts. "This season is unbelievable," she said. "I think fans are going to be really satisfied. It's crazy," she added.
"Yes, I cried," she told TVLine when asked if the new scripts made her teary-eyed.
That echoes the sentiments of on-screen sister Maisie Williams, who told fans "nothing will prepare you" for season seven in a stream of tweets in August:
On the red carpet, Turner also revealed the matching tattoos she and Williams got to mark the day they were both cast in Thrones : August 7, 2009.
More bloodshed ahead
How will Game of Thrones top last season's mammoth "Battle of the Bastards" episode? With an even bigger, badder battle scene. "They topped it," Daenerys Targaryen actor Emilia Clarke told TVLine. "There's another battle that's epic." That's a tall order, especially considering "Battle of the Bastards" won awards for best writing and directing at the Emmys.
If there's any cast member to prod for information between now and season seven premiering on HBO next spring, it's Clarke. "I've read the whole season… I know everything ," she said.
What could that battle be? Compelling evidence suggests that it could be between Khaleesi herself, Daenerys and new queen of Westeros, Cersei Lannister. Last time we saw her, Dany, her troops and her dragons were making a beeline for Westeros at the end of season six.
Will there be a spin-off?
Breaking Bad did it, The Walking Dead did it… Could Game of Thrones be next to launch an offshoot series? If there are plans at HBO to keep the fantasy drama cash cow going beyond season eight, they won't include showrunners David Benioff and D.B. Weiss.
Speaking to reporters backstage at the Emmys after Thrones won Outstanding Drama Series, Benioff said "this is it for us" when asked whether they would consider a prequel.
Instead, Benioff directed the reporters to Thrones creator George R.R. Martin, who teased he had plenty of material to keep Westeros alive on screen.
"It's a great world that George created. I think it's a very rich world, and I'm sure there will be other series set in Westeros, but for us, this is it," said Benioff (via Entertainment Weekly).
Martin teased: "Well, I do have thousands of pages of fake history—everything that led up to Game of Thrones—so there's a wealth of material there, and I'm still writing more."
But, the author was keen to add, he still has two more novels in his A Song of Ice and Fire series to finish first.
In July, HBO programming chief Casey Bloys said he was "open to" the idea of a spin-off program.
As announced by HBO in July, season seven of Thrones will have just seven episodes (down from 10 episodes in previous seasons) and launch in a later slot than its usual April bow in 2017.
It was previously reported that British actor Jim Broadbent had been cast in a "significant" role in the new episodes of the upcoming series.