End of ISIS Means More Attacks Like Barcelona in U.S. and Europe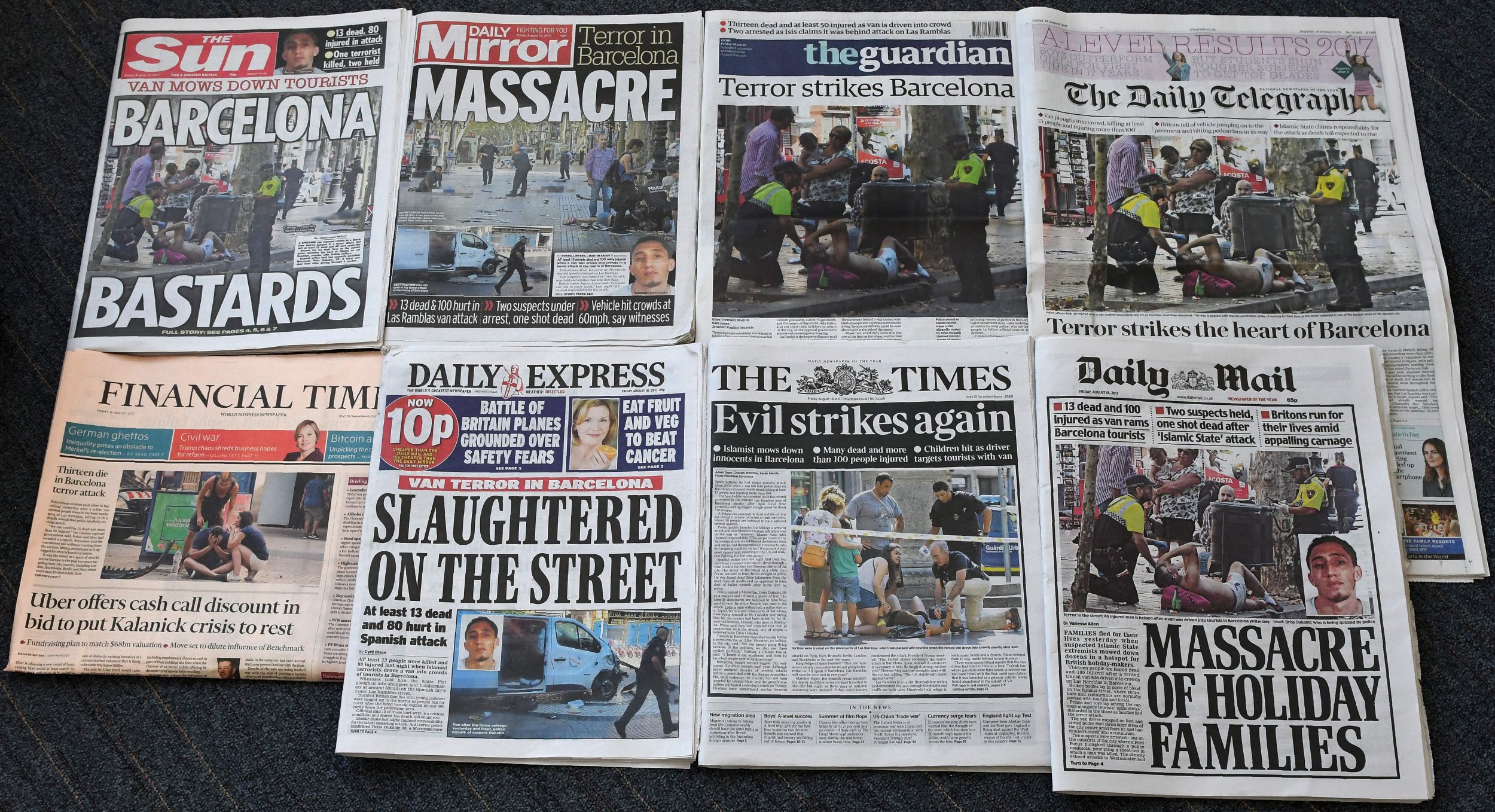 The Islamic State militant group (ISIS) claimed responsibility Thursday for two deadly van attacks on crowds of civilians in two Spanish cities, the jihadis' latest acts of violence following an extensive history of strikes against foreign targets perpetrated by the group or those inspired by it. As ISIS loses its once expansive foothold in Iraq and Syria, experts say its desire and capacity to inflict damage on the West appears to be increasing.
Just one day after the dual vehicle rammings in Barcelona and Cambrils killed at least 14 people, an attacker reportedly shouted "Allahu Akbar" (Arabic for "God is great") before stabbing at least eight people, killing two, in the Finnish city of Turku. ISIS has not yet said whether it was behind the latest attack, but the method echoes similar assaults across the U.S., Europe and beyond committed by individuals claiming allegiance to the global jihadi network. ISIS and its supporters have used knives, guns, bombs and cars to slaughter Westerners they brand infidels and apostates according to their ultraconservative brand of Sunni Islam. Now local governments may face a serious challenge in stemming violence from both returning fighters and alienated local communities.
Related: What is ISIS fighting for now? The Islamic State dream is dead, but its violence lives on in the Middle East
"We see a correlation, we see that as ISIS has lost territory, that they have greater and greater interest in the U.S. and Europe," leading terrorism expert Dr. Jessica Stern, who serves as a research professor at Boston University's Pardee School of Global Studies, told Newsweek.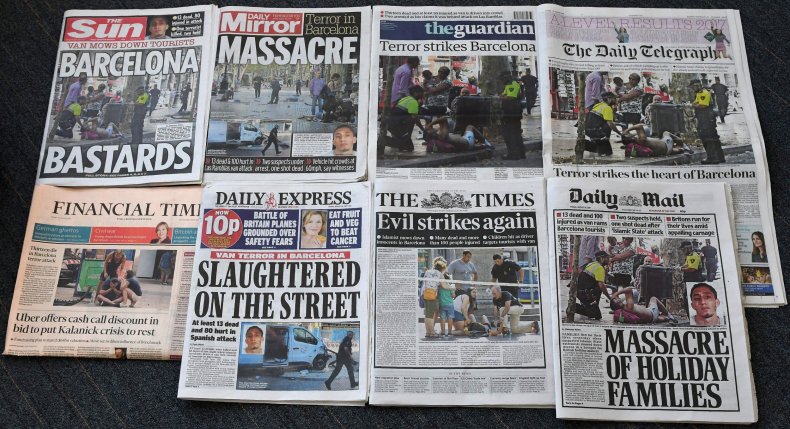 While the majority of ISIS-related violence in the U.S. and Europe has been perpetrated by loosely affiliated individuals, Stern pointed to last year's Brussels airport bombing that killed 32 and the Paris attacks of 2015 that killed 130 as evidence of attacks directed by ISIS itself. Thursday's van attacks also appear to be the work of a "fairly large cell," according to security analyst Fran Townsend, a former homeland security adviser to President George W. Bush. She told CBS News Thursday that "we shouldn't be all that surprised" to see ISIS "looking for opportunities to strike back" at the West as it's defeated in the Middle East.
Perhaps the greatest Islamist security threat to the U.S. and Europe comes not from ISIS directives, but from so-called lone-wolf attacks committed by often troubled individuals bent on perpetuating the movement's deadly legacy abroad. Stern said that, especially in Europe, migrant workers have had an exceedingly difficult time integrating into society. During its height in 2014, ISIS leader Abu Bakr al-Baghdadi beckoned disaffected Muslims to join his self-styled caliphate and thousands of Europeans helped swell ISIS ranks across Iraq and Syria.
Now ISIS has only a fraction of its former territory, and Baghdadi is all but presumed dead. Most Western European countries have supported U.S.-led efforts to defeat the militants in Iraq and Syria, which along with separate large-scale ground campaigns backed by Russia and Iran, have demolished the group's infrastructure in the Middle East. With little prospects of the group regaining its former glory, those who would have left to fight may bring the battle to Europe, and local governments may not be well-equipped to handle it.
"The combination of alienated communities mixing with some of those who have been trained directly is very difficult to stop in a democracy," Stern told Newsweek.
"It's much easier to stop terrorism in an autocratic society," she added. "It's ironic: We often think that democracy is crucial to stopping terrorism, but that's actually not been the case."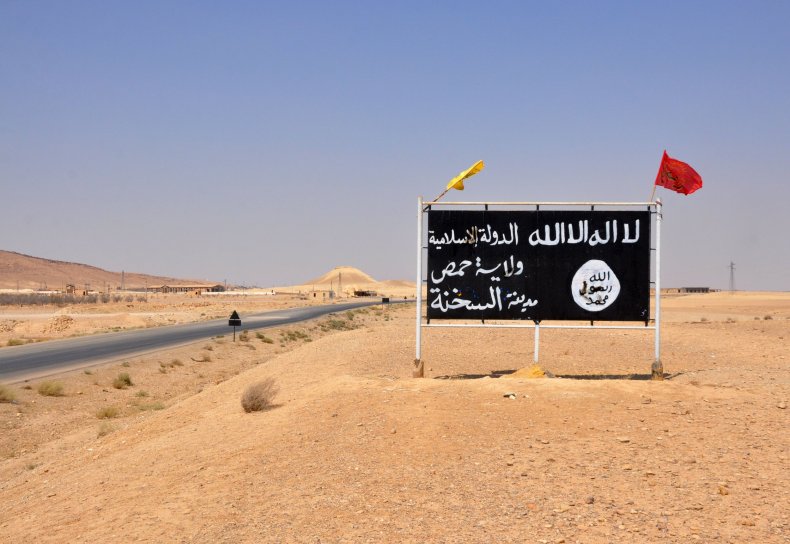 Many traditionally liberal nations have cracked down in an attempt to reduce the risk of terrorism at home. In addition to maintaining extensive databases that track those believed to have joined ISIS abroad and others suspected to have been radicalized at home, nations like Australia and Denmark have ruled to strip the citizenships of dual citizens. The U.K. and the U.S. are among the countries where officials have considered doing the same.
Intelligence sharing between countries has failed in the past, however. Spain's El Periodico newspaper reported Friday that some two months ago the CIA had warned local authorities of an attack specifically on the popular tourist street of Las Ramblas, where 15 people were killed Thursday. Last year, one of the three men behind June's vehicle ramming and stabbing attacks in London was flagged by Italian authorities after he either seriously or jokingly admitted his future intentions at Bologna Airport that March.
"I'm going to be a terrorist," the 22-year-old Italian-Moroccan told authorities when asked his reason for traveling, an Italian security official told Politico in June.
Italian authorities reportedly called his mother and seized his phone cards, but did not arrest him. Instead, they passed the information on to the U.K., which received the alert, but determined "he was not a police or MI5 interest."