Missouri GOP Senate candidate Eric Greitens is speaking out against his ex-wife's claims of domestic abuse.
In a statement posted to Twitter by KMBC reporter Micheal Mahoney, Greitens' campaign characterizes him as a "great Dad" who is allegedly the victim of "a woman with a documented history of mental illness and emotionally abusive behavior." The statement elaborates on this contrast, alleging that his ex-wife, Sheena Greitens, spent a week in Washington, D.C., filing court documents with false accusations while he was spending spring break with the couple's two sons.
"Eric will fight for his children and defend himself from these outright lies," wrote the campaign. "His children deserve a father who will speak the truth and stand up against malicious attacks that are clearly politically motivated."
Greitens had been accused earlier of domestic abuse by his ex-wife, the court documents showed. Those accusations led Alyssa Farah Griffin, the White House's director of strategic communications during the Trump administration, to call for the Republican Party to have a "moral primary" and to urge Greitens to drop out of his race for the U.S. Senate.
On Monday, Greitens, a former governor, also made a separate statement on his Facebook page regarding Sheena's accusations. In the piece, he took aim at "the liberal media," which he claims is peddling lies.
"I am seeking full custody of my sons, and for their sake, I will continue to pray for their mother and hope that she gets the help that she needs," Greitens said. "Sadly, political operatives and the liberal media peddle in lies. However, I have faith, and I know that ultimately truth will always prevail."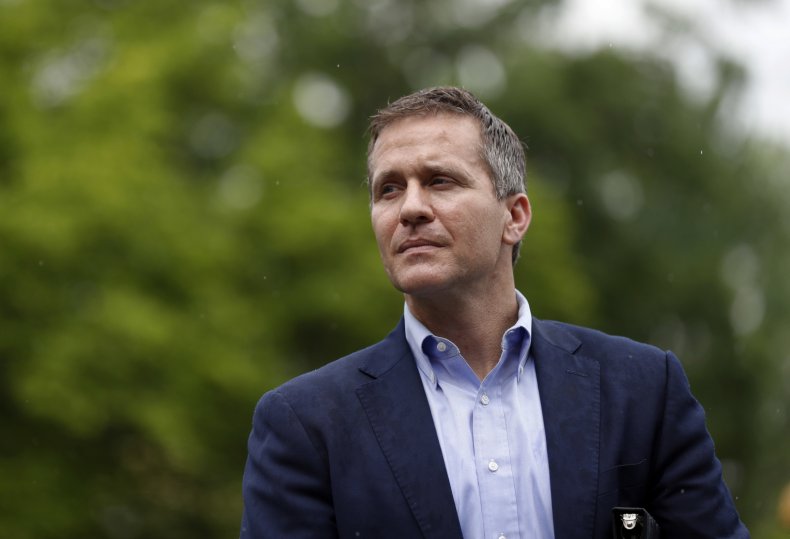 Sheena Greitens has filed a sworn affidavit that could pose problems for her ex-husband and his attempt to become a U.S. senator.
"Prior to our divorce, during an argument in late April 2018, Eric knocked me down and confiscated my cell phone, wallet and keys so that I was unable to call for help or extricate myself and our children from our home," she wrote, according to the Associated Press. "I became afraid for my safety and that of our children at our home."
She also claims that he not only abused her but their children as well. One incident cited by Sheena in the affidavit claimed he cuffed "our then-3-year-old son across the face at the dinner table in front of me and [yanked] him around by his hair," the AP reported.
This will not be the first time that Greitens has been accused of abuse. In 2018, he resigned from his position as Missouri's governor after he was accused of sexually assaulting a woman he had an extramarital affair with then blackmailing her, Newsweek reported. A related invasion-of-privacy charge was filed against him but was eventually dropped, the AP reported at the time.
Update at 3/21/22, 4:05 p.m. ET: This story has been updated with additional information.