Rep. Eric Swalwell (D-CA) has filed a lawsuit against former president Donald Trump, his son Donald Trump Jr., Rudy Giuliani and Rep. Mo Brooks (R-AL) accusing them of inciting the storming of the U.S. Capitol on January 6.
In a statement, Swalwell said he filed the civil claim against them for "inciting an attack against the Capitol that terrorized lawmakers and prevented us from doing our jobs of certifying the votes of the American people."
His statement said that the events of January 6 came as a "direct and foreseeable consequence of the Defendants' false and incendiary allegations of fraud and theft."
"The Defendants assembled, inflamed and incited the mob, and as such are wholly responsible for the injury and destruction that followed."
The suit was filed on Friday in federal court in Washington, D.C. A similar suit was previously filed by Rep. Bennie Thompson (D-MS) against Trump.
Jason Miller, an advisor to Trump, said Swalwell had "no credibility," according to the Associated Press.
He said Swalwell was attacking Trump with "yet another witch hunt," saying this comes after "failing miserably with two impeachment hoaxes."
In his statement, Swalwell said of Trump: "Unable to accept defeat, Donald Trump waged an all out war on a peaceful transition of power."
Each of the defendants has condemned the violence at the Capitol on January 6.
A comment from Brooks, shared with Newsweek, called Swalwell's lawsuit a "meritless ploy," and referenced allegations Swalwell had interactions with a Chinese spy.
"I make no apologies whatsoever for fighting for accurate and honest elections," Brooks said.
"In sum, I wear Communist-sympathizer Swalwell's scurrilous and malicious lawsuit like a badge of courage.
"Under no circumstances will Swalwell, or any other Socialist, stop me from fighting for America."
The move by Swalwell comes after Trump was impeached following the events of January 6. It made him the first president to be impeached twice.
However, he was acquitted at his Senate trial. Swalwell was one of the House impeachment managers who argued against Trump.
Trump was acquitted in February. Many Republican lawmakers argued it was unconstitutional to hold the impeachment trial after Trump left office.
There were 57 Senators who voted to convict. While seven Republicans were among them, it would have taken at least 17 to have voted with all of the Democrats in order to hit the two-thirds supermajority required for a conviction.
After his acquittal, Trump said his impeachment and trial had been "yet another phase of the greatest witch hunt in the history of our Country." He spoke of plans for further political action in the future.
Trump has since returned to repeating his false claims of foul play in his election defeat.
There has been no evidence of fraud or other irregularities on a level which would have altered the outcome of the presidential election.
Trump has also hinted at the possibility of another presidential run after he avoided conviction and a subsequent vote that might have seen him barred from holding public office.
Newsweek has attempted to reach representatives of the defendants for comment.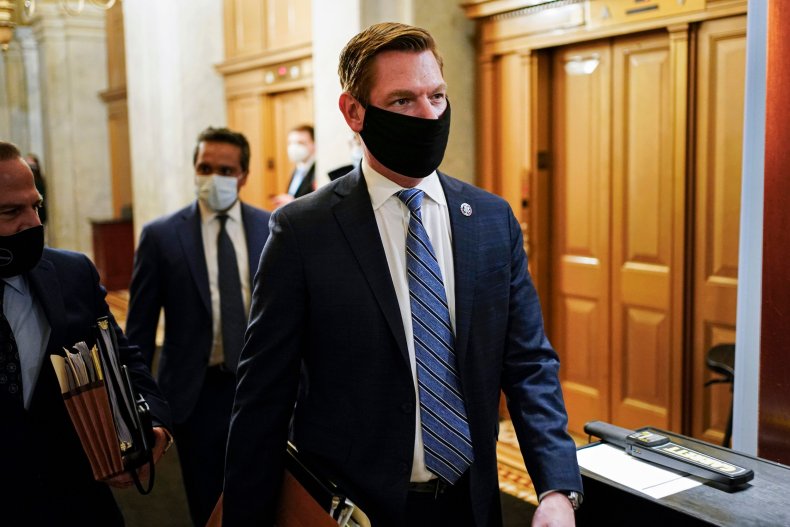 Update 03/05/2021: This page was updated with comment from Rep. Mo Brooks (R-AL).