Eric Trump Claims No Homeless in Florida Despite 3rd Highest Level in U.S.
Eric Trump, the son of former President Donald Trump, claimed on Friday that Florida does not have a homeless population despite the southern state having the third-highest number of homeless people in all 50 states.
Trump was a featured speaker at the ReAwaken America Tour, which many have dubbed a "QAnon" event, which was held at Awaken Church in San Marcos, California. The former president's son also accepted a large painting of his father with a prominent "Q" hovering above him as a gift during the event, Times of San Diego reported.
In his speech, Trump trashed California by saying, "You have the highest taxes in the world, crime, homeless in all the cities. And now you want to move to beautiful, perfect Florida that has no homelessness, that has no crime, that has the lowest tax in the nation..."
California, the state with the highest population, also has the largest homeless population in the country. However, Florida, which has the nation's third largest state population, also has the third highest number of homeless individuals in the country.
California, with a population of about 40 million, has a homeless population totaling 161,548, according to the U.S. Interagency Council on Homelessness. Florida, with a total population of about 22 million, has a homeless population of 27,487.
Notably, Florida also does not have the lowest taxes in the nation, although it is among the lowest in the country. Florida had an effective state and local tax rate on a median U.S. household of about 8.23 percent, according to a March 2022 analysis by WalletHub. That was the sixth lowest in the country, after Alaska, Delaware, Montana, Nevada and Wyoming respectively. California's tax rate actually ranks among the lowest as well, standing at about 8.96 percent—or the 11th lowest nationally.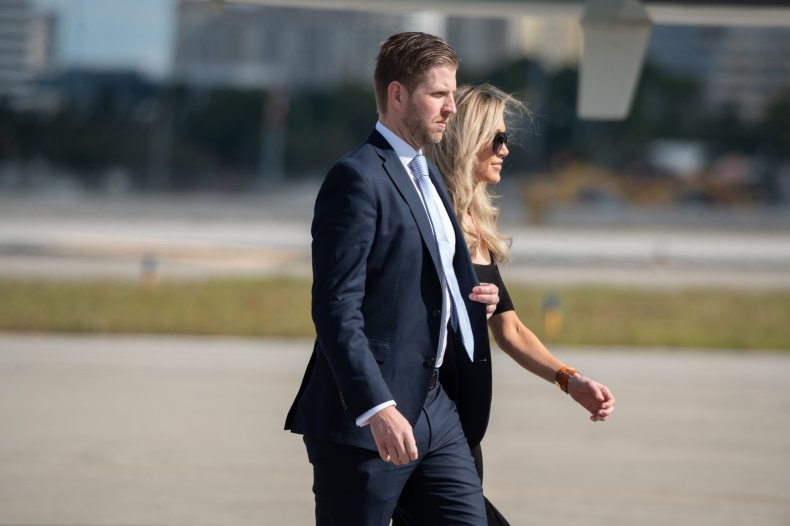 Trump allies retired lieutenant general Michael Flynn and right-wing political strategist Roger Stone also spoke at the Friday rally. Flynn served briefly as White House national security adviser in the Trump administration in 2017 and later pleaded guilty to lying to the FBI in connection with the investigation into Russian interference in the 2016 election. Stone similarly was convicted of lying to Congress as part of that probe.
The former president pardoned both before he left office. Since then, Stone and Flynn have regularly traveled the country to rally Trump supporters and spread misinformation about the 2020 election. They, along with the former president, claim that the last presidential election was "rigged" or "stolen" in favor of President Joe Biden. No evidence has emerged corroborating the claim, and leading cybersecurity and election experts have discredited the allegations.
Newsweek reached out to the Trump Organization, of which the former president's son serves as an executive vice president, for comment, but did not immediately receive a response.