Eric Trump Contradicts Father Donald by Speaking Against Vaccines
As former President Donald Trump pushes the COVID vaccines developed under his administration, his son Eric is railing against them.
"The vaccine actually represents something that's greater than a medical shot," Eric Trump told conservative media figure Candace Owens in an interview for the right-wing outlet The Wire. "To me, the vaccine represents literally the stripping of freedoms in this country, which is deeply, deeply, deeply troubling."
Eric Trump's comment came as the Biden administration's vaccine mandates are being implemented among military members, healthcare workers and government contractors while also being challenged in courts.
"If [Democrats are] willing to strip your rights to your own health care, well, what are they willing to do to religion? What are they willing to do to the Second Amendment? What are they willing to do to our Constitution?" Eric Trump continued.
The healthcare comment from the ex-president's middle son referred to Democratic President Joe Biden's COVID-19 vaccine mandates. Trump, his father and other conservatives have long opposed the mandates as a violation of personal freedoms. He then compared the mandates to attempts to remove Confederate monuments from public view.
"Why are they ripping down statues? Because they want to rewrite our history. They want to rewrite, you know, our civil liberties. They want to rewrite our Constitution," he said. "It gives them the ability to recast America and what we believe in, the fundamental tenets of the American flag."
Trump's words contradict his father's support of the vaccines.
In a late December interview with Owens, Donald Trump said, "The results of the vaccine are very good, and if you do get (COVID), it's a very minor form. People aren't dying when they take the vaccine."
"The vaccine works," he said when Owens questioned the vaccines' safety. "The ones that get very sick and go to the hospital are the ones that don't take their vaccine. But it's still their choice, and if you take the vaccine, you are protected."
"I came up with a vaccine, with three vaccines," Trump continued. "All are very, very good. Came up with three of them in less than nine months."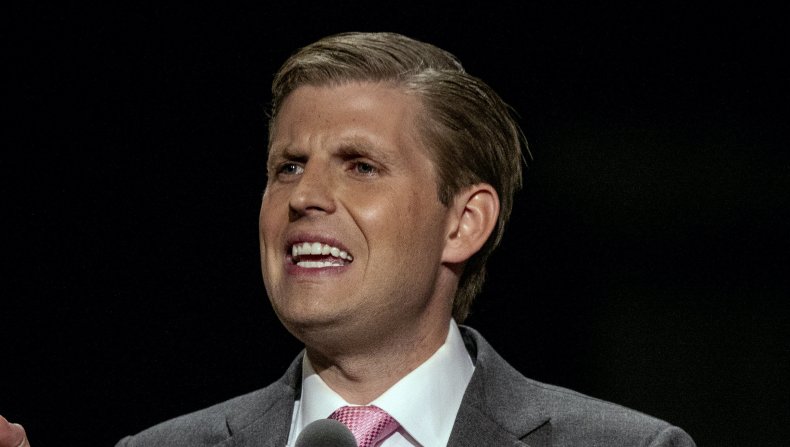 The ex-president was referring to Operation Warp Speed, a government and private sector partnership to develop COVID-19 vaccines, therapeutics and diagnostics. Officially announced on May 15, 2020, the partnership developed three COVID-19 vaccines that began distribution by January 2021.
Trump has said that he has been boosted against COVID-19 and has also faced jeers and boos from his rallies' attendees when he promotes the vaccines.
Despite the ex-president's support of the vaccines, he has opposed vaccine mandates and said that people are resistant to getting the vaccine because they distrust the Biden administration.
Owens has used her media platform to express extreme opposition to the vaccines.
"If you do not understand that there is something purely evil involved right now in terms of these vaccines you will never understand. It will NEVER enter my arm," she wrote in an August 2021 tweet.
Owens has also referred to vaccine mandates as a form of "tyranny." After her interview with the former president, she pointed out his age, 75, and said that was from a generation that gets its news from TV and newspapers, rather than websites that raise doubts about vaccines.
Newsweek contacted the Trump Organization for comment.