Ernest Lee Johnson's Final Words Before Execution in Missouri
Ernest Johnson was put to death on Tuesday for using a hammer to kill three workers during a convenience store robbery in 1994.
Johnson, 61, died from an injection of pentobarbital at the state prison in Bonne Terre.
The Associated Press reported that Johnson silently mouthed words to relatives as the process began. His breathing became labored, he puffed out his cheeks, then swallowed hard. All movement stopped within seconds.
He was pronounced dead at 6:11 p.m. local time (7:11 p.m. ET), nine minutes after the dose was administered.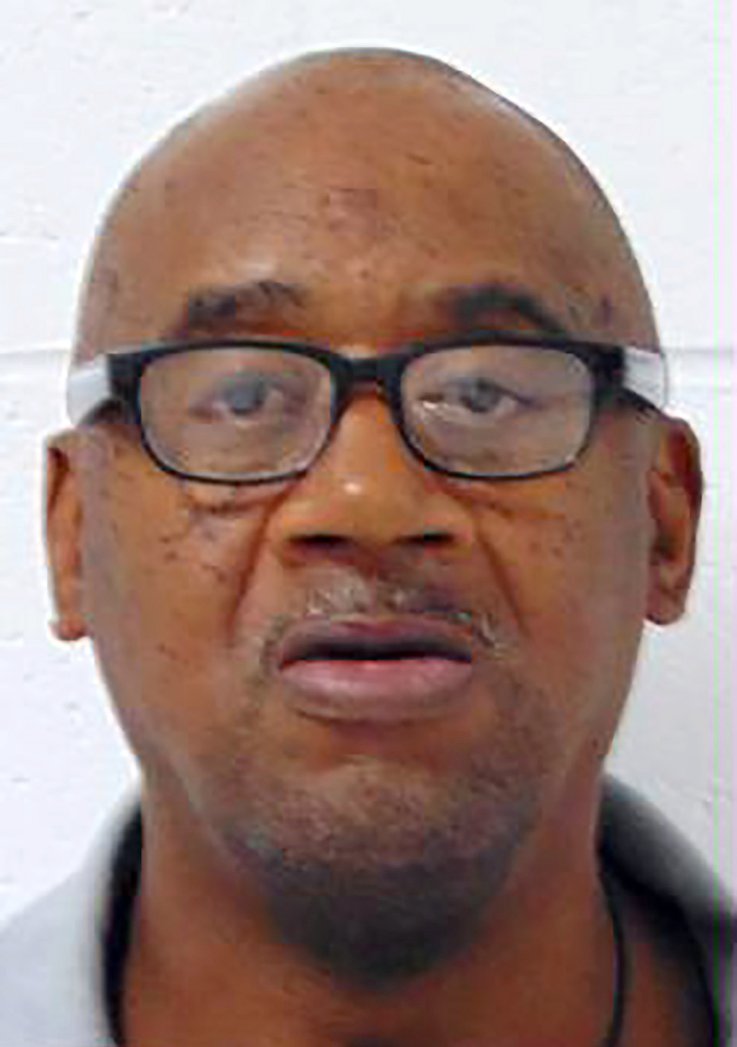 Ernest Johnson was executed by lethal injection on October 5.
The Missouri Department of Corrections via AP
In his written last statement dated Monday, Johnson said he was sorry and thanked his attorneys.
"I am sorry and have remorse for what I do," the statement said. "I want to say that I love my family and friends, I am thankful of all that my lawer [sic] has done for me. They made me feel love as if I was family to them.
"I love them all, for all the people that has prayed for me I thank them from the bottom of my. I love the Lord with all my heard and soul. If I am executed I no were I am going to heaven. Becaus [sic] I ask him to forgive me."
Johnson has been on death row since he was convicted of three counts of first-degree murder in the 1994 killings of Mary Bratcher, 46, Mable Scruggs, 57, and Fred Jones, 58. All three employees of a Casey's convenience store in Columbia were beaten with a claw hammer.
The state moved ahead with executing Johnson after Missouri Gov. Mike Parson declined on Monday to grant clemency.
That came despite claims by his attorney that it would violate the 8th Amendment's prohibition on executing intellectually disabled people. Advocates who had called for Johnson's execution to be stopped included Pope Francis.
In a letter to Parson last week, a representative said the pope "wishes to place before you the simple fact of Mr. Johnson's humanity and the sacredness of all human life."
In a later court filing urging the U.S. Supreme Court to step in, Johnson's attorneys said the Missouri Supreme Court had refused to stop the execution despite "overwhelming evidence of consistently low IQ scores, consistently poor academic achievement, and a lifetime of evidence illustrating adaptive behavior deficits."
Johnson also was born with fetal alcohol syndrome and lost about one-fifth of his brain tissue when a benign tumor was removed in 2008, his attorney Jeremy Weis said.
The 61-year-old had asked for his execution to be carried out by firing squad, a method not authorized under Missouri law. His lawyers argued that pentobarbital could trigger seizures because Johnson has epilepsy and part of a benign tumor in his brain.
Johnson is the seventh inmate executed in the U.S. this year. Three were federal inmates put to death in the final days of Donald Trump's presidency and three were inmates executed by the state of Texas.