Espionage Act Violators Have Been Sentenced to Decades in Jail, Execution
Former President Donald Trump might have violated the U.S. Espionage Act, according to some prominent legal experts, after classified White House documents were found at his Mar-a-Lago residence in Florida, raising questions about the punishments faced by by previous violators of the law.
The FBI raided Trump's residence on Monday after the approval of Attorney General Merrick Garland and reportedly retrieved sensitive government documents that included information related to nuclear weapons, according to The Washington Post.
The New York Times reported that the recovered documents included information related to "some of the most highly classified programs" in the country. Sources told Newsweek that the raid was mainly based on tips received from an informer, who identified the type of classified documents Trump still had and their location.
What Is the Espionage Act?
The Espionage Act was first enacted by Congress in 1917 shortly after the United States entered World War I. Under the law, individuals are prohibited from obtaining "any information related to the national defense with intent or reason to believe that the information may be used for the injury of the United States or to the advantage of any foreign nation," according to the First Amendment Encyclopedia on the Middle Tennessee State University's website. The law also applies to the improper handling of sensitive information related to national security.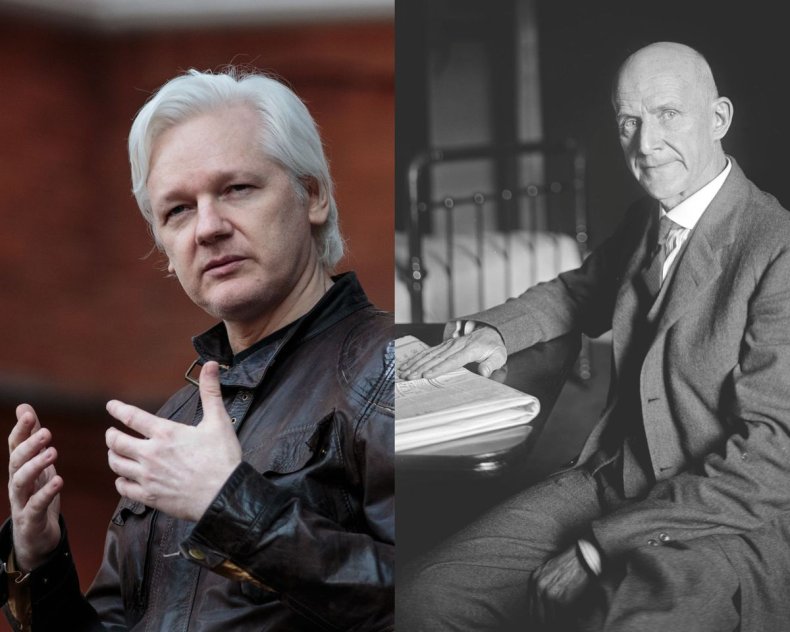 Part of the law also stipulates:
"Whoever, being entrusted with or having lawful possession or control of any document, writing, code book, signal book, sketch, photograph, photographic negative, blueprint, plan, map, model, instrument, appliance, note, or information, relating to the national defense, (1) through gross negligence permits the same to be removed from its proper place of custody or delivered to anyone in violation of his trust, or to be lost, stolen, abstracted, or destroyed, or (2) having knowledge that the same has been illegally removed from its proper place of custody or delivered to anyone in violation of its trust, or lost, or stolen, abstracted, or destroyed, and fails to make prompt report of such loss, theft, abstraction, or destruction to his superior officer—Shall be fined under this title or imprisoned not more than ten years, or both."
How Were Past Law Violators Convicted?
The Espionage Act was enacted during different instances in American history, prompting some of its violators to either flee the country or face punishment, with some sentences varying from fines and imprisonment to execution. Here are some of the high-profile individuals who were punished under the law.
Julian Assange
The Australian WikiLeaks founder faces 17 charges of espionage with a potential 175-year prison sentence if convicted under the law. Assange was accused by prosecutors of illegally helping former U.S. Army intelligence analyst Chelsea Manning to steal thousands of classified diplomatic cables and military files, which were published by WikiLeaks in 2010.
He sought asylum in Ecuador's embassy in London in 2012 after facing extradition by authorities in Sweden in November 2010 over rape allegations. Ecuador revoked Assange's asylum status in 2019.
The U.S. Department of Justice requested Assange's extradition, which was repeatedly blocked by British courts, with one judge stating in January 2021 that extraditing him would be "oppressive" due to his mental health and that this might lead him to taking his own life.
However, in June, U.K. Home Secretary Priti Patel approved Assange's extradition following a ruling by the country's Supreme Court in March that said his removal could proceed.
Edward Snowden
The American whistleblower, who was granted asylum in Russia in 2013, used to work as a computer intelligence consultant and leaked highly classified information from the National Security Agency (NSA) that revealed information about global surveillance programs.
Snowden was hailed as both a hero and a traitor as his leaks sparked debate about surveillance practices on citizens. He is still wanted in the U.S. where he faces three espionage charges and could face up to 30 years in jail if convicted, according to The Guardian.
Eugene Debs
A political activist and labor organizer from Terre Haute, Indiana, Eugene Debs was the Socialist Party's candidate for U.S. president five times between 1900 and 1920. He also contributed to the rise of industrial unionism, helped adopt advanced social and economic reforms, and was known for defending anti-war activists from being accused of disloyalty.
Debs was arrested at a Socialist event in Cleveland and was charged with 10 counts of violating the Espionage Act during a speech he gave in Canton, Ohio, according to The Smithsonian Magazine. Debs was sentenced to 10 years in prison after the jury found him guilty on three counts.
According to The National Archives, Debs supported the Socialist cause, during his speech in Canton, and denounced war, saying: "They have always taught you that it is your patriotic duty to go to war and slaughter yourselves at their command. You have never had a voice in the war. The working class who make the sacrifices, who shed the blood, have never yet had a voice in declaring war."
A prosecutor alleged during a 1918 trial that Debs' speech was "calculated to promote insubordination" and "propagate obstruction to the draft," according to The Smithsonian Magazine.
"I have been accused of having obstructed the war. I admit it. I abhor war. I would oppose the war if I stood alone," Debs told the jury. "I believe in free speech, in war as well as in peace ... If the Espionage Law stands, then the Constitution of the United States is dead."
Victor Berger
The first Socialist U.S. Congressman, Victor L. Berger, who was born in Austria and moved later to Connecticut before settling in Milwaukee, was also involved in labor politics, according to the Encyclopedia of Milwaukee. He worked with Debs to found the Social Democratic Party, which was later named as the Socialist Party of America.
Berger opposed World War I and touted anti-war views that had cost him the loss of the mailing permit of a publication he founded called the Milwaukee Leader in 1917. He was charged under the Espionage Act the following year.
He was convicted along with four other Socialist Party leaders, and by early 1919, a judge sentenced each of them to 20 years in federal prison.
The Rosenbergs
Julius Rosenberg, who worked as an engineer for the U.S. Army Signal Corps, and his wife Ethel, a secretary, were both executed by electric chair in 1953 for violating the Espionage Act by spying on behalf of the Soviet Union, according to History.com. They were the first American citizens to be executed for espionage during peacetime.
Julius first met Ethel through the Young Communist League in which they were both members. The couple were arrested in 1950 on suspicion of violating the Espionage Act, accused of leading a spy ring that gave secret sensitive information about the atomic bomb to the Soviet Union.