The assessment by U.S. Secretary of State Antony Blinken that ethnic cleansing is taking place in the north of Ethiopia has sparked a stern response from the government in Addis Ababa.
Blinken has called for an international probe into the fighting in the Tigray region between its former ruling group the Tigray People's Liberation Front (TPLF) and the Ethiopian National Defence Force (ENDF).
Ethiopia's government and regional officials in Tigray are disputing the legitimacy of each other's governments after the pandemic disrupted elections. Violence erupted in November 2020 when Prime Minister Abiy Ahmed sent in government troops after state military facilities were attacked.
In the subsequent unrest, many have been displaced and federal forces and their allies, including fighters from neighboring Eritrea, are accused of carrying out human rights abuses.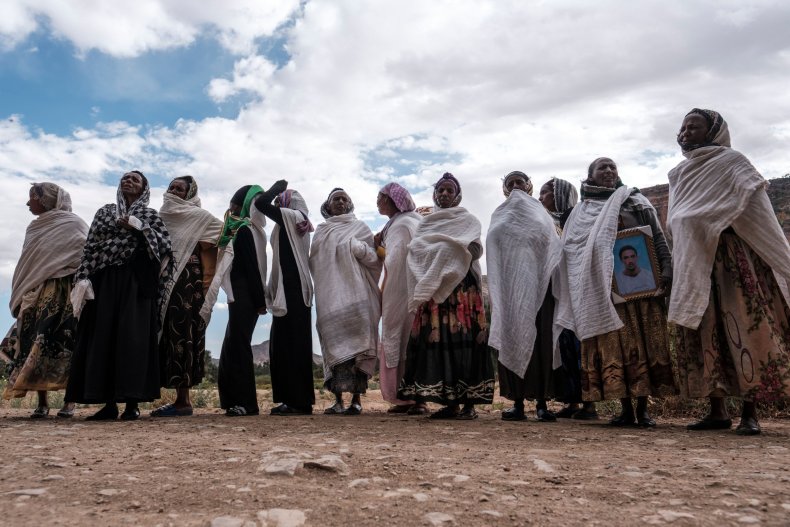 On Wednesday, Blinken told the House foreign affairs committee that the U.S. was concerned about "credible reports of human rights abuses and atrocities" in Tigray.
He said Eritrean forces and those from the Amhara region must be replaced in Tigray by security forces that will respect human rights and not "commit acts of ethnic cleansing".
But Ethiopia's Ministry of Foreign Affairs disputed this description in a statement on Saturday.
"Nothing during or after the end of the main law enforcement operation in Tigray can be identified or defined by any standards as a targeted, intentional ethnic cleansing against anyone in the region," it said.
"That is why the Ethiopian government vehemently opposes such accusations." It added that allegations of ethnic cleansing amount to "a completely unfounded and spurious verdict against the Ethiopian government," and accused Washington of "overblowing things," The Associated Press reported.
When contacted by Newsweek for comment, a State Department spokesperson said that Blinken had made it clear that "acts of ethnic cleansing" had taken place in western Tigray and that "this is unacceptable."
"We continue to be gravely concerned by reported atrocities and the overall deteriorating situation," the statement said. "We strongly condemn the killings, forced removals, sexual assaults, and other human rights abuses by several parties that multiple organizations have reported in Tigray."
The AP and Amnesty International have detailed atrocities in the conflict, including how Eritrean soldiers killed "many hundreds" of people in a massacre in the city of Axum in November.
With the overall death toll said to be in the thousands, the unrest comes amid fears of starvation in Tigray just ahead of harvest time with witness accounts of looting by Eritrean soldiers and the burning of crops.
On Friday, the U.S. State Department said Washington would resume assistance to Ethiopia that was related to health and food security but it would not lift a pause in assistance to most programs in the security sector.
The previous day, Blinken told United Nations Secretary-General Antonio Guterres there must be an investigation into reported human rights abuses in the region.
He also called for "enhanced regional and international efforts to help resolve the humanitarian crisis, end atrocities, and restore peace in Ethiopia," Reuters reported.
This story has been updated to include a statement to Newsweek by the U.S. State Department.