Representative Ilhan Omar, a Minnesota Democrat said the remarks of deputy mayors of Jerusalem are a description of "ethnic cleansing," slamming Israel's crackdown on Palestinians protesting potential evictions in East Jerusalem.
Hundreds of Palestinians have been injured in clashes with Israeli security forces on Friday and Saturday, as many protested against the possibility that some Palestinian families could be evicted from their long-time homes to make way for Israeli settlers. Amid the clashes, Fleur Hassan-Nahoum, a deputy mayor of Jerusalem, dismissed the concerns about the evictions, as did fellow deputy mayor Aryeh King.
"This is a Jewish country," Hassan-Nahoum said, according to The New York Times. "There's only one. And of course there are laws that some people may consider as favoring Jews—it's a Jewish state. It is here to protect the Jewish people."
King said that policies to evict Palestinians are "the way to secure the future of Jerusalem as a Jewish capital for the Jewish people," according to The Times. He said "of course" there is a plan to place "layers of Jews" throughout East Jerusalem.
Omar took aim at their remarks in an early Sunday morning tweet.
"This deputy mayor is describing ethnic cleansing here, yet everyone is [sic] the West is pretending that's not what's happening to Palestinians," the progressive Democratic congresswoman wrote.
"It's reprehensible," she added.
According to the United Nations, the term ethnic cleansing does not currently have a precise definition under international law because it has not been officially recognized as an independent crime. However, a previous U.N. report on crimes committed in the former Yugoslavia described ethnic cleansing as "a purposeful policy designed by one ethnic or religious group to remove by violent and terror-inspiring means the civilian population of another ethnic or religious group from certain geographic areas."
The current tensions between Israelis and Palestinians relate to pending evictions in Sheikh Jarrah, located outside Jerusalem's old walled city. Although the neighborhood is historically a Palestinian enclave, an Israeli court ruled that a group of Palestinian families could be evicted to make way for Israeli settlers. The case is now before Israel's Supreme Court.
Meanwhile, Israeli police have cracked down on Palestinian worshippers and demonstrators by Al-Aqsa mosque during the Islamic holy month of Ramadan. More than 200 Palestinians were injured in clashes with Israeli police on Friday while more than 100 were injured on Saturday into early Sunday morning, according to local media reports. More than a dozen Israeli police officers have been injured as well.
Several other progressive lawmakers in the U.S. have raised alarms about the treatment of the Palestinians as well. Senator Bernie Sanders, a Vermont independent, used the term "Israeli extremists" to describe those responding with violence to the Palestinians.
"The United States must speak out strongly against the violence by government-allied Israeli extremists in East Jerusalem and the West Bank, and make clear that the evictions of Palestinian families must not go forward," Sanders tweeted on Saturday.
Senator Elizabeth Warren, a Massachusetts Democrat, slammed the "forced-removal" of Palestinians from their homes.
"The forced removal of long-time Palestinian residents in Sheikh Jarrah is abhorrent and unacceptable. The Administration should make clear to the Israeli government that these evictions are illegal and must stop immediately," Warren tweeted on Saturday.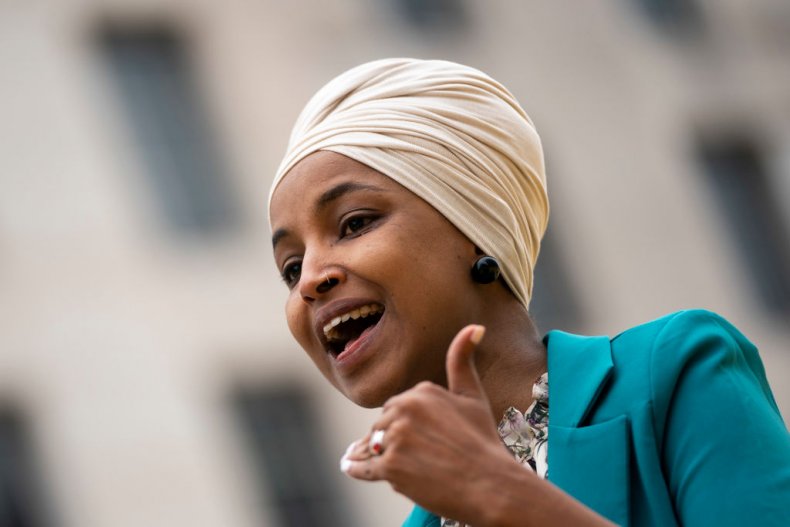 An April report from Human Rights Watch described actions taken by the Israeli government against Palestinians as "apartheid." The report alleged that some of Israel's mistreatment of the Palestinians amounts "to the crimes against humanity of apartheid and persecution."
Newsweek reached out to Israel's Foreign Ministry and Hassan-Nahoum for further comment.