EU Chief Calls for More Ammo in Ukraine as Top Chinese Diplomat Urges Peace
As EU foreign affairs and security policy chief Josep Borrell urges European nations to supply Ukraine with more ammunition as the Russian invasion nears its one-year mark, top Chinese diplomat Wang Yi calls for peace ahead of his visit to Moscow.
During a meeting in Brussels, Belgium, on Monday, Borrell called for members of the bloc to quickly produce and deliver ammunition for Ukraine to help defeat Russia, Radio Free Europe/Radio Liberty reported.
"It is the most urgent issue," he said at the gathering of EU foreign ministers, adding that "if we fail on that, the result of the war is in danger."
Ukraine needs to be at the same level in fighting as Russian forces, which are firing around 50,000 rounds a day, according to Borrell, who said Ukrainian forces "have artillery, but they lack ammunition."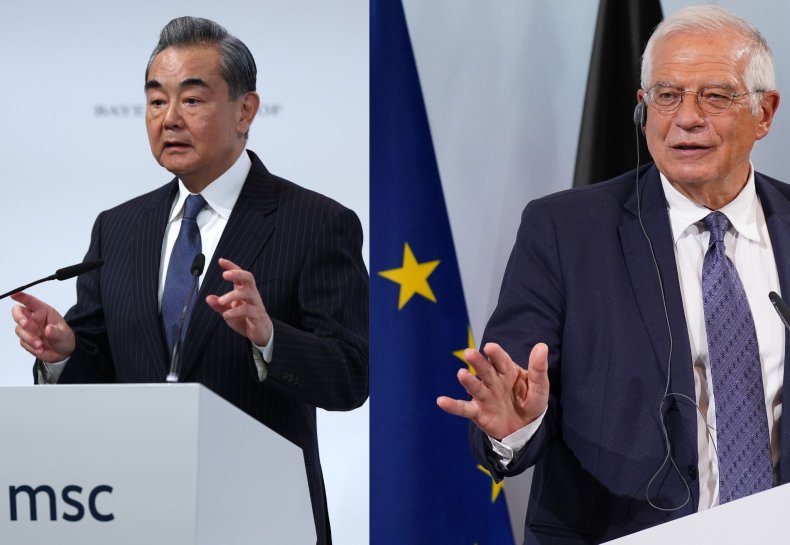 The EU foreign policy chief also told reporters that the EU is expected to approve a new round of sanctions on Russia before February 24, which marks the day Russian President Vladimir Putin launched a full-scale invasion of Ukraine last year.
Meanwhile, Estonian Prime Minister Kaja Kallas shared a similar sentiment toward the Russian war, highlighting a proposal that would allow the European Union to buy ammunition for the Ukrainian army on behalf of member nations.
Under the proposal, members of the bloc would provide funds to the EU, which would then hire munitions manufacturers to increase production, according to Radio Free Europe.
"Russia uses daily [what] the European Union produces per month, and in the current military industry capabilities, we can reach the need of Ukraine [in] around six years, so this is fully unacceptable," Estonian Foreign Minister Urmas Reinsalu said on Monday ahead of the Brussels meeting.
While the EU and NATO continue to call for additional support for Ukraine, China is urging a peaceful resolution to the conflict. On Monday, China's top foreign policy official Wang Yi called for peace negotiations that would help the world and specifically Europe, Reuters reported.
"We would like a political solution to provide a peaceful and sustainable framework to Europe," said Wang, who is expected to visit Moscow early this week to discuss China's vision for a political resolution to the war. Kremlin spokesperson Dmitry Peskov on Monday didn't rule out a meeting between Wang and Putin.
During a recent talk with Hungarian Foreign Minister Peter Szijjarto, Wang said that Hungary and China are jointly declaring that they are gladly working together with other "peace-loving countries to bring the current hostilities to a halt as soon as possible."
China, Russia's ally, has never acknowledged the conflict in Ukraine as a war or invasion. However, Wang said at a Munich conference over the weekend that Beijing will soon propose a new position on the war in the form of a document that could accompany Chinese leader Xi Jinping's expected "peace speech" on Friday, the one-year mark of the war.
Still, Putin has shown no signs of surrender, even though his army continues to experience some setbacks in Ukraine. His forces are gearing up to launch a new offensive in the spring.
NATO Secretary General Jens Stoltenberg recently said that Russia's new offensive in eastern Ukraine began with troops getting closer to taking control of the strategic town of Bakhmut in the Donbas region.
"We see no sign whatsoever that President Putin is preparing for peace ... What we see is President Putin and Russia still wanting to control Ukraine," the NATO chief said recently. "We see how they are sending more troops, more weapons, more capabilities. The reality is that we are seeing the start [of a new offensive] already."
Newsweek has reached out to the Russian and Ukrainian foreign affairs ministries for comment.