EU Envoy Endorses China's 'Peaceful Reunification' With Taiwan
The European Union's incoming ambassador to Beijing has struck a conciliatory tone by declaring the bloc's support for China's "peaceful reunification" with Taiwan, triggering displeasure in Taipei.
"The EU does not advocate independence for Taiwan, but peaceful reunification," Jorge Toledo, 57, told Spain's La Vanguardia newspaper in an interview published on Sunday.
"We believe there should be only one China, but in the event of a military invasion we have made it very clear that the EU, with the United States and its allies, will impose similar or even greater measures than we have now taken against Russia," said Toledo, who is set to replace Frenchman Nicolas Chapuis as the EU's ambassador to China.
The Spanish diplomat's remarks about "one China" weren't an obvious departure from the EU's stated policy toward sensitive relations across the Taiwan Strait. However, his endorsement of "reunification"—phraseology favored by Beijing—added a new layer to the bloc's otherwise cautious approach, which only promises to deepen economic ties with Taiwan while committing not to recognize the island's statehood.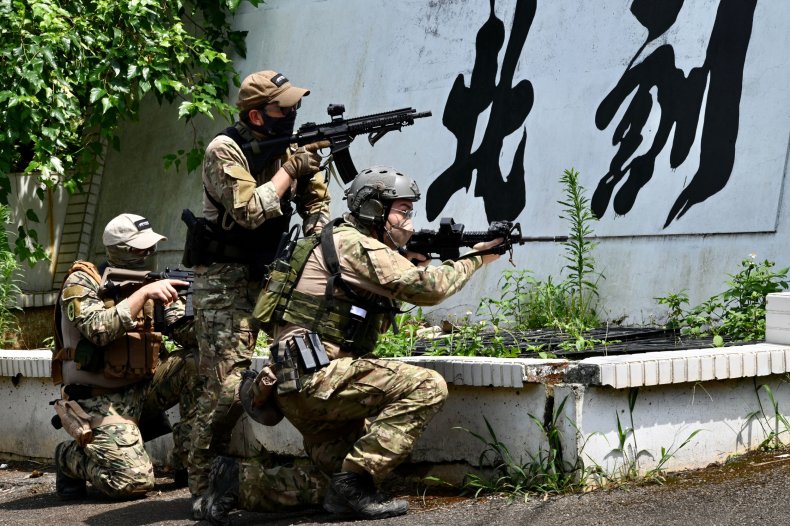 China has never governed the democratic island but claims it as part of its territory. Taiwan, meanwhile, says it's already an independent country, and its public has shown little interest in being ruled from Beijing.
As the COVID-19 pandemic caused supply chain bottlenecks around the world, Taiwan's advances in high-end semiconductors became a particular point of interest for leaders and business communities in the West. Last month, the EU upgraded investment talks with the island, with a focus on chips.
Doubtless aware of the political sensitivities surrounding interactions with Taiwan, Brussels has stepped up its economic engagement with Taipei in what could be perceived as a win-win for both. However, the EU may find it difficult to balance its vital trading relationship with China against Taiwan's need to remain a dignified player in the partnership.
Joanne Ou, Taiwan's Foreign Ministry spokesperson, reminded reporters at a regular press briefing on Tuesday about the island's important geostrategic importance as well as the role it plays in the global supply chain.
"The sovereignty of our country cannot be disparaged, violated or annexed," said Ou. "The sovereignty of Taiwan belongs only to the people of Taiwan, and only the people of Taiwan can decide Taiwan's future."
Reached by email, EU spokesperson Peter Stano told Newsweek: "We have a clear One China Policy that has not changed recently. The EU and EU Member States remain committed to the EU's One China policy. Within this policy, we are also pursuing friendly relations and close cooperation with Taiwan in a wide range of areas.
"The EU has an interest in preserving peace and the status quo in the Taiwan Strait as well as Taiwan's democratic system of governance. We encourage a peaceful resolution of cross-strait issues. Tensions should be resolved through dialogue."
Toledo's interview, which revolved around the EU's wider relations with China, didn't paint Beijing in a wholly positive light. The diplomat, who takes office in the Chinese capital in September, described the Chinese government under President Xi Jinping as "flexing its muscles, especially in the South China Sea."
"We cannot tolerate China violating the rules of international law accepted by all and occupying areas that do not belong to it," he said.
Still, Toledo spoke out against decoupling; mutually dependent EU-China economic ties mean disengagement would cause a "cataclysm," he told the paper. Echoing prevailing views in Washington, he referenced the necessity of working with Beijing to address issues of global concern.
"It is essential and necessary to count on China for global governance. Without its help we cannot address global challenges such as the pandemic and the climate crisis," he said.
The strongest support for Taiwan in the EU has typically come from the European Parliament. Last October, the EP voted overwhelmingly in favor of upgrading political and economic ties with Taipei, before a group of European lawmakers visited the island a few weeks later.
Nicola Beer, a German lawmaker and one of the EP's vice presidents, urged more support for Taiwan as she landed in the Taiwanese capital at the start of a three-day official visit on Tuesday.
"There is no room for Chinese aggression in democratic Taiwan. For the moment, we witness war in Europe. We do not want to witness war in Asia. Now is the moment to stand firm on the side of Taiwan—you and us, we are family of democracies," she said.
"Taiwan's bloom is also Europe's bloom. We won't have a blind eye on China's threats to Taiwan. Europe was late for Hong Kong; we won't be late for Taiwan," Beer said.
Update 7/20/22, 2:45 a.m. ET: This article was updated with a response from the European Union.