EU Offers Iran $20 Million to Counter U.S. Sanctions, Despite Trump Threats
The European Union will give Iran more than $20 million in aid to counter the repercussions of U.S. sanctions, despite threats from President Donald Trump.
The aid package, agreed to on Thursday, will support the public and private sector in a bid to save the 2015 Joint Comprehensive Plan of Action (JCPOA), commonly known as the Iran Nuclear Deal, Reuters reported. With re-imposed sanctions on Tehran earlier this month, Trump warned that anyone continuing to do business with the country would face consequences.
"Anyone doing business with Iran will NOT be doing business with the United States," he tweeted on August 7, hours after the sanctions went into force.
European leaders, as well as those of JCPOA signatories Russia and China, have largely ignored Trump's threats. After the president officially withdrew the U.S. from the agreement in May, the leaders of signatory nations criticized the move, arguing that the deal had been effective in curbing Iran's nuclear ambitions.
Foreign ministers of traditional U.S. allies the United Kingdom, France, Germany and the EU issued a joint statement expressing regret at Trump's decision to reimpose sanctions. The ministers also said that Europe would take steps to "protect" its economic interests in Iran.
Nathalie Tocci, an aide to EU foreign policy chief Federica Mogherini, also told BBC Radio 4 earlier this month that Europe could issue additional sanctions against any EU business that caves to Washington's pressure.
With the new aid package, the EU hopes to maintain trade ties with Iran while also ensuring it meets its obligations under the JCPOA.
"This new package will widen economic and sectoral relations in areas that are of direct benefit to our citizens," Mogherini explained, according to Reuters.
The funds will be split between Iran's private sector, environmental projects and fighting harm caused by drugs. About $9.26 million will support Iranian small and medium-sized enterprises as well as Iran's Trade Promotion Organization. Another $9.26 million will support environmental efforts and $2.3 million will counter the effects of drug use.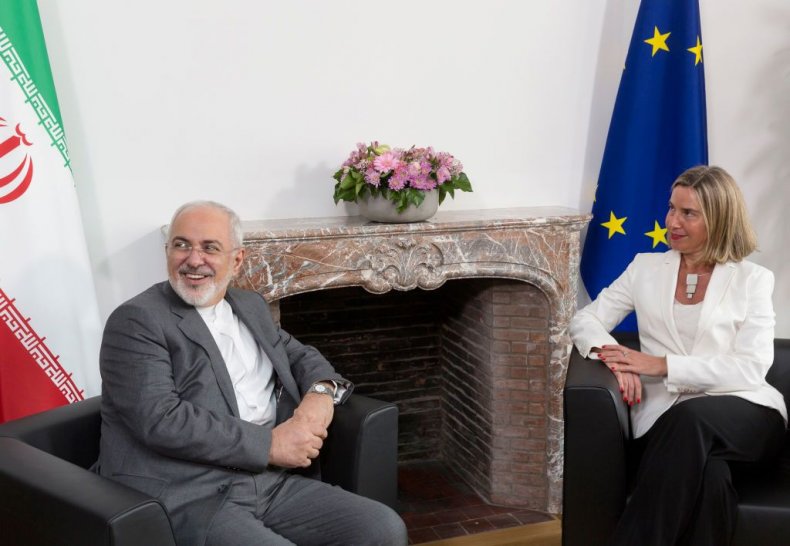 Although the EU has taken a strong public stance against Trump's sanctions, major European business have begun withdrawing from Iran.
French oil giant Total officially pulled out of the Islamic Republic due to Washington's warning, Iranian Oil Minister Bijan Namdar Zangeneh said on state television Monday. German car manufacturing giant Daimler also said that it suspended its activities in Iran as new sanctions went into effect. In June, following Trump's withdrawal from the JCPOA, French auto manufacturers Peugeot and Renault began taking steps to prepare for U.S. sanctions as well.
Commenting on Total's withdrawal, Iran has urged European leaders to increase their efforts to preserve the 2015 agreement.
"Europeans and other signatories of the deal have been trying to save the deal," Foreign Ministry spokesman Bahram Qasemi said. "But the process has been slow. It should be accelerated."