China and Russia Defend Iran Against U.S., Say They Will Keep Doing Business
China and Russia have condemned the U.S. decision to impose sanctions on countries trading with Iran, with whom they both have ties they were unwilling to forfeit.
President Donald Trump's withdrawal from the 2015 nuclear deal with Iran has drawn major criticism from the agreement's other signatories—including European allies France, Germany and the U.K. as well as top rivals China and Russia. As the leading customer of Iranian oil, China has been particularly vocal about its desire to continue to keep doing business with Iran, even as the first round of U.S. sanctions came into effect Monday.
"China has consistently opposed unilateral sanctions and long-armed jurisdiction," the Chinese Foreign Ministry said Wednesday in a statement faxed to Reuters, responding to questions about Washington's sanctions and threats.
"China's commercial cooperation with Iran is open and transparent, reasonable, fair and lawful, not violating any United Nations Security Council resolutions," it added. "China's lawful rights should be protected."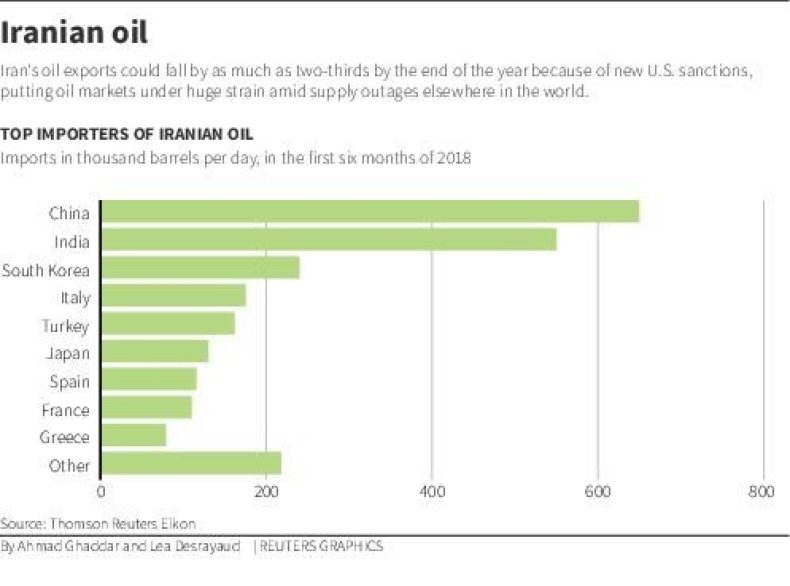 China buys some 650,000 barrels of Iranian oil per day, making the revolutionary Shiite Muslim power a vital pipeline for the world's largest population's rapidly growing energy demand. Beijing has invested heavily in oil infrastructure and has been slated to take over Iran's end of the world's largest gas field—the South Pars field—which is shared with Sunni Muslim monarchy Qatar. French oil giant Total, the current majority stakeholder, has said it would be forced to abandon its multibillion-dollar contract to develop the field if it could not get a U.S. waiver from sanctions.
As the first batch of non-oil-related U.S. sanctions kicked in Monday, Trump tweeted: "Anyone doing business with Iran will NOT be doing business with the United States." The president has pledged to bring Iran's oil trade to zero and sanctions regarding the country's energy sector were set to come into effect November 4. Joining fellow nuclear-accord parties in opposing this decision, the Russian Foreign Ministry said Tuesday it was "deeply disappointed" in the U.S. for going through with the punitive economic measures against Iran and reaffirmed its commitment to the deal, known officially as the Joint Comprehensive Plan of Action (JCPOA).
"This is a graphic example of Washington's continued violation of U.N. Security Council Resolution 2231 and trampling upon the norms of international law," the ministry said. "We denounce any unilateral sanctions in circumvention of the U.N. Security Council's decisions, all the more so if they have exterritorial applications and affect the interests of third countries, as is the case with the current U.S. restrictions against Iran.
"The international community must prevent these significant achievements of multilateral diplomacy from being sacrificed to U.S. aspirations to square political accounts with Iran on issues that have nothing to do with the JCPOA. As long-term experience shows, it will be impossible to secure concessions from Iran using pressure tactics," it added.
Russia has massive oil reserves of its own, so its concerns about the sanctions against Iran have been largely based not on geopolitics but on economics. Moscow has sought to counter U.S. dominance in the Middle East by building ties with Washington's friends and foes alike, and Iran has proved a particularly strategic partner as it helps their mutual ally Syria overcome an uprising fueled by the West, Turkey and Sunni Muslim monarchies.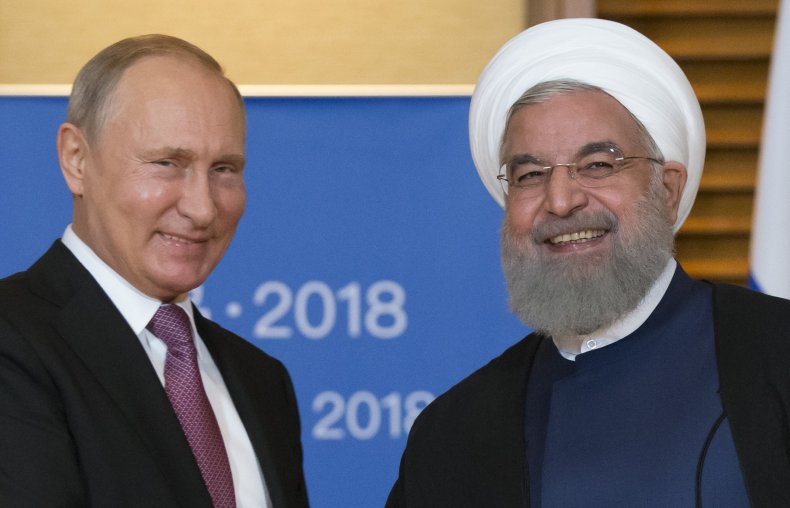 While rifts have emerged over Russia and Iran's vision for Syria as anti-government elements are defeated nationwide, Moscow still saw Tehran as a vital counterweight to Washington's foreign interests. These were a driving factor in Trump's decision to exit the Iran deal as he accused Tehran of using sanctions relief money to fund militant groups. The Russian Foreign Ministry asserted Tuesday that it would "do everything possible in the interests of preserving and effectively implementing the JCPOA in full measure," including by "implementing the relevant measures to protect trade and economic cooperation with Iran at [the] national level."
China and Russia were joined by the EU and a tripartite of its member states that signed the Iran deal in taking measures to mitigate Trump's initiative, potentially diminishing U.S. influence over the global financial system. Natalie Tocci, an aide to EU High Representative for Foreign Affairs and Security Policy, told The Hill Tuesday, "If EU companies abide by U.S. secondary sanctions they will, in turn, be sanctioned by the EU," and the EU has warned it would "forbid" EU nations from adhering to Trump's sanctions on Iran. China, Russia and the EU have also all taken on the U.S. in the World Trade Organization over Trump's steel and aluminum tariffs.
Responding to Trump's moves and the global reaction, Iranian Foreign Minister Mohammad Javad Zarif told reporters after a cabinet meeting Wednesday that "the world has taken a stance against U.S. sanctions," according to the semiofficial Mehr News Agency. "The European Union has announced that it will not comply with U.S. sanctions, and it will also support those countries that wish to side with the EU on this position. In a sense, an international consensus has been formed against the U.S. measure.
"Just as much as Trump's claim for talks can be disregarded, the U.S. claims on exerting pressure on Iran can also be dismissed," he added.