Which Countries Do Business With Iran? Donald Trump Threatens Nations With Economic Ties to Tehran
President Donald Trump has threatened on Tuesday that "anyone doing business with Iran will NOT be doing business with the United States," following the implementation of sanctions against the Islamic Republic this week.
Prior to the president's stern warning, the foreign ministers of traditional U.S. allies the United Kingdom, France, Germany and the European Union issued a joint statement expressing regret at Trump's decision to reimpose sanctions. The ministers also said that Europe would take steps to "protect" its economic interests in Iran.
On Monday night, before Trump's latest threat, Nathalie Tocci, an aide to EU foreign policy chief Federica Mogherini, told Britain's BBC Radio 4 that Europe would issue additional sanctions against any EU business that cave to Washington's pressure.
"If EU companies abide by U.S. secondary sanctions they will, in turn, be sanctioned by the EU," Tocci warned, according to The Hill. Her comments followed another statement from the EU that said it would "forbid" European entities from complying with Trump's punitive tactics.
However, German car manufacturing giant Daimler said Tuesday that it had suspended its activities in Iran.
"We will continue to closely monitor the political developments, especially in connection with the future of the nuclear agreement," the company said in a statement, NBC News reported. In June, French auto manufacturers Peugeot and Renault began taking steps to prepare for U.S. sanctions as well.
"The EU has taken some tough steps but will need to do more to ensure trade can continue without exposing companies to the sanctions," Jamal Abdi, president of the National Iranian American Council told Newsweek. "Under Obama, the U.S. was in a game of chicken with Iran, until they found an off-ramp. Under Trump, the U.S. is playing chicken with Europe."
According to data from the European Commission, the EU is Tehran's third largest trading partner, accounting for 16.3 percent of Iran's total trade. China is the country's largest trading partner (19.5 percent), followed by the United Arab Emirates (16.8 percent).
Iran is the world's 49th largest export economy. In 2016, Iran exported $40.6 billion and imported $54.2 billion, resulting in a negative trade balance of $13.6 billion, according to data compiled by the Massachusetts Institute of Technology's Observatory of Economic Complexity.
Tehran's biggest exports are oil products, such as crude and refined petroleum. However, it also has a multibillion dollar export industry in car manufacturing and vehicle parts, MIT reported. Gold and jewelry exports also each surpass $1 billion annually.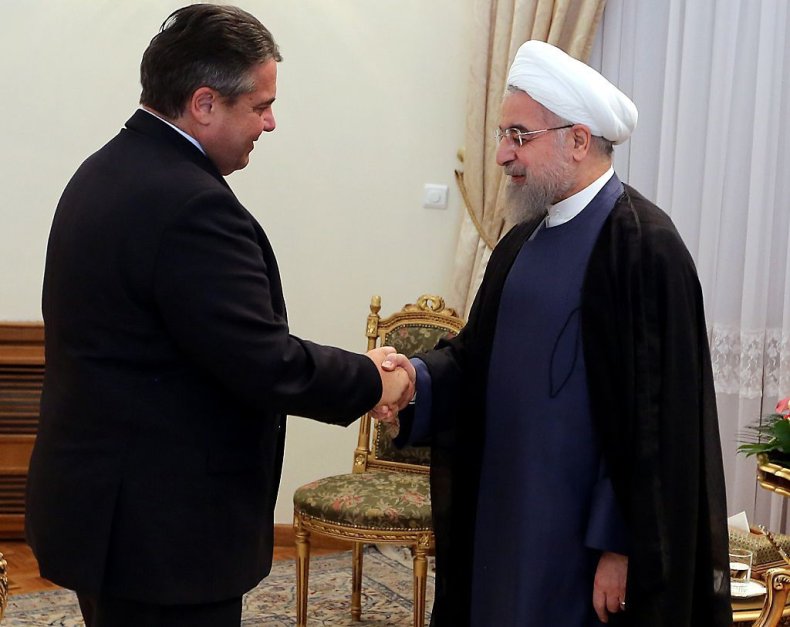 The new U.S. sanctions specifically target Iran's trade in gold and precious metals, as well as the direct and indirect sale, supply or transfer to or from Iran of graphite, aluminum, steel and coal. Significant transactions of Iranian currency will also be targeted, as well as the country's auto industry.
Beyond Europe, South Korea and Japan—also U.S. allies—have significant economic dealings with Iran. At the end of June, Reuters reported that the Asian nations, which both purchase large amounts of Iranian oil, were lobbying the White House in an effort to avoid negative fallout from new sanctions.
"We are watching carefully the impact that the U.S. measure would cause, and we would like to negotiate with countries involved including the United States so as not to have an adverse impact on Japanese firms," Japan's Chief Cabinet Secretary Yoshihide Suga said at the time, the news agency reported.
China, Iran's biggest trading partner, is already in the midst of a massive trade dispute with the U.S. Beijing has also taken a strong stance in support of Tehran and the 2015 Joint Comprehensive Plan of Action (JCPOA)—commonly known as the Iran Nuclear Deal—working closely with European leaders to ensure the treaty remains in place.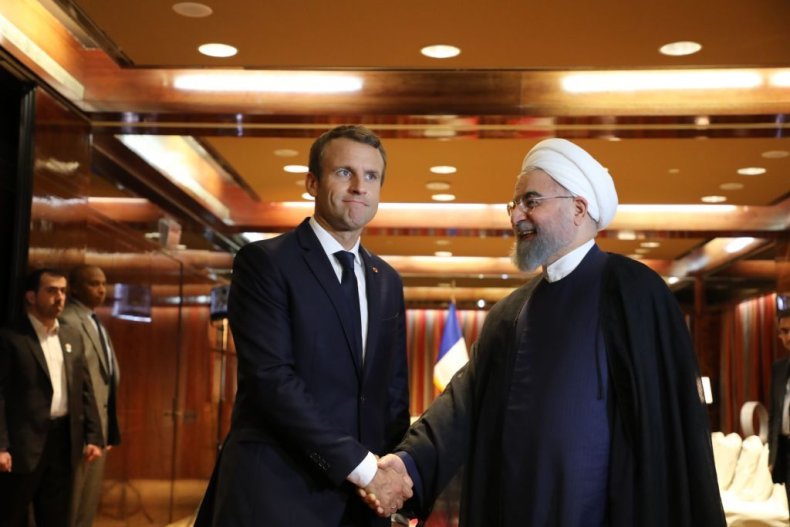 As for the UAE, Iran's second-biggest trading partner, the country's leaders have remained steadfast critics of Tehran, despite economic ties. Following Trump's May decision to withdraw the U.S. from the nuclear agreement, the UAE's Ministry of Foreign Affairs and International Cooperation announced its full support of Washington, Emirati newspaper Khaleej Times reported. It also called on other treaty signatories and nations around the world to align themselves with Trump's position.
Pointing out that Trump's sanctions are intended to target sectors that will impact European economic interests, Beatrice Maneshi, an Iranian-American global security and development consultant based in the Netherlands, told Newsweek that "perhaps the Russian and the Chinese will stick it to America" and continue business with Tehran.
"I see this as being most possible with China in light of the current trade war, and the economic impact their own much more calculated sanctions or trade movements have on the U.S. economy," she said. "Russia's economy is itself not very strong in terms of a trading partner, and wouldn't help Iran all that much to buffer the weight of the U.S. sanctions."