Is Geert Wilders Really The Dutch Donald? 'EuroTrump' Follow Anti-Islam Politician to Find Out
A small country in Northern Europe staged one of the most-watched elections last year as peroxide-blonde far-right leader Geert Wilders stood a chance to win a majority of the votes - the first time any far-right politician cames so close to power in the country's history. Would the Netherlands, a country best known for its liberal policies on drugs and civil rights, become the first major country to follow the U.S. in voting a xenophobic leader to power?
The stunning victory of Donald Trump at the 2016 presidential election, which followed an equally stunning result in the U.K. referendum on leaving the European Union that summer, suddenly made that unlikely prospect possible. The upcoming Dutch parliamentary election, the first in a string of key votes for European leaders in 2017, became a bellwether of the rise of populism in Western liberal democracies.
Filmmaker Stephen Robert Morse, one of the Emmy-nominated producers of Netflix's "Amanda Knox" documentary, was one of the people puzzled by this turn of events. He teamed up with co-director Nick Hampson and co-writer Maria Springer and together they focused their energy on understanding who Wilders, the man dubbed the "Dutch Donald Trump," really is.
The resulting 90-minute documentary, set to premier on streaming service Hulu later this month, is titled "EuroTrump." The reference to Trump is somewhat ironic, Morse told Newsweek , as the two leaders have little more in common than their distinctive hairstyle and inward-looking perspective at the world. "Wilders is actually much smarter than Trump, when you compared the two of them," Morse said. "Wilders is strategic, he thinks slowly, he knows what he's doing and he knows how to influence people," he added.
Wilders has also been a lawmaker and a prominent figure in his country's politics for longer than Trump, yet he doesn't mind the comparison. "He is honored with that title, it is not offensive to him at all—you're naming him after a winner," Morse said.
The "EuroTrump" team began its almost four months of following Wilders while he was in the midst of the election campaign. The filming kicke off just a few days after a jury in December 2016 trial convicted him of inciting discrimination. A group of about 6,000 people filed a hate speech complaint against Wilders after participants at a rally in chanted "fewer" in answer to his question about wanting more or fewer Moroccan people in the country—during the trial, witnesses said the chant was orchestrated as a media stunt.
Wilders, once a politician in the conservative party, founded his own party in 2006. Unlike traditional far-right parties that often embrace homophobic and misogynistic views as well as xenophobic ones, Wilders' Party of Freedom (PVV) mainly espoused Islamophobia as an ideology, an immigration policies as a target of its campaigning.
In "EuroTrump," Wilders candidly discusses his ideas and upbringing, describing himself as a spoilt child, and his love for his two cats, who have their own social media account. Morse said that the Dutch press didn't have a favorable view of the documentary, which was criticized for giving Wilders a platform.
"I think that's an ignorant approach," he said. To him, it was important to see the man behind the bombastic statements. "You should try understand the people who disagree with. If you don't have an in-depth understanding of someone it makes it very challenging to understand their viewpoint, if you don't understand where those views came from," he said.
At a time of seemingly deepening divisions, the filmmakers wanted to engage with opposing views. " I disagree with many of Wilders' views, but I understand there are many people who agree with him and there are many people who think immigration is a threat to Europe and parties that have these views are winning."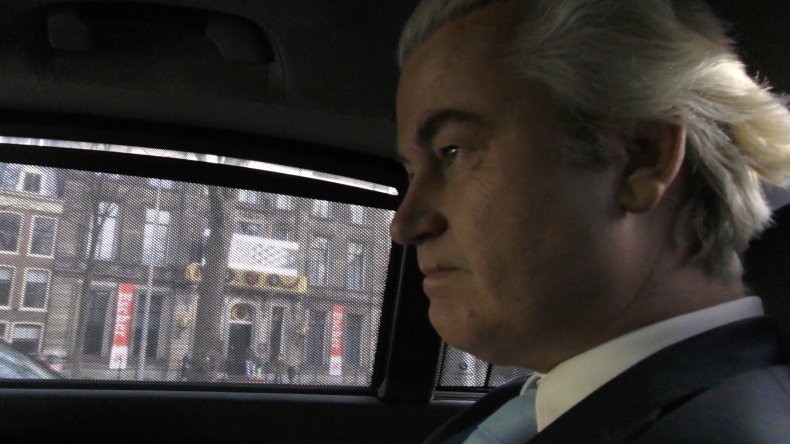 As "EuroTrump" shows, Wilders played quite a role in creating those divisions in society by constantly shifting the bar of what was acceptable to say or do further and further. He became known for incendiary statements, such as comparing the Quran to Adolf Hitler's "Mein Kampf" and calling the Prophet Muhammad a pedophile and, most recently, pledging to shut down all the mosques in the country.
Wilders' statements have often sparked national and international outrage, and have also added fuel to religious extremists' fire, who began targeting him with death threats. He has lived under police protection since 2004, the year filmmaker Theo Van Gogh, who had made the controversial short movie "Submission" about the position of women within Islam, was assassinated in Amsterdam.
The filmmakers were able to witness first hand the relation between Wilders and his security detail. "He couldn't survive without them, at the same time he can be critical of them too" Hampson said.
The "EuroTrump" team gained unprecedented access to the otherwise seclusive politician, who, despite never shunning media attention and maintaining a busy social media presence, is rarely seen letting his guard down. "I genuinely believe he forgets what freedom is like. It is as if he is on house arrest for years," Morse said.
Throughout the filming, Wilders remains in control of his narrative, speaking directly to the camera, never catching himself in a moment of vulnerability that doesn't benefit his image. Even when emotionally speaking about his wife, and how she endured the limitations that living under police protection brought to their lives, Wilders presents the situation as a price to pay for his cause, concealing the psychological toll of such lifestyle behind anecdotes about using nail polish remover to clean up the glue left from fake mustaches he had to wear. It's up to other interviewees to fill Wilders blanks.
"I think we did challenge him quite a lot. He's a skilled politician and has strongly-prepared answers," Morse said, adding: "To his credit, he could have kicked us out at any moment, but he didn't."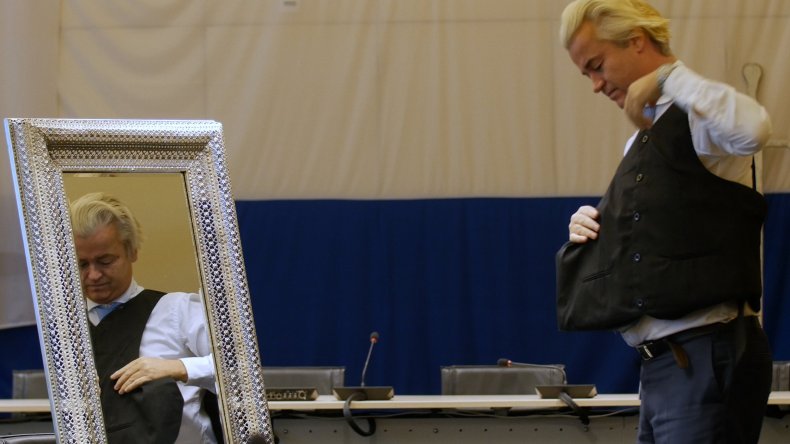 What "EuroTrump" cameras truly expose is a deeper understanding of how consuming Wilders' obsessive anti-Islam crusade is, and how this has influenced and was influenced by similar movements elsewhere in the world.
"Wilders is a master marketer. I jokingly call him the 'chief marketing officer of the global populist movement'" Morse said. Having spent months in touch with Wilders and his supporters, he has come to realize that populist movements may seem like domestic phenomena due to their nationalistic views, but they are actually in touch with one another.
Wilders' latest outrage-invoking initiative is a cartoon contest about the Prophet Muhammad—most Muslims consider depictions of the prophet as blasphemous—a similar initiative to that organized in 2015 in Texas by anti-islam blogger Pamela Geller. Geller's contest was attacked by two gunmen who shot a security guard before being killed by police agents. Wilders' competition is due to be judged by the winner of Geller's contest.
"Everyone is looking to each other for advice, they are looking to each other for inspiration, they are looking to each other on how to do things, what works and what doesn't work around the world," Morse said.
What did not work for Wilders in the end was the comparison with Trump, which appeared to have prompted Dutch voters to go to the polls en masse—the 81 percent turnout was the highest in 30 years —and award a majority to the ruling party of Prime Minister Rutte. Wilders' party nonetheless increased its share of seats in parliament—it's now the second-biggest party in the country—while support for the centre-left party completely collapsed.
The Dutch election foreshadowed a similar situation to the French vote later that year, where mainstream parties were left out of the final run for the presidential seat in favor of a relative newcomer, Emmanuel Macron, and firebrand far-right leader Marine Le Pen. Soon afterwards,in the German general election, prime minister Angela Merkel retained power, but with a smaller majority, as the far right Alternative for Germany became the third-biggest party in parliament for the first time in the country's post-war history.
"It just seems like Donald Trump is an anomaly and it's only because of the Russians these things happen, but I don't think that's true. I think there is a popular sentiment in society that no one is trying to understand where it comes from," Morse said.
Wilders' decade-long expression of radical views has certainly born its fruits. By the time of the 2016 vote, the then-prime minister who was seeking re-election, Mark Rutte, wrote an "open letter" to Dutch voters saying "act normal or leave." As experts interviewed in the documentary concur, having a mainstream party expressing such views is a better meter of Wilders' influence on politics and society than any election result.
"EuroTrump" becomes available for streaming on Hulu on June 30.