Evan Rachel Wood Seemingly Supports Amber Heard Following Trial Verdict
Evan Rachel Wood has shown her support for Amber Heard following the latter's treatment on social media during her multi-million-dollar defamation trial against Johnny Depp.
Following the end of the trial, which saw a jury side with Depp, a number of social media accounts that saw an explosion in followers through sharing a barrage of anti-Heard content went on to target Wood amid her legal battle with Depp's friend Marilyn Manson.
The Westworld actress is herself embroiled in a legal dispute with an ex and has been sued by former fiancé Manson after publicly alleging that she was subjected to domestic abuse at the hands of the musician during their relationship.
Now Wood has taken to Instagram to show the social media response to Heard throughout (and after) her court battle with Depp.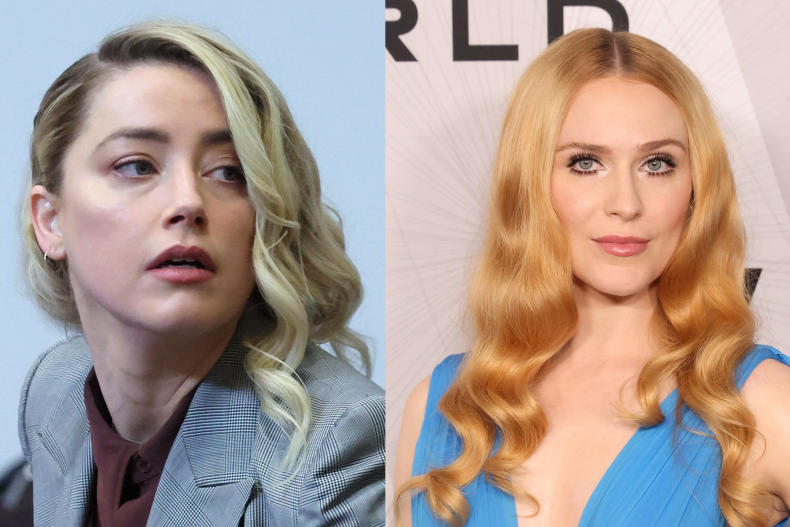 Sharing an article from the outlet We Got This Covered titled ​​"Anti-Amber Heard online campaign is straight-up cyberbullying," Wood shared the findings from a report by Bot Sentinel, a nonpartisan group dedicated to uncovering and exposing online bots, and how they're used.
"What we observed was one of the worst cases of cyberbullying and cyberstalking by a group of Twitter accounts that we've ever seen," the report states, and noted that 627 accounts were created for the sole purpose to tweet on the defamation trial and about Heard and her supporters.
The report also noted that a similar scenario was taking place, with accounts being set up to target Wood.
"The abuse and targeted harassment continued well after the Depp vs. Heard trial ended, and unless Twitter takes action, the abuse and targeted harassment will still continue," the report states.
Newsweek has reached out to Wood for additional comment.
Wood shared a snippet from the article about the report without a caption and also shared some screenshots in her Stories.
With another celebrity legal battle set to likely dominate headlines, the social media landscape is already seeing a rise in opinion-based coverage on the case across various platforms.
Following a televised trial that concluded in late May, the jury on June 1 ruled largely in Depp's favor, awarding him $10 million in compensatory damages and $5 million in punitive damages while, Heard, who had countersued for $100 million for nuisance, was awarded $2 million in compensatory damages by the jury.
Throughout the trial, Heard was the focus of endless scrutiny on Twitter, Instagram, YouTube, and TikTok.
It would appear that Wood is now on the verge of receiving similar attention online, with Newsweek previously reporting on the explosion of targeted negativity towards Wood.
One YouTube video, posted on May 31 titled: "An Amber Heard Sequel? The Hoax Against Marilyn Manson is Amber Heard Vs Johnny Depp On Steroids!" has now clocked up more than 90,000 views.
Wood first publicly named Manson, whose real name is Brian Warner, as her alleged abuser in a post on Instagram on February 1, 2021, in which she claimed Manson had "horrifically abused [her] for years" and said she was "brainwashed and manipulated" by him.
On the same day that Wood named Manson publicly, four other women also came forward and accused the musician of sexual and physical violence, as well as mental, physical and emotional abuse.
At least 16 women have now come forward to make allegations against Manson, according to Rolling Stone.
Manson has vehemently denied all allegations made against him and has launched a defamation lawsuit against Wood over her Phoenix Rising documentary about her allegations.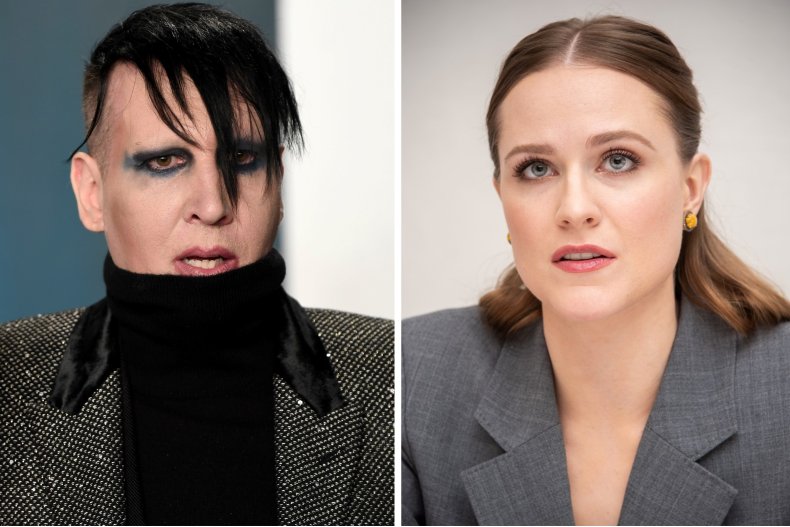 On March 3, Manson's legal team announced that a defamation lawsuit had been filed against Wood and "her on-again, off-again romantic partner" Ashley "Illma" Gore in the Los Angeles Superior Court.
Manson's attorney Howard King told Newsweek at the time: "This detailed complaint has been filed to stop a campaign of malicious and unjustified attacks on Brian Warner. Years after the end of Evan Rachel Wood's long-term relationship with Warner, she and her girlfriend Illma Gore recruited numerous women and convinced them to make false allegations against him—claims that Wood and Gore scripted for them."
Wood and Manson first met when she was 18 and he was 37, and their relationship became public in 2007. They became engaged in 2010, but broke up shortly thereafter.
Manson recently made headlines when Depp said during testimony in his trial that he had taken recreational drugs with the musician.