Every Good and Terrible Excuse Used to Avoid Performing at Trump's Inauguration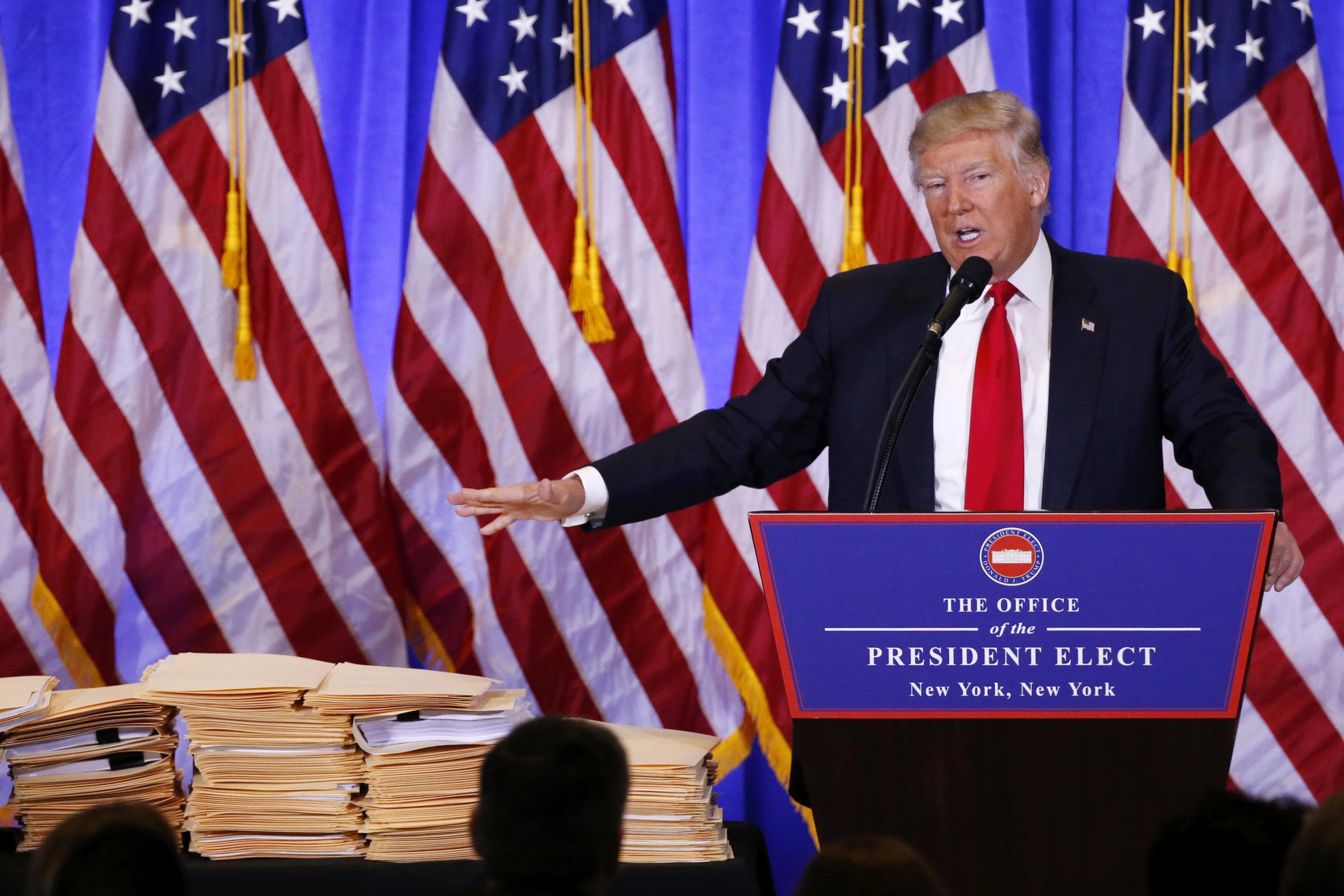 Donald Trump's presidential inauguration is like a birthday party for a rich 8-year-old bully everyone at school hates. Nobody wants to go, but everyone is afraid of suffering his wrath should he interpret their absence as a lack of respect. Thus, the excuses are golden.
The number of notable artists, musicians and politicians (im)politely declining to attend or perform has steadily increased since the election in November. Here's a collection of all of their varying excuses:
Former President George H.W. Bush
Excuse: Might actually kill him
Bush was admitted to intensive care over the weekend, battling pneumonia. His wife, Barbara Bush, is also in the hospital. Last week, George Bush wrote a polite letter to Trump, to assure him there's no ill will behind his decision to not come to D.C. for the inauguration. "My doctor says if I sit outside in January, it will likely put me six feet under. So I guess we're stuck here in Texas."
Elton John
Excuse: Doesn't support Trump
After a rumor started circulating in December that John might perform, his publicist was quick to respond. "Incorrect. He will NOT be performing," the publicist told The New York Times. John had previously stated in an interview with Mic that Trump makes him "fear for the world."
Related: B Street Band withdraws from Trump inauguration
Jennifer Holliday
Excuse: Would piss off fans
The Dreamgirls singer briefly planned to perform at the inauguration, but later changed her mind and canceled. "Her main reason for backing out was because of the hurt many in the LGBT community felt," said her publicist.
The B Street Band
Excuse: Don't want to piss off the Boss.
This Bruce Springsteen cover band briefly agreed to perform before deciding against it, out of respect for Springsteen's anti-Trump stance. "Bruce's music has been the foundation of our livelihood," band keyboardist and manager Will Forte said. "The B Street Band would not exist without the talents of Bruce and our E Street brothers."
Céline Dion
Excuse: Staying in Vegas
Dion declined to perform at the inauguration because she's performing shows in Las Vegas through the weekend and is extremely "loyal to her fans."
Andrea Bocelli
Excuse: Fear of backlash
Bocelli initially agreed to perform, but decided it'd be best to avoid the controversy. "Bocelli said there was no way he'd take the gig," an anonymous source told Page Six. "He was 'getting too much heat' and he said no."
Marie Osmond
Excuse: Not really into politics.
Osmond briefly seemed open to performing at the inauguration, but claimed this sentiment was taken out of context. "I try to stay out of politics," she said in a statement posted on Twitter. "I'm an entertainer. My interview statement simply tried to be nice and promote a message of love, not hate."
R. Kelly
Excuse: No stated reason
Rumors circulated that Kelly was going to perform, but alas, they were just rumors. In a statement posted on Twitter, Kelly said that he would not be performing. "End. Of. Story," he added.
Paul Anka
Excuse: Wants to spent more time with his son
One day after agreeing to perform, Paul Anka dropped out. "I've been in a custody battle for two years for my son Ethan," Anka told TMZ. "We have a new schedule now, and we're unable to do it."
Washington, D.C. High School Marching Bands
Excuse: Rebuilding the band
D.C. marching bands usually participate in presidential inaugurations. This year, none applied. One principal explained that they were too busy "rebuilding the band." Others didn't offer a reason.
Kiss
Excuse: Better offer.
Gene Simmons's wife told TMZ that the band was asked to play, but declined. "We're going to be touring Europe," explained Simmons.
Moby
Excuse: Can't stop laughing
Last week, a booking agent asked Moby if he would DJ at one of Trump's inaugural balls. Moby's response? "Hahahahaha, wait, Hahahaha, really?" The artist added in an Instagram post, "I guess I'd DJ at an inaugural ball if as payment #trump released his tax returns."
Garth Brooks
Excuse: Will be in Cincinnati
While initially open to performing, Brooks backed away from the idea because he's booked for shows in Cincinnati. This will be the first time in history "being in Cincinnati" was deemed the better of two choices.
David Foster
Excuse: Fear of assassination
Foster was afraid that he'd anger friends and fans if he performed. "He actually wanted to do it," a source told The Washington Post. "It's a high-profile thing—but he couldn't risk it."
Charlotte Church
Excuse: [Poop emoji]
The singer-songwriter was approached about performing, but refused. "A simple Internet search would show I think you're a tyrant," Church explained in a tweet.
Rebecca Ferguson
Excuse: Didn't like the playlist
The singer was asked to perform, and agreed, under the condition that they let her sing "Strange Fruit." That wasn't going to happen. "I felt it was the only song that would not compromise my artistic integrity and also as somebody who has a lot of love for all people but has a special empathy as well for African American people and the #blacklivesmatter movement," Ferguson said in a statement. "I wanted to create a moment of pause for people to reflect."
65 (And Counting) Democratic Members of Congress
Excuse: Trump attacked a civil rights icon
About 65 Democratic members of Congress are boycotting Trump's inauguration, after the president-elect attacked Representative John Lewis on Twitter, on Martin Luther King Jr. Day weekend. Among many other reasons.
The Mormon Tabernacle Choir
Excuse: Trump is a fascist
Though the Mormon Tabernacle Choir agreed to perform at the inauguration, singer Jan Chamberlin decided to quit the choir rather than sing for Trump. "I've tried to tell myself that it will be all right and that I can continue in good conscience before God and man," Chamberlin explained in a Facebook post. "I only know I could never 'throw roses to Hitler.' And I certainly could never sing for him."
The Rockettes
Excuse: Political disagreements/Don't want to be grabbed by pussy
While the Rockettes are performing at the inauguration, many of the dancers have chosen to skip the gig, for a variety of reasons. The most damning? "I wouldn't feel comfortable standing near a man like that in our costumes," one dancer told Marie Claire.
Frank Sinatra
Excuse: Dead
Sinatra's daughter, Nancy Sinatra, confirmed that the long-deceased singer is too dead to perform at the inauguration, but wouldn't have performed if he were alive, because he "would never support a bigot."