Every Tantalizing Thing Kourtney Kardashian Has Said About Travis Barker
Kourtney Kardashian and Travis Barker have shared many photos with each other since the beginning of their romantic relationship, but what other details has Kardashian recently spilled?
The couple knew each other for almost 10 years before getting together in early 2021. Later on in the year, they got engaged on the beach surrounded by candles and roses. "forever," Kardashian wrote in the viral Instagram post.
From discussing her marriage with Jimmy Kimmel to talking about their first date, here are all the tantalizing things that Kourtney Kardashian has said about fiancé Travis Barker.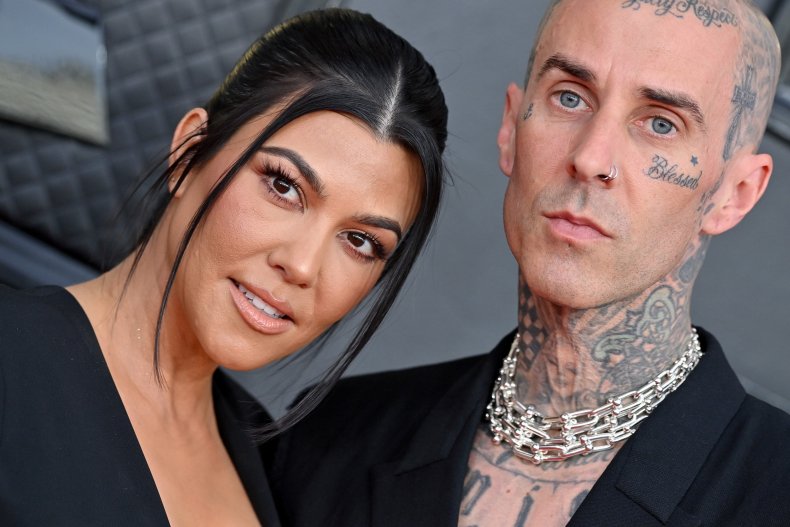 "I'm not sure Kourtney really has a type. But if she does, it's definitely Travis," Kris Jenner explains in the first episode of the new Hulu series, The Kardashians that premiered April 14.
The show has given viewers an updated look into the Kardashian-Jenner family, including blooming relationships such as Kardashian and Barker's.
"I was definitely always attracted to Travis," explained Kardashian on the show, "I just think it was the right time in my life. I had taken a year to myself but my closest best friends have always said 'You have to hook up with Travis.'"
She also explained that they would bring their kids together to do fun activities and during quarantine, Kardashian admitted to having "flirtatious" conversations with the musician.
"Finally, I think once i made it known, he asked me to watch a movie and the whole movie he didn't make a move." When asked which one of them went in for a first kiss, she admitted to it, saying, "He was taking a long time!"
At the end of the first episode, fans were given a sneak peek as to what's to come on the debut season, including Kardashian and Barker having a baby together.
"It's a beautiful thing that we'd love to have happen, but the journey is a bit hard for any women who have been on it," Kardashian told Entertainment Tonight.
In the beginning of April, Kardashian posted some pictures to Instagram and it has received over 4.3 million likes of the couple getting "married" at a chapel in Las Vegas.
In a recent interview with Jimmy Kimmel, Kardashian explained how it is tough to get a marriage license so late at night.
"We asked like five times 'What do we have to do to make this happen?'" she said.
The place to get a marriage license wasn't open until the morning, but that didn't stop the couple.
"We just did it anyways," she said. "It's what's in the heart."