Evictions Are About to Explode and Fuel the Spread of Coronavirus
An upcoming wave of evictions could force people into worse conditions or homelessness and exacerbate the spread of COVID-19.
Amid economic turmoil and job losses across the United States, millions face being forced from their homes as they struggle to make ends meet.
The prospect of a $600 unemployment benefits boost and a moratorium on local evictions coming to an end could compound the hardship.
Analysis from The Aspen Institute suggests that up to 23 million people in the U.S. face eviction by September, with low income renters and people of color the most vulnerable.
A report detailing these figures from The Aspen Institute said: "Mass evictions would be a disaster. For both individuals and families, evictions result in severe harm; when they become widespread, there are also significant consequences for entire communities and even the speed of economic recovery."
Polling from Apartment List, which questioned 4,000 Americans towards the start of July, found around a third, 32 percent, of renters said they did not make a full and on time housing payment this month. Around one fifth, 19 percent, said they made none and 13 percent partial.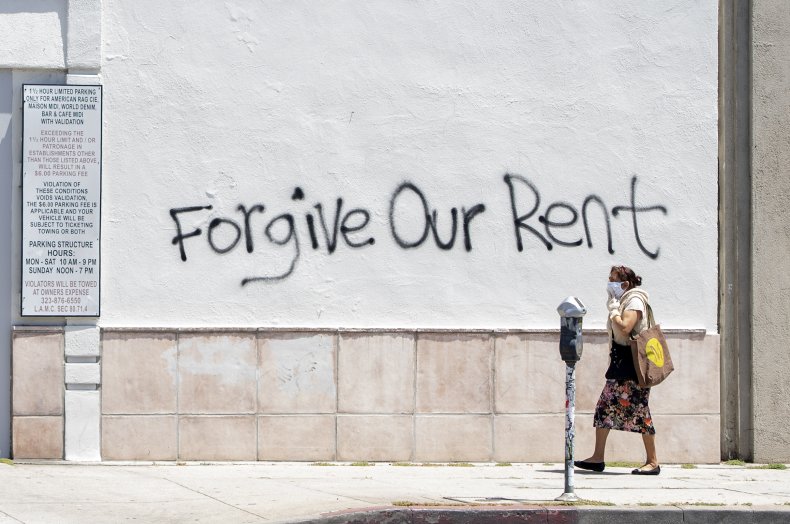 The Apartment List report attributed this problem to COVID-19, stating: "The number of new coronavirus cases has surged, and reopening plans have been paused or rolled back throughout the country, making clear that effects of the pandemic are far from behind us. This continued economic hardship is having serious implications for housing security."
An Urban Institute report called for more support for those at risk. It warned that "renters are at risk of housing instability and homelessness, and more assistance is needed to help them weather the storm."
The usual negative impacts of eviction are also teamed with risks linked to the coronavirus crisis, with the potential for people having to leave their homes posing problems for transmission.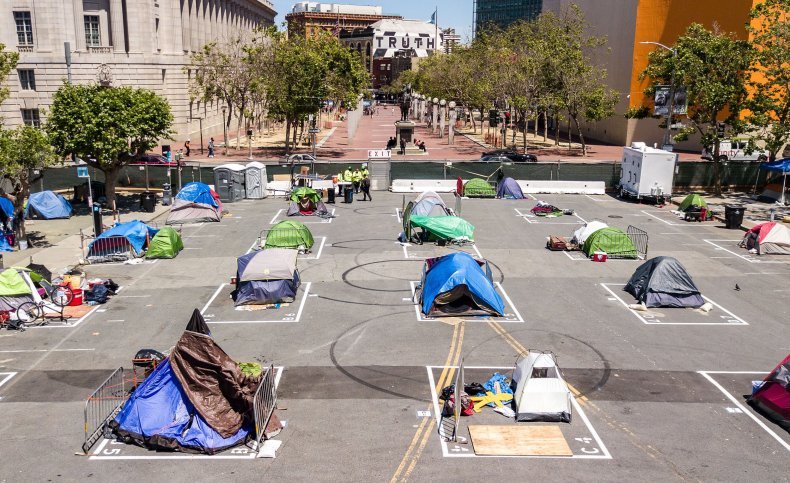 Dr. Jennifer Nuzzo, a senior scholar at the Johns Hopkins Center for Health Security, told Newsweek that the evictions leading people to either have no home or move into riskier conditions, for example a more crowded property or with a vulnerable person, is a concern.
"Obviously it's quite a worry. One of the challenges we've seen in this pandemic, the most important thing we can do, is to ensure that people who have this virus can isolate themselves.
"We've had challenges with this, because there are people without homes, or they can't safely isolate at home," Nuzzo said.
"So if you compound the problem now there's even more people without places to live, who may become sick, that obviously poses extra stresses, which potentially means they're not going to be able to isolate safely."
Nuzzo said a particular issue might be people move in with older relatives or someone with underlying health conditions, who are at more risk from the affects of COVID-19. Diane Yentel, National Low Income Housing Coalition president and CEO, echoed concerns over a raft of evictions amid the pandemic.
"The confluence of increasing evictions in communities with surging coronavirus is deeply worrying and threatens tremendous harm to families and communities," she told Newsweek.
"Evicting families during a pandemic is cruel and reckless—it risks lives, further burdens hospitals, and makes it more difficult for the country to contain the virus and get back to any semblance of normal."
The potential of people becoming homeless is a major concern, particularly given the strain already on resources to support those communities.
As previously reported by Newsweek, groups advocating for the homeless believe billions more in funding is required to help those already without homes, while support is also needed to prevent others from falling into similar circumstances.
"There are millions of people who are not going to have the money to pay rent who are in danger of becoming homeless," Steve Berg, VP of programs and policy for the National Alliance to End Homelessness, said previously.
Asked about the prospect of a wave of evictions, he said: "Action very soon is definitely needed."
The CARES Act enacted a 120-day eviction moratorium, though this ends on July 25, and a boost to unemployment benefits will also cease at the end of the month.
A future relief package could potentially extend measures, though this has not been agreed by Congress, despite polling suggesting Americans are struggling to pay for basic living costs. Nearly half of all Americans have had their income hit amid the virus outbreak.
The graphic below, from Statista, shows details of how households have seen their income hit.