Ex-Cops in George Floyd Case to Face Mostly White Jury as Judge Says Trial Not About Race
A jury of 18 people, most of whom are white, were selected Thursday for the trial of three Minneapolis police officers charged in the killing of George Floyd, while the judge said the trial has "absolutely nothing" to do with race.
The jurors were chosen in just one day to hear the case of former officers Tou Thao, Thomas Lane and J. Alexander Kueng, who are each charged with willfully depriving Floyd, a Black man, of his civil rights while white police officer Derek Chauvin forcefully pinned his knee on his neck during an arrest. Thao is a Hmong American, Lane is white, and Kueng is Black.
The latest jury makeup appears to include just two people of Asian descent among the selected jurors and their potential alternates, while all the others are apparently white, according to the Associated Press. The selection process was much different in Chauvin's trial, which took more than two weeks to complete and had a jury of half white and half nonwhite members.
U.S. District Judge Paul Magnuson told a potential juror who was concerned he could not be impartial because of his race that there is "absolutely nothing about the subject of religion, race or ethnicity that's involved in this case," the AP reported.
That potential juror, who appeared to be Black, was later dismissed from the case.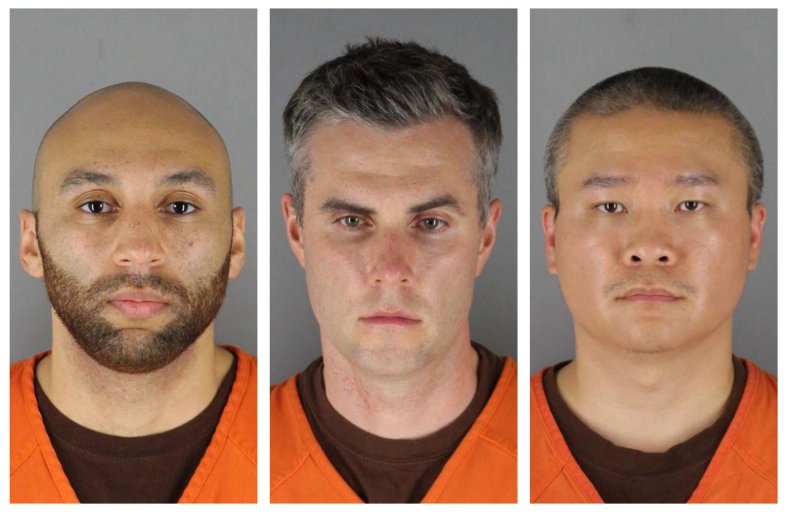 Joseph Daly, an emeritus professor at the Mitchell Hamline Law School, told the AP that while Magnuson's assessment of the case is accurate from a legal perspective, it is still important to recognize how Floyd's killing became the catalyst for a reckoning with institutionalized racism and police brutality in the U.S.
"It is true that it has nothing to do with race in the framework of the law and facts," Daly told the AP. "But from what I can see, it has almost everything to do with race. It has to do with what we know about how police enforce minor crimes against African Americans, how police have acted toward African Americans, minority people."
Mike Brandt, a defense attorney in Minneapolis who is not connected with the case, told the AP that Floyd's killing "was kind of the tipping point of unarmed Black men being killed at the hands of police. It had everything to do with race."
Newsweek contacted Magnuson, but he declined to offer any additional comment about his statement.
Floyd, 46, died on May 25, 2020, after Chauvin held him to the ground with his knee on his neck for more than nine minutes. Widely circulated video footage of the incident showed Kueng kneeling on Floyd's back while Lane held his legs down and Thao kept bystanders from intervening.
Chauvin was convicted on three counts of murder and manslaughter in April of last year and was sentenced to 22 years in prison.
On Thursday, a statement from attorneys for the Floyd family said the video footage shows that the three officers "directly contributed to [Floyd's] death and failed to intervene to stop the senseless murder."
Opening statements for the trial are scheduled to begin on Monday. Magnuson has said he expects the trial to last four weeks.