Ex-General Blasts Matt Gaetz Over Ukraine Fatigue Bill: 'Disgusted'
Retired U.S. Army General Mark Hertling on Monday called out Representative Matt Gaetz for his proposal to end aid to Ukraine, derisively comparing him to President Joe Biden during his trip to Kyiv.
Gaetz, a far-right Florida Republican, introduced a "Ukraine Fatigue" bill on February 9, which would formally call for an end to the U.S. providing aid to Ukraine to aid in its fight against Russia. The bill was signed by 10 more GOP members of the House, including other far-right lawmakers like Lauren Boebert and Marjorie Taylor Greene, who have long spoken out against the support of Ukraine.
In a tweet from Monday morning, Mark Hertling, the retired former commanding general of the U.S. Army Europe, said that he "went to bed disgusted" over Gaetz's bill. He also contrasted the bill with President Biden's surprise trip to Kyiv to meet with Ukrainian President Volodymyr Zelensky.
"Last night I went to bed disgusted after reading [Matt Gaetz] & 10 of his [GOP] colleagues submitted a 'Ukraine Fatigue' bill," Hertling wrote. "This morning I woke up ebullient to [President Biden] being in Kyiv. That's the difference between performance art & leadership."
In response to Hertling, Gaetz shared a mocking tweet calling for an "International Silver Alert," referencing the public notification issued for cases of missing senior citizens, especially those suffering from dementia, Alzheimer's, or other mental health issues.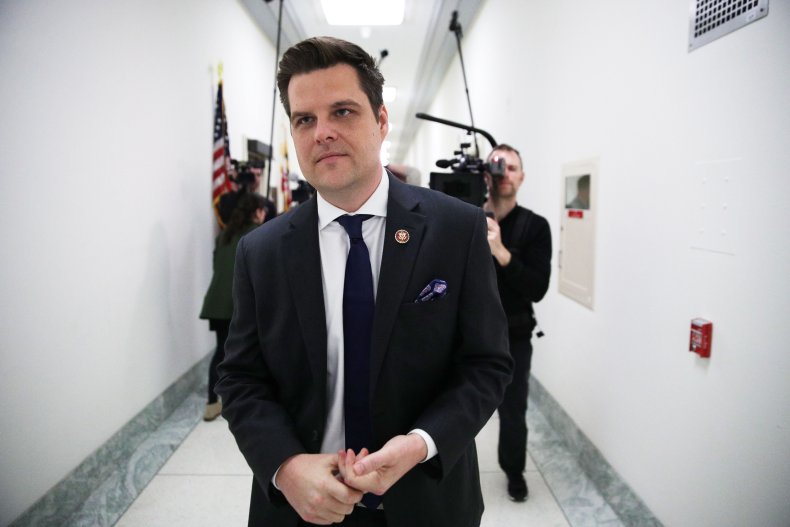 Biden made the trip to the Ukrainian capital in secret, having previously dismissed the idea of doing so during his scheduled trip to neighboring Poland. According to the Associated Press, he spent five hours in Kyiv, discussing plans with Zelensky, honoring fallen Ukrainian soldiers, and visiting U.S. embassy staff members. In a speech, he denounced Russia's invasion as "a brutal and unjust war" and reaffirmed U.S. support of the country.
"One year later, Kyiv stands," Biden said during an address at Mariinsky Palace. "And Ukraine stands. Democracy stands. The Americans stand with you, and the world stands with you."
During a recent speech in Munich, Vice President Kamala Harris also affirmed U.S. support for Ukraine, while also announcing that the U.S. had concluded that Russia was committing "crimes against humanity" in the country.
The bill put forward by Gaetz would not actually enforce an end to Ukrainian aid, but would merely be a non-binding resolution calling for the U.S. to "end its military and financial aid to Ukraine" and for "all combatants to reach a peace agreement." The language of the bill also alleged that U.S. aid to Ukraine is "inadvertently contributing to civilian casualties."
The bill is not expected to find support in congress from either end of the political aisle.
Newsweek reached out to Gaetz's office for comment.