Ex-Pence Aide 'Very Concerned' About Trump Inciting Violence on January 6
Olivia Troye, Vice President Mike Pence's former homeland security and counterterrorism adviser, warned that she is personally "very concerned" about the possibility of violence from President Donald Trump's supporters on January 6—the day Congress formally counts the electoral votes.
The Electoral College voted on December 14 to certify President-elect Joe Biden's win against Trump. But the president and his supporters continue to claim, without evidence, that Biden won through widespread voter fraud. Legal challenges brought by lawyers for the president and his supporters have nearly all failed. Former Attorney General William Barr, who resigned this month, also asserted that there is no evidence of election fraud that would change the results.
But some Republican members of Congress plan to object to the results from key battleground states on January 6, when the votes are counted during a joint session of the House and Senate. This effort is widely expected to fail, but Trump and his GOP allies view it as some kind of last stand.
"I am actually very concerned that there will be violence on January 6, because the president himself is encouraging it. This is what he does. He tweets, he incites it, he gets his followers and supporters to behave in this manner," Troye, a Republican, told MSNBC's Deadline on Monday evening.
"And these people believe they are being patriotic because they are supporting Donald Trump. And they are loyal followers," she continued. "And I think, in terms of his legacy, this is a president who calls himself the president of law and order, and we have seen anything but that."
Troye also said "this is all out of control," citing the "divisiveness" coming from the White House. She said Trump "continues to stoke the flames" and draw support from the far right.
Newsweek reached out to the White House for comment but did not hear back before publication.
"See you in Washington, DC, on January 6th. Don't miss it. Information to follow!" Trump tweeted on Sunday. In a Saturday tweet, the president urged GOP senators to join the effort led by Representative Mo Brooks, an Alabama Republican, to object to the electoral votes from several battleground states won by Biden.
Brooks, and other House Republicans joining the effort to object, need at least one Republican senator to sign on to any formal objections. Then both chambers of Congress would convene separately to discuss the objection and vote on its merits. Senate Majority Leader Mitch McConnell, a Kentucky Republican, has discouraged GOP senators from joining these efforts, pointing out that they will ultimately fail.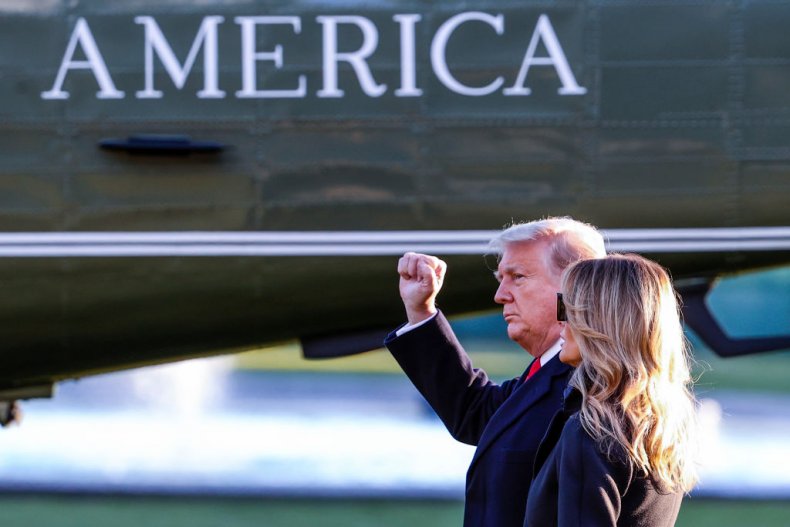 For an objection to succeed, both the GOP-controlled Senate and the Democratic-controlled House of Representatives would have to agree with it. Analysts do not even expect the Senate to sustain any objections, as there appear to be enough Republican senators who would vote against such a move alongside their Democratic colleagues.