GOP Congressmen Publicly Spar Over Trump's Baseless Voter Fraud Claims
GOP Representatives Adam Kinzinger of Illinois and Mo Brooks of Alabama have sparred publicly over their disagreement regarding President Donald Trump's unsubstantiated claims of widespread voter fraud.
While Brooks has wholeheartedly endorsed the allegations, which have failed in courts because of the lack of evidence supporting them, Kinzinger has called out the claims as false. The Illinois Republican has suggested that those backing the president's conspiracy theories are doing so to raise money and garner more attention on social media.
Speaking to Fox News' morning show Fox & Friends on Monday morning, Brooks said that Kinzinger has not adequately investigated the issue.
"If he would do his homework, he would understand the evidence is overwhelming," Brooks said. "He can either surrender to the people who support voter fraud, election theft, or he can fight for his country on this particular issue."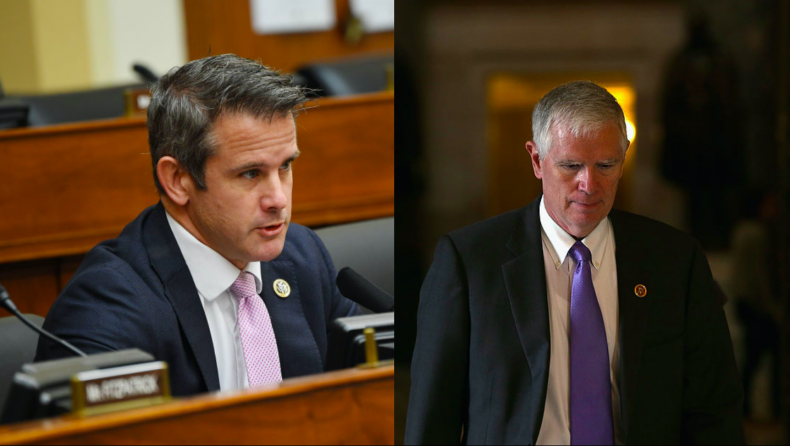 Brooks and other House Republicans plan to object to the electoral votes from multiple battleground states when those votes are officially counted by Congress on January 6. In order for the objections to be considered, a Republican senator must also sign on to a written objection. Although the effort is widely expected to fail, several GOP senators have suggested they may be open to supporting objections.
Trump and his GOP supporters argue that President-elect Joe Biden won the election only because of widespread voter fraud. But in dozens of federal and state court challenges, lawyers for the president and his supporters have failed to provide any evidence to prove their allegations.
The president's former attorney general, William Barr, who resigned this month, also said that there is no evidence that would change the election's outcome. Before that remark, Barr was widely seen as one of Trump's most loyal Cabinet members.
While some Republican lawmakers, like Kinzinger, have pointed out since November that Trump's claims of voter fraud lack any proof, many, like Brooks, have endorsed them.
"I grew up as a Republican because I believe in smaller government and strong national defense, and that's being destroyed by conspiracies right now and anger," Kinzinger told CNN's State of the Union on Sunday. "I really do worry about the future of my party."
Later on Sunday, Brooks called out Kinzinger on Twitter and tried to explain his plan to overturn the election's results in favor of Trump.
".@AdamKinzinger says fight for honest & accurate elections is a 'scam' with no Constitutional basis. Const. Art. I, Section 4 and 3 U.S.C. 15 differ," Brooks tweeted. "AK says many citizens will be disappointed. YEP - BECAUSE SO MANY POLITICIANS SURRENDER TO VOTER FRAUD!"
Kinzinger responded by retweeting Brooks' remark and writing: "Brother you're a friend, but the only thing I'm surrendering to is the Constitution and the will of the people. I'm a fighter, and the Republic needs fighters to defend against descent into chaos. #RestoreOurGOP"
Last Monday, Kinzinger told CNN that congressional Republicans planning to object on January 6 are "not serious people" who have "convinced their base, for retweets and money, that we can as members of Congress go out and determine that we just want Trump to be the president again in 2020."
Newsweek reached out to press representatives for Kinzinger and Brooks for comment, but they did not respond in time for publication.
Senate Majority Leader Mitch McConnell, who held off on congratulating Biden until the Electoral College voted on December 14, has urged GOP senators to not join House Republicans' efforts to object. McConnell has since faced criticism from Trump and the president's supporters.
If a GOP senator does sign on to an objection with a House member, both chambers of Congress will convene separately to discuss and vote on the objection. For the objection to be sustained, both chambers would have to agree.
That outcome is believed to be extremely unlikely. The House is narrowly controlled by Democrats, and it appears that there are enough Republicans who would dismiss any objections in the Senate to prevent either chamber from siding with Trump's loyalists.