Ezra Miller Offers to 'Knock Out' Retail Worker in Resurfaced TikTok
Ezra Miller seemingly offered to "knock out" a retail worker who wanted a picture with them in a resurfaced viral TikTok video.
The actor has stayed out of the public eye for the past few months as they have faced accusations for their behavior as parents of an 18-year-old have accused Miller of brainwashing their daughter. They have also had multiple run-ins with the law, most notably recently while in Hawaii. They broke their social media silence in June with a series of memes, one of which said, "You cannot touch me, I am in another universe."
The video, seemingly taken in 2020 and featuring Miller, was posted to a TikTok account owned by @peterknight2800 on Sunday, and has been viewed over 3.5 million times on that platform alone.
The 10-second clip shows a young man attempt to take a selfie with Miller who appears to be mid-conversation with someone else. When Miller notices the camera on him, they tell the person holding the camera, "[...] always just knock you out and then you won't have to panic."
The exchange is brief and the recording seemingly stops when the person filming realizes Miller is addressing them. "I just wanted a picture dawg," is the caption written alongside the video by @peterknight2800.
The uploader appears to be a comic book fan as the hashtags and some of the comments refer to other things within the DC universe. He makes references to "Batman's contingency plan" and "Reverse Flash" but also explained some of the details behind the video.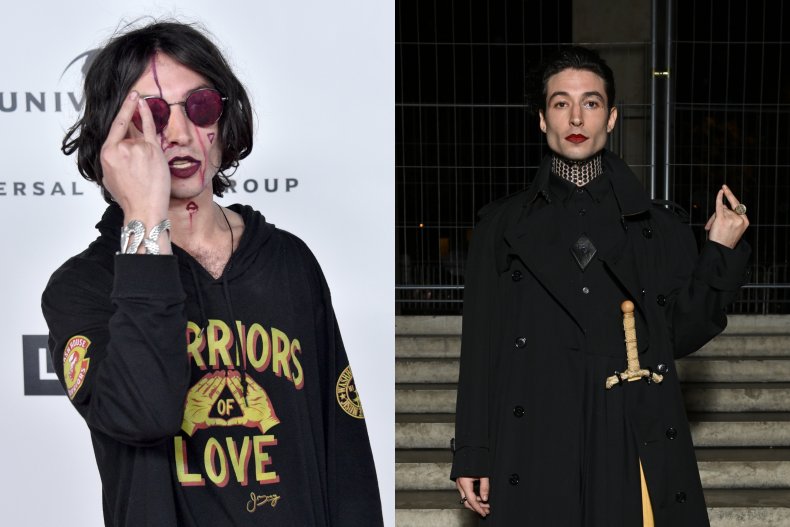 "I asked [them] for a picture I was nervous to meet [them] and he asked to knock me out to not feel panic," wrote @peterknight2800 in the comment section. Newsweek has reached out to @peterknight2800 for further comment.
The TikTok user then followed up the upload of the original with a new parodied video, which uses audio clips of Ezra Miller from that video, and overlays it onto a video of Spider-Man and Deadpool in the woods.
The TikTok video also gained hundreds of thousands of views on Twitter when it was shared by Twitter user @Younityyy, who appears to be involved in the upcoming fan project, Spider-Man: Lotus.
"You cannot possibly guess who's gonna show up in this video," he wrote. This prompted thousands of Twitter users to interact with the video. Jokes and memes were made about Miller, their recent actions and this resurfaced video.
Chase Iron Eyes, the father of Tokata Iron Eyes, the 18-year-old allegedly living with Ezra Miller, recently spoke to Newsweek. He detailed his brainwashing allegations against Miller and shared court documents that revealed that he applied for a restraining order against Miller from his daughter. Since then his daughter Tokata, who now goes by Gibson Iron Eyes, has spoken out against her parents and in support of Miller. Miller and Warner Bros. did not provide comment when contacted by Newsweek.