Ezra Miller Associate Tokata Iron Eyes Hits Back at 'Concerned' Parents
The father of Tokata Iron Eyes, the 18-year-old allegedly living with Ezra Miller, says he is "concerned about Ezra's state of mind" after filing court papers seeking a restraining order against the DC Comics actor.
Chase Iron Eyes, a Native American activist, has raised concerns over the welfare of his daughter who has reportedly been living and traveling with Miller for several months. Tokata's mother Sara Jumping Eagle has publicly criticised the Flash actor on social media.
Tokata herself, however, has rejected the allegations as "grotesquely false." In a video message recently published on Instagram, she said she was "disappointed in my parents and the press in every way."
Miller, 29, has made no comment on the allegations.
Chase has asked the Standing Rock Sioux Tribal Court in North Dakota to grant a Protection Order for his daughter and a Restraining Order against Miller in an attempt to separate the pair.
A hearing on Chase's request is due to be held on July 12 at the Tribal Court, Fort Yates, North Dakota, but court officials have not been unable to locate Miller to serve notice of the hearing to him. If Miller fails to appear at the hearing, the court has warned that it would grant Chase's request for a restraining order.
"We're just concerned about Ezra's state of mind and whether he'll lash out at Tokata for the actions that we've taken on Tokata's behalf," Chase told Newsweek when asked how he and Sara are.
"People online are saying that she's an adult and she can make her own decisions, but the only reason the judge entered the protection order is because we reclaimed guardianship, as of May 17."
The news of Chase's filed allegations against Miller were made public earlier this week. The court filings have been seen by Newsweek.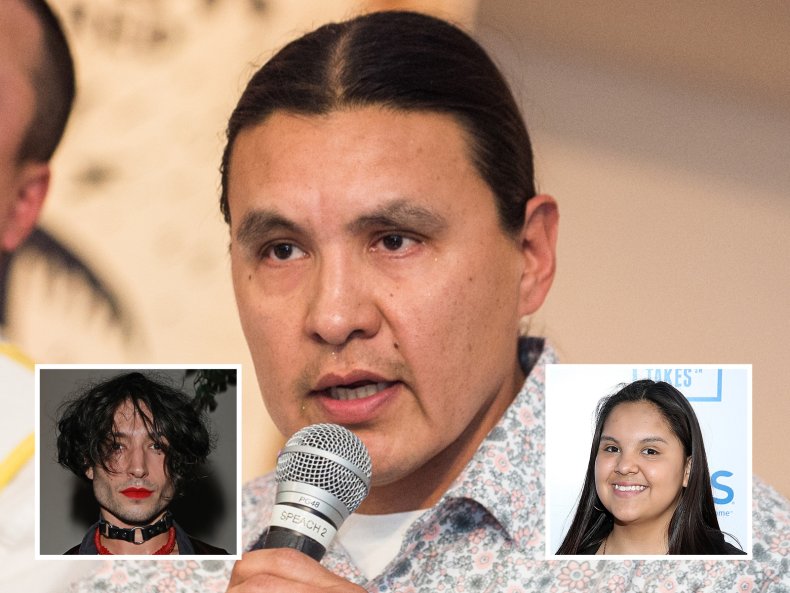 "We just thought that Ezra, you know, had altruistic intentions, because he was around people we trusted," Chase told Newsweek, speaking over the phone from his home in North Dakota.
Chase said Miller first met Tokata in 2016, when she was 12 years old and he was 23. However, Chase first met Miller four years earlier during an effort to get a sacred site back into the hands of Native Americans.
In the past year, Miller has made headlines for publicly threatening a North Carolina faction of the KKK, and being arrested twice in Hawaii over separate incidents in bars.
Sara and Chase are publicly calling on Warner Bros. to be accountable for Miller's actions. At the time of writing, no representative from Warner Bros. has replied to Newsweek's request to discuss the accusations made by Chase Iron Eyes and Sara Jumping Eagle.
Chase and Sara allege that Tokata has not had access to her phone for months. Tokata has recently cleared all earlier photos from her Instagram account and started posting pictures and videos in the past week. One of the posts is a four-page statement allegedly made by Tokata, accusing her father of "emotional and psychological manipulation."
Chase suggested that the message may not have been written by Tokata. "We're not even convinced that it's Tokata," he said. "I see her bio, her bio is changed from 'public speaker, artist' to now it's just promoting his music.
The day after Chase said this, Tokata posted a two-minute video message on Instagram to reject the claims. "I've become aware that some people are saying that my statements were not written by me. I'd like to clarify that they are," she said on camera. "Nobody is controlling my Instagram account. I don't have a phone right now out of my own personal conviction.
"Honestly, it's really distressing that the narrative of the victim in question is not being granted," Tokata continued, "I'd like to say that it's nobody's business and that no one is owed a story or an outcome. This is my life. These are my decisions and I'm disappointed in my parents and the press in every way. Thank you."
Tokata had an email exchange with Rolling Stone magazine on Wednesday, informing the outlet that she now goes by the name Gibson Iron Eyes. "The notion that I have been brainwashed or that I've been coerced in any context is grotesquely false," Gibson wrote.
She also promised that "Ezra and our crew" will speak about their story "when we see fit."
Responding to why he's waited so long to take his concerns to the courts, Chase explained that he was trying to protect his daughter and prevent an escalation.
"We waited a long time. We waited February, March, April, May, we waited almost five months to do something because we had been holding out hope that Tokata would just course-correct or find a way to get away from this guy," he said.
Tokata came to prominence as an environmental activist. She has protested alongside Leonardo DiCaprio and Greta Thunberg, and she was also featured on the Disney+ reality show Marvel's Hero Project in 2020.
Newsweek has asked for comment from Ezra Miller and his legal representation on multiple occasions in response to the allegations. Newsweek has also requested comment from Warner Bros. All were unavailable for comment at this time.
The Bennington County Sheriff's Office in Vermont, where Miller has a home, has stated that it attempted to serve an Order of Evaluation on Tokata Iron Eyes on three separate occasions in May 2022 but each time officers were told by Ezra Miller than Tokata is "not always there."