Facebook, Twitter Among Platforms 'Failing' at LGBTQ Safety: Report
Five major social media outlets received failing grades when evaluated for how safe LGBTQ users feel while using each platform, GLAAD found for its latest Social Media Safety Index (SMSI).
The 2022 safety index, which marks the second annual scoring on social media safety from the LGBTQ advocacy group, evaluated Facebook, Instagram, TikTok, Twitter and YouTube on 12 measures at a time when hundreds of anti-LGBTQ bills have been introduced by politicians around the country.
"After reviewing the platforms on measures like explicit protections from hate and harassment for LGBTQ users, offering gender pronoun options on profiles, and prohibiting advertising that could be harmful and/or discriminatory to LGBTQ people, all platforms scored under a 50 out of a possible 100," GLAAD said in a Wednesday news release.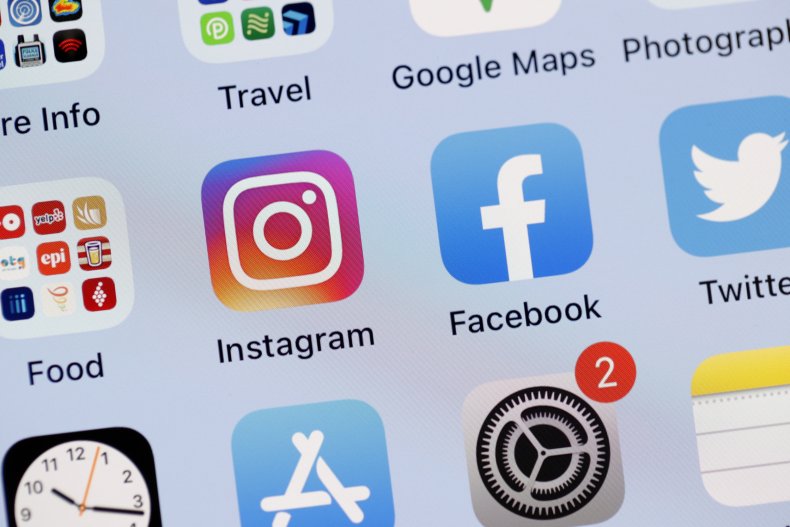 Each platform received its own SMSI score out of a possible 100 points. GLAAD's safety index gave Facebook 46 percent, Instagram 48 percent, TikTok 43 percent, and both Twitter and YouTube were scored at 45 percent.
The safety index included summaries explaining the steps each platform has taken on LGBTQ safety, as well as where GLAAD identifies there is room for improvement. The SMSI also lists specific recommendations for each platform.
Newsweek reached out to all five social media platforms for comment.
A Meta spokesperson, when contacted on Thursday about Facebook's score in the SMSI, told Newsweek that the company "prohibit[s] violent or dehumanizing content directed against people who identify as LGBTQ+ and remove[s] claims about someone's gender identity upon their request."
"We also work closely with our partners in the civil rights community to identify additional measures we can implement through our products and policies," the spokesperson added.
Facebook's Help Center has an LGBTQ+ Safety page that aims to be "a resource for anyone seeking support and help for issues specifically related to online safety for the LGBTQ+ community." The page includes links to Facebook's Community Standards, descriptions of its security tools, and explains how users can report content suspected of violating Facebook's community policies. The safety page was created in collaboration with nonprofit partners and is expected to soon be available in dozens of languages, the company said.
Facebook's LGBTQ+ Safety page contains links to similar pages on Instagram, which is also owned by Meta.
The company said it has made changes in response to user feedback in years past and will continue to do so.
When contacted about TikTok's score of 43 percent, a company spokesperson said the platform "is committed to supporting and uplifting LGBTQ+ voices, and we work hard to create an inclusive environment for LGBTQ+ people to thrive."
"We're committed to seeing that our policies and practices are fair and equitable, and we continually take steps to strengthen our protections for marginalized people and communities," the spokesperson said.
TikTok includes hateful behavior policies in the Community Standards published on its website and earlier this year highlighted new opportunities for users to "foster kindness and safety." TikTok introduced additional ways for users to fight bullying on the platform last year.
Jack Malon, a spokesperson for YouTube, told Newsweek it is "against our policies to promote violence or hatred against members of the LGBTQ+ community, and over the last few years, we've made significant progress in our ability to quickly remove hateful and harassing content, and to prominently surface content in search results and recommendations from authoritative sources."
"This work is ongoing and we appreciate the thoughtful feedback from GLAAD," Malon added.
YouTube has a hate speech policy published in its Help Center, which also outlines the platform's harassment and cyberbullying policies. The video sharing platform provides potential advertisers with content guidelines, which notes, "Our systems don't always get it right, but you can request human review of decisions made by our automated systems."
GLAAD's updated safety index comes as politicians across the U.S. are considering anti-LGBTQ legislation. Thirteen states signed anti-LGBTQ legislation into law this year, according to the Human Rights Campaign (HRC), and an additional 23 states are considering anti-LGBTQ bills. American legislators have introduced more than 300 anti-LGBTQ bills in 2022 so far, according to HRC.
GLAAD President and CEO Sarah Kate Ellis pointed to the surge in anti-LGBTQ legislation in a statement included in the organization's press release about its new safety index.
"Today's political and cultural landscapes demonstrate the real-life harmful effects of anti-LGBTQ rhetoric and misinformation online," Ellis said.
Hate, harassment, misinformation and "flat-out lies" that spread online "are creating real-world dangers, from legislation that harms our community to the recent threats of violence at Pride gatherings," Ellis said. "Social media platforms are active participants in the rise of anti-LGBTQ cultural climate and their only response should be to urgently create safer products and policies, and then enforce those policies."
GLAAD said it "held briefings" with the five major social media platforms assessed for the SMSI before its 2022 safety index was released.
"Through a series of presentations at conferences and events, GLAAD will continue to maintain an ongoing dialogue about LGBTQ safety amongst tech industry leaders throughout 2022 and beyond," GLAAD's news release said.