Fact Check: Biden Says U.S. Inflation 'Lowest of Almost Every Major Nation'
As Americans digest the latest inflation data, analysts are trawling through the figures to compare how U.S. price rises compare to other economies around the world.
Inflation has now hit a 40-year high of 9.1 percent, according to the U.S. Bureau of Labor Statistics—the biggest yearly increase since an 8.6 percent jump in 1981.
President Joe Biden set out to reassure those worried about the cost-of-living crisis by claiming U.S. inflation is the lowest of "almost every major nation."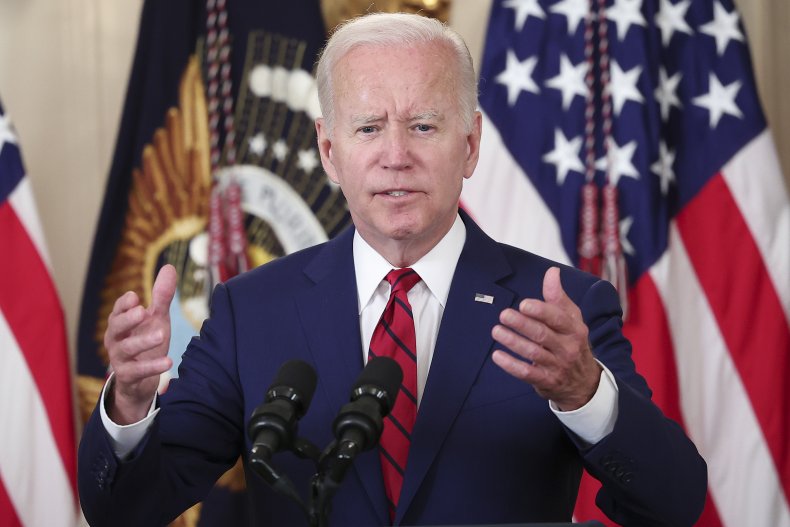 Last month, a survey conducted by ABC News and polling firm Ipsos revealed that most Americans claimed inflation, rising gas prices, and the economy are the most important issues for them in determining how they will vote for Congress in November.
The economy is still recovering after many industries took a hit as a result of the COVID-19 pandemic, and bosses reported a "Great Resignation" as workers quit. Economic woes were exacerbated by Russia's invasion of the Ukraine, which led to punishing sanctions against Russian exports, including gas.
Coupled with increased demand for oil as nations attempted to return to post-pandemic production levels, American drivers saw the cost of fuel skyrocket at the pumps. And supply chain issues, along with Russia's blockade of Ukraine grain exports, have seen global food prices soar.
But economies around the world have also been beset by many of the same issues. And Biden suggested America was faring better than most.
So how does his claim stack up?
The Claim
During a conversation with Mexico's President López Obrador on Tuesday, Biden told his counterpart: "We are suffering from inflation imposed as a consequence of what's going on in Ukraine, but we have the lowest rate of almost every major nation in the world."
It's not the first time that Biden has claimed America's inflation level is among the lowest globally.
Last month, during a press conference on June 14 at a NATO summit in Spain, Biden said: "America is better positioned to lead the world than we ever have been. We have the strongest economy in the world; our inflation rates are lower than other nations in the world."
The Facts
Biden first made his claims just weeks after American inflation spiraled to a four-decade high, hitting 8.6 percent in May 2022.
But, looking at the data for May, that rate was higher than the Eurozone average (8.1 percent) and South Korea (5.4 percent), among others. And when the U.S. was compared to other countries in the preceding months, its inflation rate was higher than several peers, including Canada (which stood at 6.8 percent in April compared to the U.S. rate of 8.3 percent that month) and Australia (which registered 5.1 percent in March compared to 8.5 percent for the U.S.).
So what of Biden's most recent claim this week?
He made the comments on Tuesday, the day before the new 9.1 percent inflation rate was announced. So it's unclear whether he was using the most up-to-date analysis to form his opinion.
Newsweek has reached out to the White House for clarification.
Nevertheless, other countries have also reported their own revised inflation rates. So has the data broadly changed compared to June, meaning the president's assessment of U.S. performance is correct?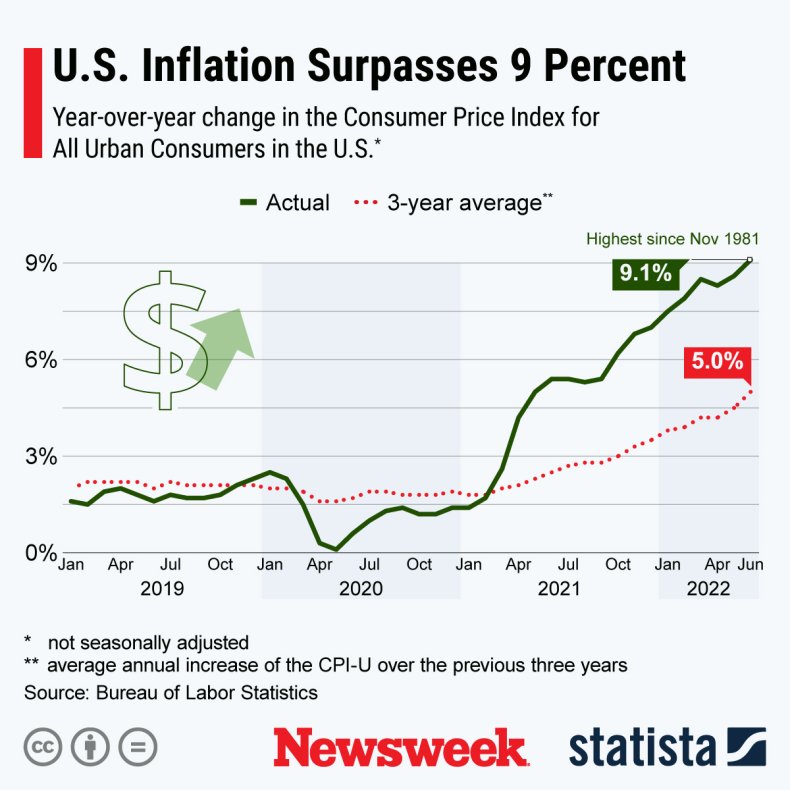 This Statista chart shows the year-on-year change in the Consumer Price Index for all urban consumers in the U.S.
Well, America is certainly performing better than some countries, including the "usual suspects" of out-of-control inflation. Turkey has one of the highest inflation rates in the world, which dwarfs that seen by the U.S at an eye-watering 78.6 percent rise in consumer prices year-over-year.
And Argentina's stats weren't much better, coming in at 60.7 percent, according to respected financial magazine Fortune, while Ethiopia's inflation hit 37 percent.
Russia's inflation currently stands at 14.5 percent, news agency Reuters reported on June 30, as its economy is rocked by sanctions imposed by other nations after the country invaded Ukraine.
But some other "major" economies are performing a lot better than the U.S. in terms of their inflation records. In May, Japan's inflation rate rose, but only to 2.5 percent. China also recorded a two-year high of 2.5 percent (although strict price controls are a significant factor behind these figures).
What of America's western allies?
The U.K. is similarly reeling from a 40-year high of 9.1 percent in May, level-pegging with the U.S.
As for the Eurozone average, inflation is forecast to jump again in June to 8.6 percent, according to Eurostat, the statistical office of the E.U. That is still lower than the U.S.'s most recent figures though.
The Ruling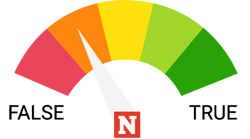 Mostly False.
Comparing the American economy to "almost every other major nation" is complex, given how many other nations there are, and taking into account lags in inflation stats reported by each one.
But comparing and contrasting the U.S. figures with the available stats across the rest of the world shows that it is performing better than some, but worse than many others, including its peers. That means Biden's statement that U.S. inflation is the "lowest of almost every major nation" is largely inaccurate.
FACT CHECK BY NEWSWEEK