Fact Check: Are COVID Cases Up in U.S. Because of Increased Testing, as Trump Claims?
President Donald Trump addressed the latest COVID-19 developments on Monday, as cities and less populated areas nationwide report spiking infections, hospitalizations and deaths related to the respiratory disease.
The Claim
The president, who faces ongoing criticism for his administration's response to, and attitude about, the coronavirus pandemic, claimed that the country's case counts are up because of increased diagnostic testing efforts.
"Cases up because we TEST, TEST, TEST. A Fake News Media Conspiracy. Many young people who heal very fast. 99.9%. Corrupt Media conspiracy at all time high," Trump wrote on Twitter early Monday, eight days ahead of the election.
"On November 4th, topic will totally change," he added. "Vote!"
The Facts
Monday's tweet did not mark Trump's first attempt to rationalize an uptick in COVID-19 statistics with claims about broader testing protocols.
In response, scientists and heath experts have pointed out that testing a larger population for the virusreveals a larger number of infections, some of which might otherwise go undetected. It doesn't increase the number of illnesses, just the number of reported cases.
The Centers for Disease Control and Prevention (CDC) notes that some individuals who contract COVID-19 but do not exhibit symptoms still can transmit the disease to others.
The U.S. reached a record-breaking number of new daily COVID-19 cases Friday, just shy of 84,000, then hit a similar level Saturday. Last week, the nation was diagnosing an average of 69,814 infections per day, according to a New York Times database.
Additional data last updated by the CDC on October 17 showed the country's test-positivity rate, which measures the number of positive test results against the total number of tests administered, had risen as well.
The federal agency said increasing test-positivity rates were primarily caused by increases in what it designates as the Southeast, Midwest, Mountain and Central regions of the country.
More than seven months after Trump declared the pandemic a national emergency, the U.S. continues to lead all countries in terms of confirmed COVID-19 reported cases. As of Monday morning, more than 8.6 million people have tested positive for the virus nationwide, and upwards of 225,200 people have died, according to Johns Hopkins University data.
The country's outbreak has seen two significant surges: at its onset in the spring, and again over the summer, as cities and states began to lift restrictions on businesses, gatherings and other areas of public life. Health officials warn the winter could bring with it another wave of elevated infection rates.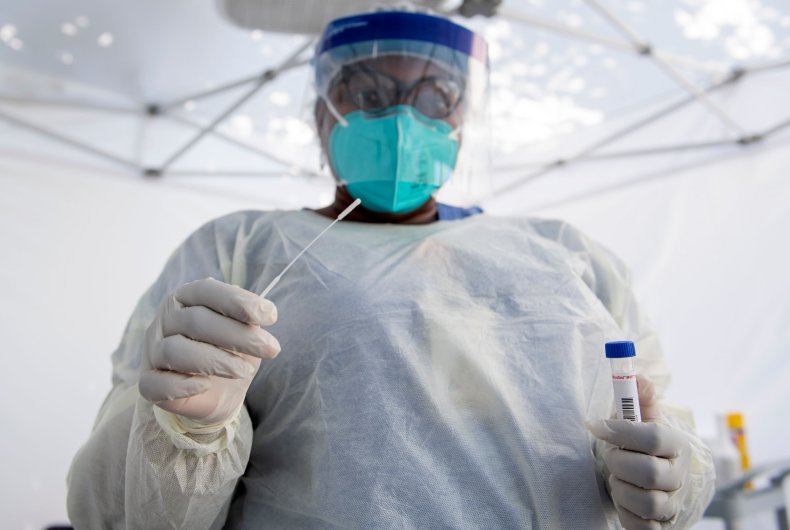 Authorities are preparing for a possible third peak amid recent resurgences seen in parts of Texas, Florida and Illinois—and particularly in the West and Midwest, where outbreak curves are worsening and authorities are scrambling to meet an influx of COVID-19 patients requiring inpatient hospital care.
The Ruling
False.
Increasing the country's diagnostic testing might allow health officials to diagnose more COVID-19 cases, but more testing does not cause more infections. It causes infection-report counts to rise but doesn't cause more infections. Recent data reflects a climbing test-positivity rate nationwide.
Newsweek reached out to the White House and the CDC for comments but did not receive replies in time for publication.