Fact Check: Could Letitia James' Civil Lawsuit Against Trump Turn Criminal?
Donald Trump's legal problems took another step this week after New York Attorney General Letitia James filed a $250 million lawsuit that could cripple the Trump Organization.
In a headline-making filing, James alleged the family enriched itself over a 20-year period with "numerous acts of fraud and misrepresentations," while "grossly" inflating the former president's net worth by billions of dollars.
However, the sheer volume and complexity of Trump's court troubles have, perhaps predictably, fomented confusion about the legal mechanics and procedures involved. To that end, Newsweek spoke to several expert voices in civil litigation to find out what could happen next.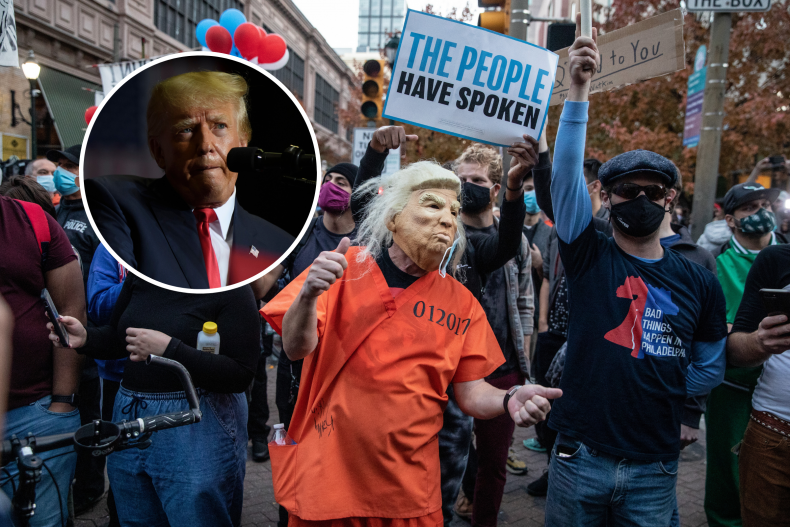 The Claim
A tweet posted by the founder of ACT for America, a controversial right-wing advocacy group, Brigitte Gabriel, on September 21, 2022, claims that: "If Letitia James had a real case against Trump, she would file a criminal suit not a civil suit."
Others have also pointed to the decision—a mistaken one, some argued—by Alvin Bragg, the Manhattan District Attorney, not to bring criminal charges against Trump, suggesting James could pick up where Bragg left off.
"There is a process that would allow New York AG Letitia James to bring the state level criminal charges against Donald Trump that Manhattan DA Alvin Bragg didn't bring, and it's really intriguing that James hasn't (yet) used that process to bring such charges," Palmer Report speculated in a thread on Twitter.
So what are the likely scenarios for this high-profile case?
The Facts
James' 214-page lawsuit seeks the repayment of money from alleged fraudulent practices, as well as the removal of all of the Trumps—including children Donald Jr., Eric and Ivanka—from their current roles at the Trump Organization.
The attorney general is seeking $250 million in repayments (referred to in the suit as disgorgement) for "all financial benefits obtained by each defendant from the fraudulent scheme."
So, a successful civil lawsuit involving fraud charges could significantly curb Trump's business opportunities, even if the matter isn't pursued criminally by the Department of Justice.
University of Notre Dame's professor Jay Tidmarsh, an expert in complex litigation and civil procedure, told Newsweek that the differences between the lawsuit and a criminal case were distinct.
"The same conduct can lead to both civil and criminal liability but the state and the federal government have separate criminal laws," Tidmarsh said.
"The same conduct may be a violation of both state and federal law, and a person can be prosecuted by both the state and federal government, with some limits not applicable here).
"The Attorney General of New York does not have the authority to bring a criminal case against these defendants for this conduct in New York, not does she have the authority to bring a federal criminal case.
"It is not uncommon for a state official working on a civil case to make a referral to the relevant state and federal criminal authorities when the official's investigation uncovers evidence of a crime.
"But whether that referral leads to an indictment or criminal charge depends on the authorities who have jurisdiction over criminal matters."
The injunctive relief in this case is $250 million but, unlike a criminal case, it isn't the same as a fine or penalty. It is a disgorgement, a remedy that, as Tidmarsh said, "tries to dislodge, or disgorge, a defendant's ill-gotten gains."
"Here the complaint states that these gains were received, through fraud, from numerous banks," he added. "Presumably, if the State is successful in proving its case, the court would order the defendants to repay this money to the banks."
Although the suit isn't criminal, some of its basis is couched in criminal law, as Temple Law School's Professor Craig Green told Newsweek.
"It's quite common for criminal activity to also be the basis for civil liability. Think of criminal murder and civil 'wrongful death,' such as in the OJ Simpson case," Green said.
"The difference here is that New York is invoking a statute, including executive law 63, that allows the state government itself to pursue the action, rather than you, me, or some other wronged private individual. That's also quite common at state and federal levels."
Cornell's Professor Maggie Gardner, a scholar in civil procedure, made a similar point to Newsweek: "The state is seeking 'restitution, damages, and injunctive relief,' not criminal penalties.
"What may be confusing people is that the section of the law that authorizes the attorney general to seek this non-criminal relief requires showing that the defendant engaged in 'fraud or illegality'.
"You can show 'illegality' without criminally prosecuting someone—think of the family civil lawsuit against OJ Simpson that was successful, even in the absence of a criminal conviction."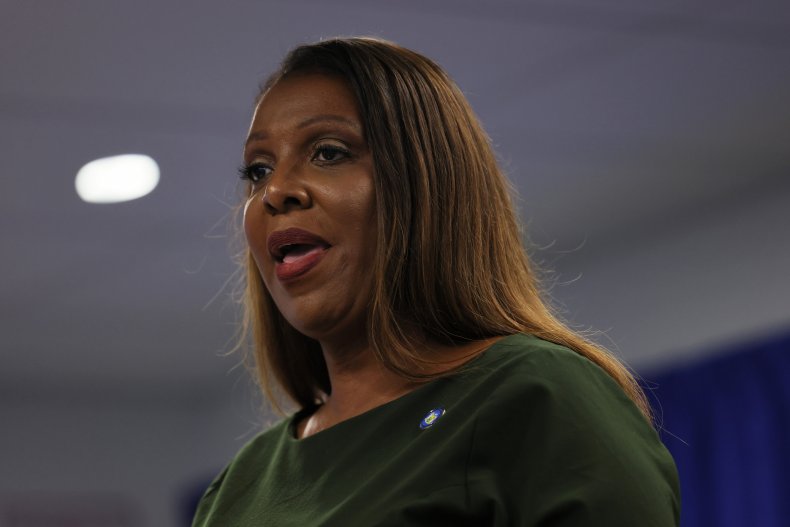 Does this mean that James' civil lawsuit could transform into a criminal matter? Not exactly: Gardner told Newsweek that only the federal government can prosecute violations of federal criminal law.
"Basically, they are flagging that they think their investigation has unearthed facts that amount to violations of these federal criminal laws, whether or not the federal prosecutors decide to do anything about it."
So, some of the case is based in criminal law and the penalties the Trump family face would be hugely prohibitive, even if criminal prosecution isn't sought or fails.
Therefore, there is some scope for the matter to turn criminal. The key caveat here is that the civil lawsuit would not itself evolve into a criminal procedure. It would remain separate in scope from federal prosecution.
Nonetheless, the prospect of criminal prosecution seems very real, whether through charges brought by the DoJ of James' office (or, indeed, Bragg, whose criminal probe is still ongoing).
Georgetown Law Professor David C. Vladeck, an expert in civil procedure and director of the Civil Litigation Clinic, told Newsweek that on top of the criminal allegations, the recent guilty plea of Trump Organization CFO Allen Weisselberg on tax evasion would make it harder for the Trumps to portray themselves as victims.
"According to the complaint, there is massive evidence of fraud, and the NY Attorney General's office has forwarded evidence to the Department of Justice because it thinks that its evidence also shows that the Trump organization committed bank fraud, which would be a criminal case, but that is up to the Department of Justice to determine," he said.
"And, of course, Allen Weisselberg's guilty plea makes it harder for Trump and his kids to argue that this is just a 'witch hunt.'"
Trump and the Trump Organization are accused of "knowingly and intentionally" filing more than 200 false and misleading valuations of assets between 2011 and 2021 to defraud financial institutions.
Among these are Trump's Mar-a-Lago resort in Florida, Trump Tower in New York, and what was previously the Trump International Hotel in Washington D.C.
Trump has denied the allegations set out in the lawsuit and still characterizes the matter as a "witch hunt."
Newsweek has contacted Donald Trump and the NY AG office for comment.
The Ruling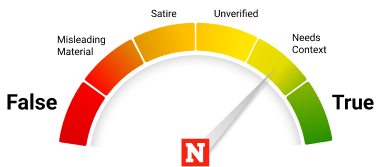 Needs Context.
The case that the AG has filed will specifically seek injunctive relief and disgorgement from Trump and family members under a civil fraud lawsuit.
That lawsuit won't transform into a federal prosecution as only the government may lead on that. However, the actions of James' office have exposed the Trump family to the prospect of criminal charges.
FACT CHECK BY Newsweek's Fact Check team