Fact Check: Did Bill Gates Visit Epstein Island 37 Times?
Further details about the late Jeffrey Epstein are set to be released, according to reports that claim court documents will reveal at least one public figure associated with the disgraced financier.
A final set of papers from a 2015 lawsuit made by Virginia Giuffre against Epstein's fixer Ghislaine Maxwell are to be published, according to a recent report by the Daily Mail, reigniting years of rumors that have followed the financier's death.
The news has led to a series of claims attached to famous names, including Microsoft co-founder Bill Gates.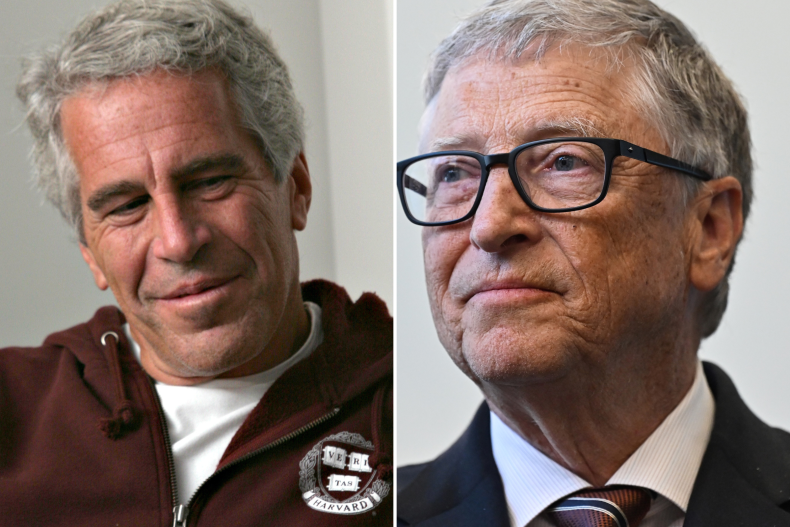 The Claim
Several tweets, posted between February 12-20, 2023, alleged that Bill Gates visited Epstein's private island in the U.S. Virgin Islands.
One tweet, posted on February 20, which has been viewed more than 106,000 times, stated: "Hey @BillGates. In this video, you came up with an inappropriate analogy comparing wearing masks to wearing pants. By the way, did you wear your pants during the 37 'dinners' you attended on Epstein Island?"
The Facts
Bill Gates has previously been associated with Jeffrey Epstein.
The billionaire has acknowledged that he "shouldn't have had dinners with him" while his ex-wife Melinda French Gates said the business and technology magnate's relationship with Epstein played a role in their divorce.
However, the claim that Gates visited Epstein's private island in the U.S. Virgin Islands 37 times has not been substantiated.
Crucially, the flight logs that detailed the use of Epstein's private plane, including their destinations, do not show that Bill Gates ever visited the island, let alone on 37 separate occasions.
The logs, according to a 2019 New York Times report, state that while Gates met Epstein a number of times, he only flew on the plane from Teterboro Airport in New Jersey to Palm Beach, Florida.
A spokesman told the Times that Gates was not "made aware it was Mr. Epstein's plane."
Gates has since said that he regretted associating with Epstein.
In a statement sent to Newsweek in 2022, Gates said: "Meeting with Epstein was a mistake that I regret deeply,"
"It was a substantial error in judgment. I remain dedicated to my work at the Gates Foundation in partnership with Melinda, where our focus is to help reduce global inequities, giving every person the chance to live a healthy and productive life.
"I will always be sorry for the pain that I caused Melinda and our family. I admire Melinda and everything she does to improve the lives of women and girls around the world, and I'm grateful for the work we continue to do together at our foundation."
Although we cannot rule out the possibility that further information may reveal other associations Gates had with Epstein, there is no evidence currently available that substantiates the claims shared on Twitter.
Reports of new documents from the Virginia Giuffre lawsuit have catalyzed multiple misleading claims on social media.
Newsweek has debunked false claims that the papers have already been released, as well as the unsubstantiated that Canadian Prime Minister Justin Trudeau visited Epstein Island as well.
Newsweek has contacted the Bill and Melinda Gates Foundation for comment.
The Ruling
Unverified.
While Bill Gates did associate with Jeffrey Epstein, a relationship the Microsoft co-founder said he now regrets, there is no evidence that he visited the late financier's private island once, let alone 37 times.
Flight logs show that although Gates did fly on Epstein's private plane, it was only recorded once—on a journey from New Jersey to Florida.
FACT CHECK BY Newsweek's Fact Check team