Fact Check: Is Justin Trudeau on Epstein Island List?
Years after his reported suicide, Jeffrey Epstein's name has continued to threaten the reputations of multiple public figures, including Bill Clinton, Bill Gates, and Prince Andrew.
The anticipated release of new court files from a lawsuit between Virginia Giuffre and Epstein fixer Ghislaine Maxwell is thought to include information pertaining to at least one public figure, according to a recent article by the Daily Mail.
With curiosities raised, one social media post included allegations that Canadian Prime Minister Justin Trudeau was among the visitors to Epstein's private island in the U.S. Virgin Islands.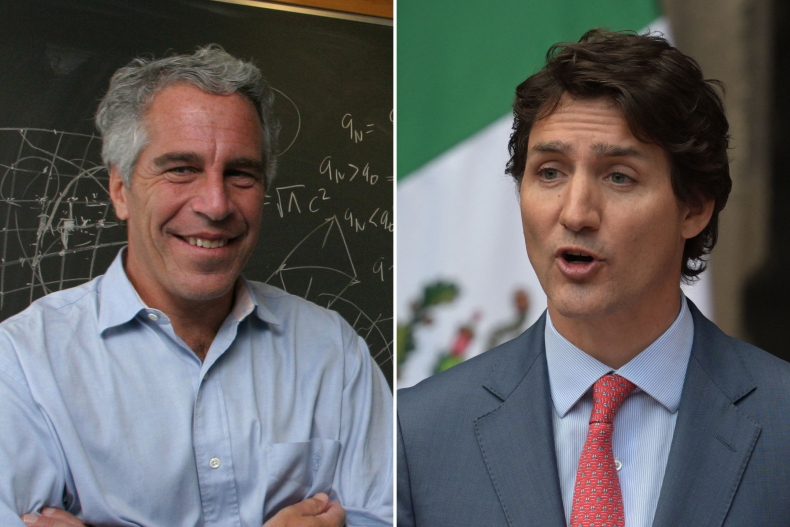 The Claim
A tweet by user Theo Fleury, posted on February 16, 2023, which has been viewed more than 533,000 times at the time of writing, included a photo with the text "JUSTIN TRUDEAU IS ON THE EPSTEIN ISLAND LIST".
An accompanying message stated: "Anybody else shocked???? Nope".
The Facts
Court documents and flight logs have previously revealed a number of celebrities and public figures connected to Epstein, some of whom were said to have visited his private island.
The flight logs named Donald J. Trump, Bill Clinton, Kevin Spacey, Chris Tucker, Bill Gates, Prince Andrew, Robert F. Kennedy Jr, Violinist Itzhak Perlman, U.S. Sen. John Glenn, and former Senate majority leader George Mitchell.
There is no suggestion that those who flew on the jet were involved in any illegal activity.
Court documents released from a civil action brought against Maxwell by Epstein accuser Virginia Giuffre, who has claimed she was lured by Maxwell at age 15 into becoming involved with the alleged sex-trafficking ring, mentioned other names.
These included Prince Andrew, Alan Dershowitz, Emmy Taylor, Sarah Kellen, Eva Dubin, Glen Dubin, Jean Luc Brunel, Nadia Marcinkova, Bill Clinton, Marvin Minsky, Henry Jarecki, Naomi Campbell, Ron Eppinger, and Stephen Hawking.
A report published by The Independent in January 2023, stated among the alleged visitors were Prince Andrew, Kevin Spacey, Stephen Hawking, and Naomi Campbell.

Epstein's private jet, which was used to transport guests to the island, was derisively called the "Lolita Express" by some media outlets following allegations that it was used to fly underage girls to some of the late financier's properties
However, Epstein's connections to the rich and powerful have led to many inaccurate stories about those he knew.
Justin Trudeau is among those who have been misleadingly associated with the former financier.
The only time his name has been mentioned in association with Epstein, was in a doctored CNN graphic, shared on social media, which depicted him as one of six passengers that Epstein's former pilot Larry Visoski met.
A fact check by USA Today verified that this image was fake and manipulated from an actual CNN broadcast. In the original graphic, Sen. George Mitchell was in the spot where Trudeau's photo was added.
Trudeau's name is not in the flight logs or court documents, and comprehensive searches have revealed no other links.
A graphic shared on Twitter this week, with a wider list of alleged island attendees that included Trudeau's name, was shared without further investigation and verification by a website called 6ixBuzzTV, whose Instagram alone has more than 2.4 million followers.

The graphic mentions many other names with seemingly no connection to Epstein such as Katy Perry, Lady Gaga, and Beyonce. 6ixbuzz, it should be noted, has been repeatedly accused of spreading misinformation.
As mentioned before, the release of further court documents, reportedly set to include information pertaining to at least one public figure, could in theory reveal other names.
We cannot say with complete certainty that there exists no information not yet public to prove a material connection between Trudeau and Epstein.
However, we can confidently say any such claim, in the knowledge of the evidence that is currently available, should not be trusted. The claim that Trudeau visited Epstein's island is unsubstantiated.
In the anticipated release of new court documents, misleading claims about the release have spread quickly on social media.
Newsweek recently discovered a Twitter post that the papers had already been published when, in fact, the documents it referred to had been online for several years.
Newsweek has contacted the Prime Minister of Canada's office for comment.
The Ruling
Unverified.
Justin Trudeau's name does not appear in the flight logs, court documents, or any other publicly released papers associated with Jeffrey Epstein.
A photo of Trudeau was included in a doctored image of a CNN broadcast, which the news channel has confirmed was manipulated.
While we cannot say with certainty there is no information that may yet reveal a connection between Trudeau and Epstein (including whether the Canadian prime minister ever visited the financier's private island), based on the available evidence any such claim, for now, should not be trusted.
FACT CHECK BY Newsweek's Fact Check team