Fact Check: Did Joe Biden Accidentally Read Teleprompter Instruction During Speech?
A short clip of President Joe Biden's Tuesday speech has gained millions of online interactions, drawing ridicule and comparisons with Will Ferrell's Anchorman: The Legend of Ron Burgundy character from conservative media outlets and social media users.
The Claim
A number of commentators shared a seven-second video of Biden's speech on the economy, which appears to show him saying "end of quote." The phrase was mocked by social media users and a number of media outlets, with one headline reading, "New fears for Biden's mental acuity after he says 'end of quote' while reading his economics speech from a teleprompter."
Others called the speech Biden's "Ron Burgundy moment," accused him of "reading verbatim instructions" and even suggested the alleged faux pas is indicative of "cognitive decline."
Some of the posts appeared to tie the clip into broader "Dementia Joe" narratives promoted by some conservative commentators.
The Facts
The widely shared clip appears to have been deliberately taken out of context. The full video of the speech, titled "Remarks on the Economy and Lowering Prices for the American People" and running just over an hour, is available on the White House's YouTube channel.
In the speech, the president references his meeting with Walmart CEO Doug McMillon, whom he then cites.
"'And, by the way, you may have heard the CEO of Walmart yesterday on the steps we've taken. He said, and I quote, 'The combination of private enterprise and government working together has been really successful.'"
The president continued, "He went on to say, 'All the way through the supply chain, there's...a lot of innovation.' Because of the actions we've taken, things have begun to change. End of quote."
Saying "quote"/"end of quote" (or "end quote") is a standard verbal device for demarcating a direct speech citation and is not a teleprompter "stage direction." Failing to close an opened quotation would typically be considered bad etiquette.
One problem apparent from the speech transcript published by the White House is that McMillon's quote closes with an additional sentence that was not part of the McMillon comment that Biden appears to cite. Videos of McMillon speaking to MSNBC do not show him saying "Because of the actions we've taken, things have begun to change."
It is not clear whether the insertion of that sentence in McMillon's quote was deliberate or accidental. If it was the latter, it's not clear if Biden's misreading came from an autocue or a technical mistake made by the speechwriters. Newsweek has reached out to the White House for comment but did not hear back before publication.
But regardless of why it appeared to be placed in the wrong spot in the speech, "end of quote" was not a silent instruction, as some have suggested, and did in fact need to be said out loud.
The clip is the latest example of manipulated content targeting Biden, including a previously debunked video purporting to show him asleep during a meeting with the Israeli Prime Minister Naftali Bennett.
This joins a long line of similar videos involving politicians—from former President Donald Trump to California Governor Gavin Newsom—that were edited or doctored to misrepresent the underlying content and spread disinformation.
The Ruling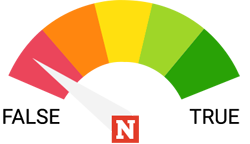 False.
The phrase "end of quote" was not a teleprompter instruction accidentally read by Biden. It was part of the speech, used to bookend the Walmart CEO's remark, which Biden began citing seconds earlier with the phrase "to quote the Walmart CEO."
FACT CHECK BY NEWSWEEK