Fact Check: Did Joe Biden Get the Middle Finger in Europe?
President Joe Biden hasn't always received the warmest of welcomes on the domestic stage, subjected to heckles and taunts on a number of occasions as he's toured the U.S.
During a speech in Philadelphia last year during which the president hit out at Donald Trump and what he called the "extreme" MAGA movement as threats to democracy, a person could be heard shouting "f*** Joe Biden" from the crowd.
As Biden visited Europe this week, it also appeared that the animosity had spread internationally after a photo was shared online seemingly showing an unhappy visitor presenting him with an obscene gesture.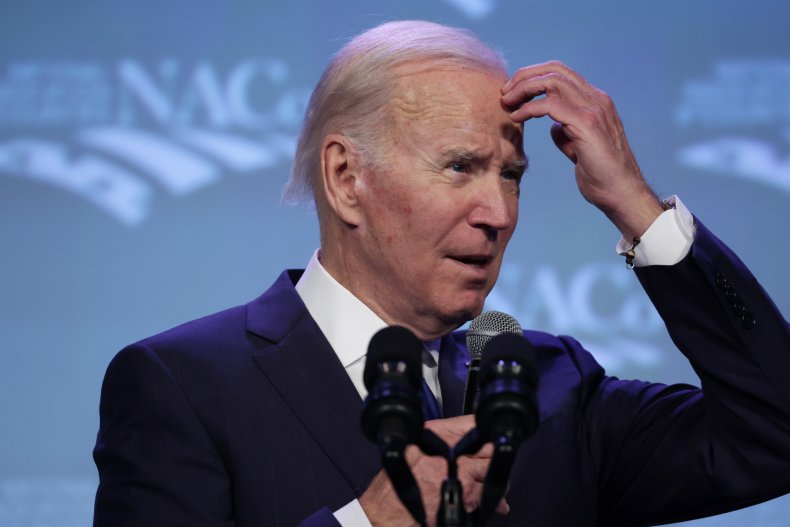 The Claim
A tweet posted by conservative commentator Benny Johnson, on February 22, 2023, viewed more than 221,000 times, shows what appears to be Biden being given the middle finger by a member of the crowd.
Johnson tweeted: "How Joe Biden was greeted in Europe."
The Facts
Biden was not given the middle finger while visiting, or at least not in this photo.
The original photo, posted on the U.S. Embassy & Consulates in China website, shot during the president's visit to Warsaw, Poland, was changed to make a member of his audience who was giving him two thumbs up the appearance of doing quite the opposite.
A clue Johnson gave to indicate the image had been changed was a reply he tweeted to his original post, stating "MEME" and crediting Twitter user @johnhackerla, who regularly posts mocking photoshopped images to parody the president.
It's not clear from the image alone that the photo was taken in Poland either.
A wider shot, published via Getty, shows the president standing near the Polish flag. In Johnson's version only what looks like the colors of the Ukrainian flag can be seen, which could lead one to believe it was shot in Kyiv which he had visited a few days prior.
In any case, the image was presented with little context about its provenance or that it was manipulated. While Biden largely received warm greetings from his counterparts in Europe, the political response back home to his visit has been more divided.
Rep. Marjorie Taylor Greene (R-GA) was among those who criticized the visit to Kyiv, arguing that he should have visited East Palestine, Ohio, following the hazardous chemical spill caused by a train derailment earlier this month.
"Biden didn't go to East Palestine, Ohio on President's Day. He went to Ukraine, a NON-NATO nation, whose leader is an actor and is apparently now commanding our United States military to world war," Greene tweeted.
The Ruling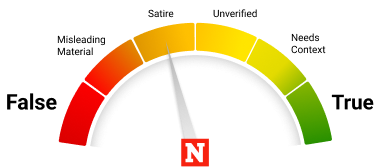 Satire.
The photo, taken during the president's visit to Poland this week, was manipulated for the purpose of parody. The original image shows the audience member (depicted in Benny Johnson's tweet as giving the middle finger) actually gesturing with two thumbs up.
FACT CHECK BY Newsweek's Fact Check team