Fact Check: Is Donald Trump's Twitter Account Being Reinstated?
Twitter's permanent suspension of Donald Trump was among the most startling decisions in both the platform's history and that of social media at large.
Citing its concerns that the former president risked inciting further violence in the wake of the January 6 riots, the move led to the birth of Trump's Truth Social platform and provoked global discussions about online censorship.
So it came as a surprise when rumors began circulating on social media in late September that the former president's return to the platform is on the cards.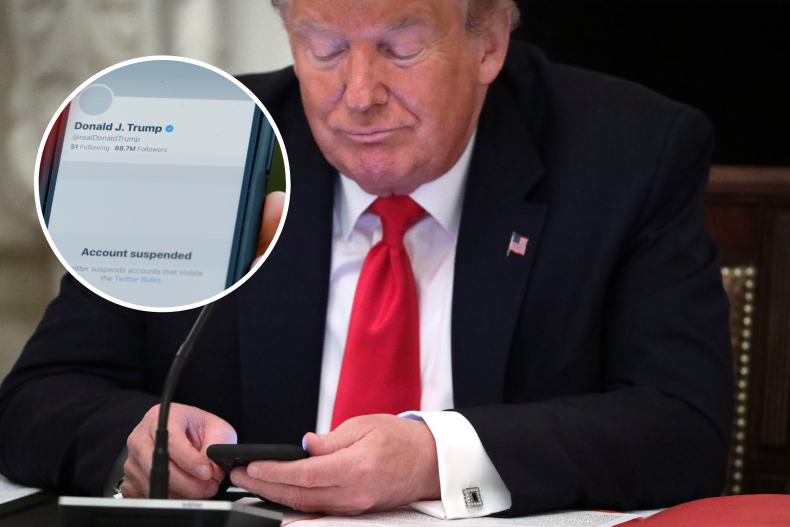 The Claim
A tweet posted on, September 26, 2022, by news wire First Squawk, which has more than 255,000 followers, stated "TWITTER INC SAID TO REINSTATE DONALD TRUMP TWITTER ACCOUNT."
The screengrab of the tweet has been shared on other platforms, including pro-Kremlin Telegram channels, which referenced the claim as fact.
The Facts
While Truth Social has so far not been a huge boon for Trump and may soon lose out on a $1.3 billion merger deal, the former president has not yet abandoned the platform he set up after his Twitter exodus.
In August 2022, ahead of the Department of Justice's release of court filings on the FBI raid of Mar-a-Lago, the former president posted 50 times on Truth Social in one day with a variety of accusations attacking (among other targets) the bureau and Hunter Biden.
His departure from Twitter was not acrimonious either, with Trump after his suspension, decrying social media "banning free speech"; ironically, he used the official @POTUS Twitter account to make this criticism.
So, have the wounds healed?
The rumor about Trump's reinstatement appears to have come from First Squawk alone. Newsweek could find no follow-up reports, verification attempts, or quoted sources attached to the tweet.
The only news outlet to have reported on the same claim is right-leaning site Newsmax, which attributed First Squawk as its sole source.
Newsweek has contacted Twitter and First Squawk for a response.
As of now, we don't know where the claim could have originated from or who First Squawk's source may have been.
It's worth considering that, while First Squawk has more than 250,000 followers on its Twitter, much of its news is presented without reference to sources or external links.
It's also somewhat dubious (although not beyond the realm of possibility) that a relatively obscure newswire service based in (according to its Twitter) London, Mumbai and Singapore would have been the first to break what would be among the most significant news stories in social media and tech this year.
There are other legitimate reports, however, which may have fueled speculation.
In September 2022, Meta, which temporarily suspended Donald Trump's Facebook account in 2021, said it would reevaluate its decision in 2023.
Meta global affairs executive and former British politician Nick Clegg said it would not be "a capricious decision" and that Meta would "look at the signals related to real-world harm to make a decision whether at the two-year point—which is early January next year—whether Trump gets reinstated to the platform."
However, unlike Meta, Twitter said its suspension would be permanent, stating its decision was made "due to the risk of further incitement of violence" in the wake of the "horrific events" of January 6.

Earlier this year, when Elon Musk was negotiating a purchase of Twitter, the Tesla billionaire said during a Financial Times livestream that he did not believe it was correct to ban Trump.
"I think that was a mistake because it alienated a large part of the country and it did not ultimately result in Donald Trump not having a voice," Musk told the outlet.
Following the apparent collapse of the deal with Musk, it seems less likely again that the platform would bring back Trump.
Ultimately, until Twitter confirms plans to end the suspension or a more reliable source proves its plans to do so, Trump remains tweetless.
Furthermore, even if the ban were lifted it wouldn't signal an imminent return. In a 2022 interview with SiriusXM's Americano media, Trump said he "probably" wouldn't return to Twitter if offered, remarking the site had "become very boring" and had "gotten rid of a lot of good voices on Twitter, a lot of their conservative voices"
Newsweek has contacted Donald Trump for comment.
The Ruling
Unverified.
The claim is based on one, unverified tweet that mentions no sources. While Meta says it may reconsider its temporary suspension of Donald Trump, Twitter's permanent suspension remains in place as of the time of writing.
FACT CHECK BY Newsweek's Fact Check team