Fact Check: Was Brittney Griner Ordered by Russia To Take DNA Gender Test?
The news that WNBA star Brittney Griner will serve nine years in Russia prison for drug smuggling has been all the more unsettling for the lack of information surrounding her detention.
Griner, who was caught with vape cartridges containing cannabis oil at a Moscow airport, was sentenced in August 2022, having already served six months in a women's prison outside of Moscow.
A potential prisoner swap could see Griner exchanged for Russian arms dealer Viktor Bout. President Joe Biden has accused Russia of "wrongfully detaining Brittney," calling the decision "unacceptable."
As the U.S. continues to review its options for her release, Newsweek has assessed some of the misinformation swirling around this story.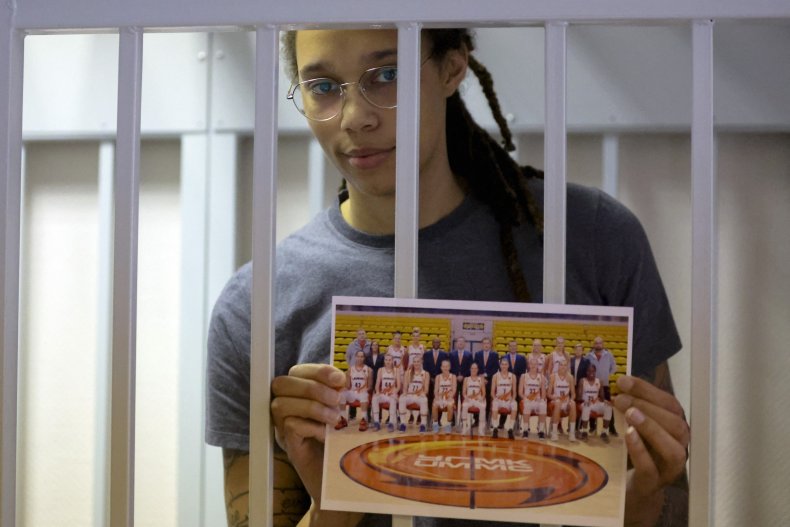 The Claim
Several tweets sent in August, 2022 claimed that Brittney Griner has been "ordered by officials" to take a DNA test to determine whether she would serve her sentence in a male or female prison.
The Facts
Whether a mean-spirited joke or deliberate falsehoods, these claims appear to have no factual basis behind them. Griner has been targeted with similar claims throughout her WNBA career
The basketball star addressed the issue directly in 2015, as part of a photoshoot for ESPN Magazine's "Body Issue".
Griner said: "I've heard, 'Oh, she's not a female, she's a male.' I've been told, 'Oh, she's tucking stuff.' They thought I was tucking.
"I mean, [in the Body Issue] it's out there. Let me show that I embrace the flatness! I just want people to see somebody who embraces being naked, embraces everything about them being different."
Although Griner has publicly challenged the idea of gender norms, she has not identified as transgender. A 2013 interview with Elle reported that she "never had the feeling she was born the 'wrong' sex."
Griner said: "I'm just being myself, honestly. I know society puts it, 'Oh, this is masculine and this is feminine.' I don't put myself in categories."
Moreover, it's been reported that up until now Griner has been in a women's prison on the edge of Moscow.
A July 2022 New York Times article claimed she was being held at Correctional Colony No.1, or IK-1, a former orphanage rebuilt to house women both before trial and after sentencing. Although unconfirmed, some news outlets reported Griner may return to IK-1 to serve her nine-year sentence.
There was also no CNN broadcast, as depicted in some of the social media posts. The screenshot comes from an adapted meme template that's been used elsewhere before.
The original image was taken from a 2016 broadcast about the imprisonment of Mexican drug cartel boss El Chapo.
The premise of the claim doesn't make sense either. In all likelihood, Russian authorities would rely on official records and documents to determine which prison Griner was sent to, rather than waste the time and expense of a DNA test.
Newsweek could find no evidence supporting the DNA test claim in Russian media, state-affiliated or otherwise, nor in any public statements from the court or prosecutors in the case.
So what is behind this inflammatory narrative? It could be simply an insult aimed at making fun of some of Griner's traditionally masculine body features, such as her height.
It could also be an attempt to feed into conversations around transgender prisoners and light a fuse on "culture wars" debate around gender.
Although Griner herself has not said that she's transgender, the broader question of where trans criminals should be imprisoned has become a talking point in the past few years (as well as its own area of policy focus).
However, under president Vladimir Putin, Russia has shown an increasingly intolerant attitude toward transgender and LGBTQ+ people in general, let alone accommodating the wishes of trans prisoners.
Putin has previously said that teaching gender fluidity to children is "on the verge of a crime against humanity." Chechen leader Ramzan Kadyrov, a long-time ally of Putin, has also attacked transgender people claiming he did not want his "children and the children of their children to grow up in an atmosphere of satanic ideas of gender disgrace and for the sake of the economies of other states."
Russian state media has recently made efforts to wade into the conversations around gender, often fanning the flames. In July 2022, BBC reporter Francis Scarr shared a video of Olga Skabeyeva, a host on state-run TV channel Russia 1 host, in which Skabeyeva claimed that Russia will have to "denazify" the "trans-fascists," in addition to waging war in Ukraine.
So, given that Griner has already served her pre-trial sentence in a women's prison, has not identified as trans and that the CNN "report" photos are fabricated, there appears to be no viable evidence to support the bogus claim.
Newsweek has contacted a representative for Brittney Griner's family and the Russian government for comment.
The Ruling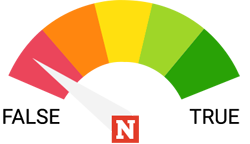 False.
Photos of a CNN broadcast reporting Brittney Griner's DNA was being tested are a fabrication. Griner has not previously identified as trans and has been housed in a women's prison pre-trial. There is no sign of the claim, which may be a misguided attempt to feed into wider conversations around trans prisoner rights, appearing or being acknowledged in any Russian news outlets or official statements by prosecutors.
FACT CHECK BY Newsweek's Fact Check team