Failed GOP Candidate's Immigrant Parents Liken Midterms to Syrian Elections
Failed Republican attorney general candidate Abe Hamadeh of Arizona is continuing to sow doubt in his state's elections.
Unofficial state results released Monday showed Hamadeh losing to Democrat Kris Mayes by 510 votes, sparking an automatic recount required to make the results official. On Election Day, the Republican tweeted a victory message.
Hamadeh, who like failed Republican gubernatorial candidate Kari Lake has repeated election conspiracy theories throughout the campaign, implied his defeat was due to faulty elections.
"My parents came here from Syria, they didn't expect Arizona elections to be so similar," he tweeted Monday.
His tweet was met with thousands of responses, including from Yassamin Ansari—the youngest woman ever elected to the Phoenix City Council.
"My parents came here from Iran," Ansari tweeted. "And they are damn grateful to live in the United States where elections aren't shams, and each and every vote is counted diligently and fairly.
"This is beyond offensive, Abe. Get over yourself."
Ansari told Newsweek that in her parents' home nation, "people are quite literally dying in their quest for democracy."
"Hundreds of women and children have been brutally murdered by the Islamic Republic, and tens of thousands imprisoned since pro-freedom uprisings began in September," she said. "Meanwhile, in Syria's authoritarian dictatorship, millions of Syrians have been forced to flee throughout the country's 11-year civil war and it's estimated that more than 300,000 civilians have been killed."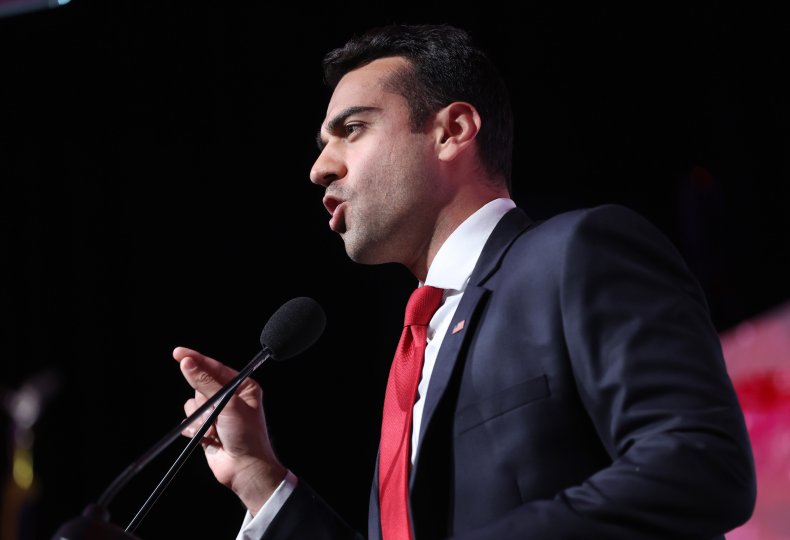 She said that even though Hamadeh "has consistently demonstrated a lack of maturity, intellect and substance" in his bid for attorney general, she is "still truly astounded and appalled" that he would go to such lengths to compare elections in the U.S. and Syria.
"It should offend all of us as Americans," she said. "And it's most definitely offensive to those still living in our parents' homelands who are dying trying to secure the privileges we have here.
"My parents are so proud to be Americans. As am I. And we take our responsibility to vote, engage in civilized political debate, and in my case, run and win elected office, very seriously. I hope that Abe eventually finds some dignity and self-awareness to respect the outcomes of our democratic processes."
Hamadeh's defeat means that all major Republican candidates in Arizona lost. Lake lost a close election to Democrat Katie Hobbs, who won with 50.3 percent of the vote.
Democrat Adrian Fontes is Arizona's new secretary of state, defeating 2020 election denier and January 6 rally attendee Republican Mark Finchem, 52.4 percent to 47.6 percent.
The ground lost by the Arizona GOP since 2016, when Donald Trump won the state and two GOP senators represented it, is causing some Republicans to turn on their own—namely on Kelli Ward, chairwoman of the Arizona Republican Party.
Karrin Taylor Robson, who lost to Lake in her bid for the state's Republican gubernatorial nomination, tweeted a statement last week saying the GOP is "in the weakest position in Arizona we've been in as a party in 50 years."
"On Ward's watch, the Arizona GOP has allowed our state to vote Democrat for President for the first time in a generation; has lost two United States Senate races, along with the Governor's office," Robson wrote in a statement.
"More concerned with stoking division and settling old scores, Kelli Ward has led our party into a deep morass with no real plan for the future," Robson added.
Mayes remains confident that once the dust settles and all the votes are counted, she will officially be Arizona's new attorney general.
"Every vote mattered—and this race is certainly a testament to that!" she said in a statement. "As we head into this recount with a 510 vote lead, we feel confident that the end result will be the same, and I am very much looking forward to being your Lawyer for the People."
Mayes never mentioned Hamadeh by name, though she did ask her supporters to "lead with hope and humility versus divisiveness and chaos."
It's similar to a sentiment expressed by Hobbs following her own victory, in which she said, "Sanity won, chaos lost."
The Donald Trump-backed Hamadeh ran on the issue he called "election protection," to "rebuild the confidence of our elections by prosecuting election fraud to the fullest extent of the law."
He previously was alleged to have committed voter fraud in his youth, voting at age 16 for Barack Obama.
Newsweek reached out to Hamadeh for comment.
Update 11/23/22, 11:06 a.m. ET: This story was updated with comment from Ansari and clarification she is not an immigrant.