'Fall Guys: Ultimate Knockout': Season 5 Theme Revealed
Fall Guys Season 5 will have a distinctly Indiana Jones flavor, with a new jungle setting, roaming wild animals, and classic adventurer outfits for your jellybean avatar to try on.
The new theme was unveiled in a Twitter post from developer Mediatonic, who published the official Season 5 artwork after the Fall Guys community managed to crack an online puzzle. In a nutshell, the teaser image was originally broken up into various PNG files, which players then downloaded and assembled to reveal a full picture.
This virtual jigsaw (or "Big Jigsawus" as it was known) was solved in a hasty one hour and 12 minutes, at which point Mediatonic posted the artwork on social media for everyone else to see.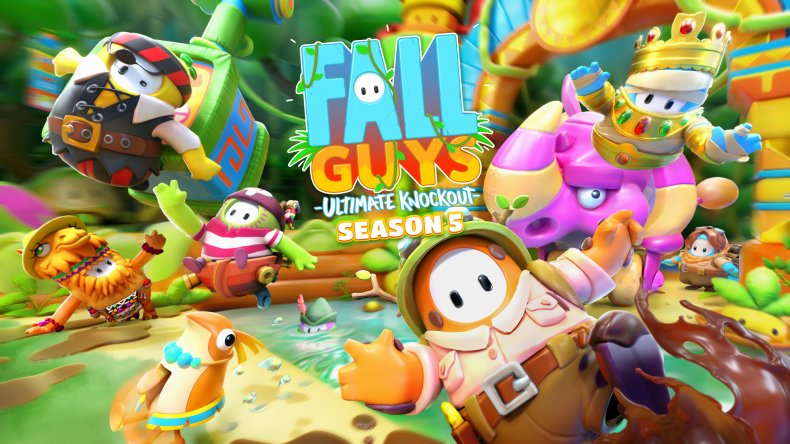 What Is the Theme of 'Fall Guys' Season 5?
Modeled after game shows like Wipeout and Takeshi's Castle, the debut season of Fall Guys took the world by storm when it was released back in 2020. The title was praised for putting a fresh twist on the increasingly crowded battle royale genre, by trading grizzled army veterans and desolate warzones for adorable cartoon characters and wacky obstacle courses.
In most match types, the goal was to successfully make it through a hazardous platforming gauntlet while competing against 59 other players, whose runs you could sabotage by trying to knock them out of bounds. The tournament would only end when a single champion was left remaining in the arena.
Since launch, Mediatonic has retained that core gameplay loop whilst getting a little more inventive with its environments. Season 2 had a fun medieval theme; Season 3 commenced in December 2020 and was appropriately wintery, and the ongoing fourth season is set in the distant future.
Judging by the newly revealed artwork, Season 5 will shake things up yet again with a jungle adventure theme. From the looks of things, gamers will be pitted against the flora and fauna of the rainforest, as the image depicts stampeding rhinos and muddy terrain that causes your jellybean to lose their footing.
The artwork also teases new costumes that you will be able to unlock, including a vintage explorer outfit with cargo shorts and a pith helmet. Elsewhere in the image, you can also see a pirate skin and a character that appears to be sporting some kind of Robin Hood bycoket.
Alongside the new costumes and obstacles, there will inevitably be additional courses for you to master, as there is with every new season. There is currently no word on when all this content will launch but Fall Guys Season 4 has been running for quite some time now (it began in March) so hopefully it will not be too long.
On a related note, we are still unsure when the Xbox and Nintendo Switch ports of Fall Guys will be released. These were originally slated for summer 2021 but have been delayed, meaning that the game is still only available for PlayStation and PC owners.