Falling Gas Prices May Be Short-Lived, AAA Warns
Wholesale gas prices are falling, but experts are warning Americans about getting too excited ahead of the summer driving season.
"Domestic gasoline demand dipped recently, which took some of the pressure off of pump prices. About 80% of stations are now selling regular for under $5 a gallon," AAA spokesperson Andrew Gross said in a Tuesday blog post.
He continued, "But July is typically the heaviest month for demand as more Americans hit the road, so this trend of easing prices could be short-lived."
Over the past week, the national average of gasoline fell to $4.80 a gallon, four cents less than a month ago, AAA added. In June, gas prices peaked at a $5 record high as increased demand outpaced already tight global supply.
On Tuesday, Bloomberg's Steven Dennis reported that prices were down nearly 30 cents—a figure that falls in line with what Neil Dutta, head of economics at research firm Renaissance Macro, projected to Axios last week.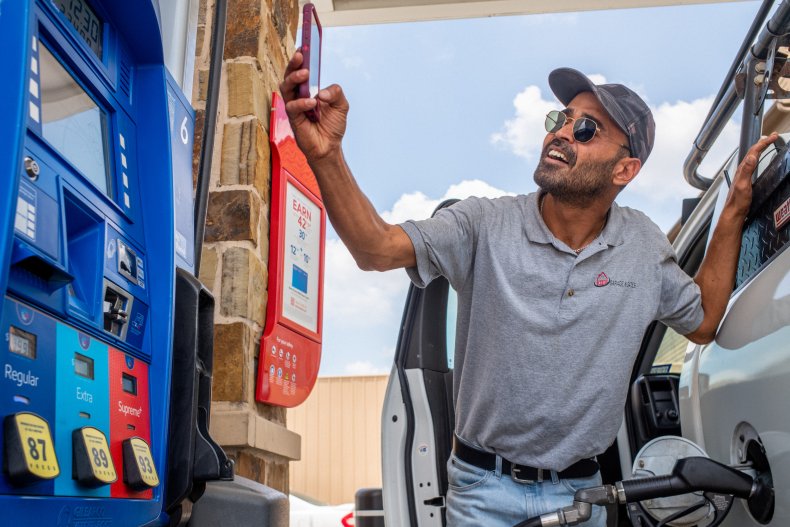 Texas and Delaware have seen the nation's largest weekly decreases in gas prices, with a decrease of 13 cents per gallon, according to AAA. Other states that have seen the greatest fall in fuel prices are Arizona, Illinois, Indiana, Ohio, South Carolina, Florida, Virginia and Maryland.
South Carolina's 11-cent decrease has the state leading the pack as the least expensive market in the nation. Gas is also less expensive in Georgia, Mississippi, Louisiana, Arkansas, Texas, Alabama, Tennessee, North Carolina and Oklahoma.
While most Americans are beginning to see some relief at the gas pumps, falling gas prices have also mounted fears that the decrease is being driven in part by a looming recession.
"Fear is not a good reason to move a market like the one for oil, but it is a powerful motivator," Gross said last week.
"People are still fueling up, despite these high prices," Gross noted in a June 6 post. "At some point, drivers may change their daily driving habits or lifestyle due to these high prices, but we are not there yet."
Patrick De Haan, head of petroleum analysis at GasBuddy, joined Gross in warning that it may still be too early to tell whether the recent drop in gas prices will be undercut during the summer months.
"There is still risk that prices could go up and reach new records, mainly if there is a hurricane or some other such unexpected event that shuts down oil or refining production. That's a worry amid what's turning out to be a pretty brisk summer for demand," De Haan told CBS' MoneyWatch last week.