Fan Discovers Real-Life Inspiration Behind Brad Pitt's 'Snatch' Character
Snatch is widely regarded as the movie that cemented director Guy Ritchie's status as one of the most exciting filmmakers of his era.
Lock, Stock and Two Smoking Barrels may have been the feature that the future Mr. Madonna made his name with, but it was Snatch that truly cemented his place among the Hollywood elite for decades to come.
Though the crime caper was noted for its impressive ensemble cast, which included then-rising stars like Jason Statham alongside more established names like Benicio Del Toro, it was the performance of a certain Brad Pitt that proved most memorable.
Pitt was unrecognizable yet in his element as Traveler and bare-knuckle boxing champion Mickey O'Neil. The undoubted highlights of Pitt's performance come during a series of memorable fight sequences that see his character, Mickey, make short work of opponents in the ring.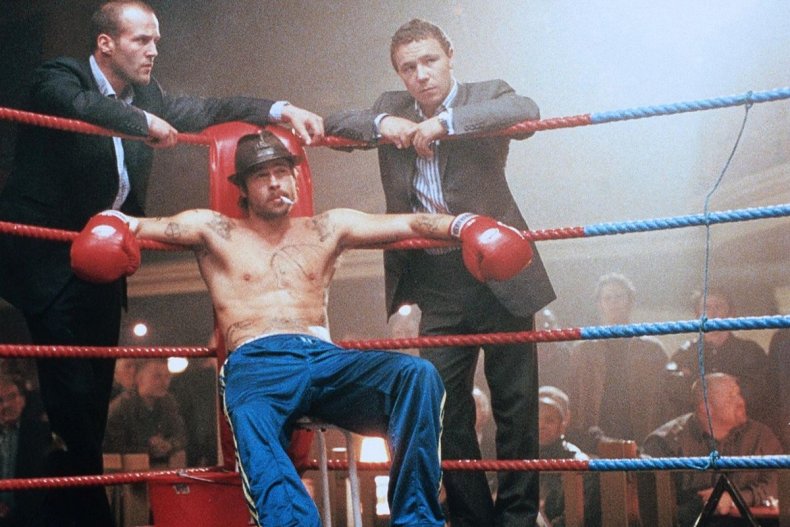 Now an eagle-eyed fan has shed light on the likely influence behind Pitt's character and fighting approach in those sequences: Lenny McLean, an infamous unlicensed boxer and bouncer who made his name in London in the 1970s and 1980s.
McLean was known more colloquially as "The Guv'nor" or "the hardest man in Britain" and, according to Vice, claimed to have had anywhere between 2,000 and 3,000 unlicensed fights.
Standing 6-feet-3-inches (191 cm) tall and weighing in at over 20 stone (280 lb; 130 kg) in his prime, McLean parlayed his fearsome reputation into an acting career that included a memorable turn in Ritchie's first movie, Lock, Stock and Two Smoking Barrels.
McLean's performance as Barry the Baptist in the film drew critical praise. Sadly, he passed away just a month before the movie was released in July 1998.
Despite this, one Reddit user has been able to highlight the influence McLean had on Ritchie's work during the famous fight scenes involving Pitt.
Writing in a post upvoted over 26,000 times, a user posting under the handle SilverPurse said: "I was watching an old Lenny McLean clip and realized that the 2000 movie Snatch has Brad Pitt perfectly recreated the first few seconds of the clip identically."
The fan noted how their actions are almost an exact match: "From the headbutt, to the touching of his nose, to his unfazed reaction, to the right haymaker that knocks out his opponent."
The discovery surprised many fans of the film on social media.
Swan009 said: "That's pretty cool, Pitt did a great job. He looks very small compared to the real Lenny." Despite this, Beerz77 felt the scene was a fitting "homage to the boxer."
"This is really cool," ScatPornCrothers said. "The only difference is McLean wasn't expecting his opponent to have a glass jaw so he took another swing. I feel like Lenny was upset that he only got to hit him once."
Nameisreallydog agreed: "This is an AWESOME movie detail and a great film."
"Nice catch," OhRiLee said. "I'd wager that Guy Richie watched the fight while researching for the movie or at some point. It's an exact match."
HoamerEss, meanwhile, was stunned by the new detail. "I have seen that old Lenny clip at least a dozen times, and have watched Snatch at least as many times, and never realized this scene was a tribute. Kudos to Guy Ritchie," he said.
Newsweek has contacted Lenny McLean's son, Jamie, for comment.