Fans Complain ESPN Is Focusing on Boston Coach Udoka While Ignoring Favre
ESPN reported Wednesday night that Boston Celtics coach Ime Udoka will be facing disciplinary action due to a relationship with a member of the franchise's staff. However, the channel has received criticism due to it allegedly giving more coverage to Udoka than Brett Favre's ongoing welfare scandal.
"So @espn y'all so quick to release the news on Boston head coach Udoka but where the Brett Favre story at ??? He stole millions from poor people," read one such complaint on Twitter.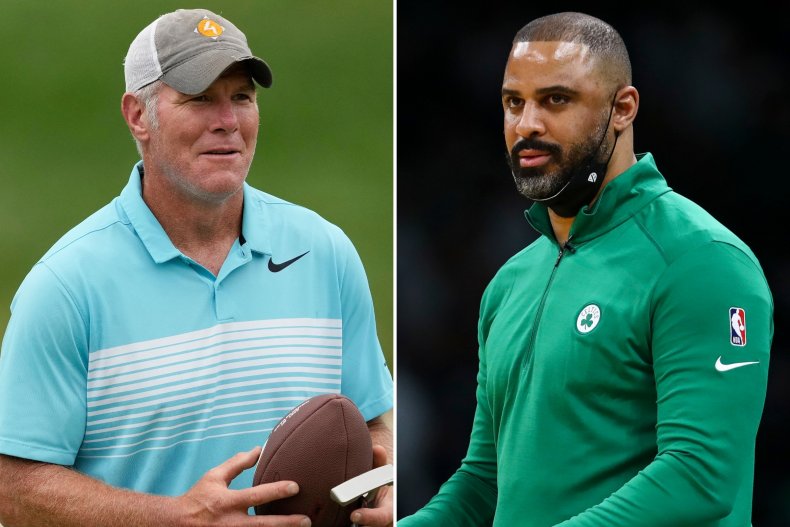 The State of Mississippi recently announced it is suing Favre, a Hall of Fame quarterback who enjoyed most of his success while a member of the Green Bay Packers. The suit alleges Favre—who has denied any wrongdoing—and others misspent millions of dollars that had been allocated for welfare.
Udoka might be hit with a "significant suspension" for violating Boston's organizational guidelines, according to ESPN. Other details have not been made public, but The Athletic described that the violation was due to "an improper intimate and consensual relationship with a female member of the team staff."
Since ESPN broke the news of Udoka, many social media users have complained about the lack of Favre coverage in favor of reporting on Udoka. Some people have suggested racism may be in play.
"@espn Are yall going to use this Ime Udoka situation as a way to NOT talk about Brett Favre and his 6 million dollars? Our black a**es are paying attention...." one person tweeted.
Another person wrote, "ESPN hasn't covered the Brett Favre welfare scam on its website except for one article by its wire service over a week ago. But I bet we'll get to hear Stephen A. Smith yell A LOT about Ime Udoka while they continue to not cover Favre."
Many Twitter users brought up past stories that received a lot of ESPN coverage and compared it to what they perceive to be a lack of attention to the Favre story.
"Things that ESPN covered for weeks that is less serious than Brett Favre: Jamies Winston ~ Ime Udoka~ Tiger Woods ~ miles Garrett ~ Michael Vick ~ Ezekiel Elliott ~ Kyrie Irving. By now you can see a pattern forming," one person tweeted.
Woods was brought up by several people critiquing ESPN on its handling of Favre.
"The way ESPN covered Tiger Woods cheating scandal you would've thought he committed treason but they awfully quiet about Brett Favre," said a Twitter user.
"ESPN gave each woman Tiger Woods cheated with more airtime than the story of Brett Favre stealing millions from the poorest state in our country," wrote another.
When contacted for comment by Newsweek, an ESPN spokesman declined to comment.