Fans Mock Amber Heard 'Scissors For Fingers' Claim After Guthrie Interview
Amber Heard gave her first post-trial interview on Friday and fans are mocking the actress for making a bizarre reference to the movie Edward Scissorhands.
The Aquaman star, 36, took part in a bombshell interview with Today's Savannah Guthrie to discuss her recent loss in the multi-million dollar defamation trial against her ex-husband Johnny Depp.
The primetime special interview saw Heard discuss several elements of the trial, which was heavily scrutinized on social media throughout.
Depp received a huge amount of support on social media during the trial and in the interview Heard discussed the social media element, as well as accusations that she was "acting" while delivering her testimony.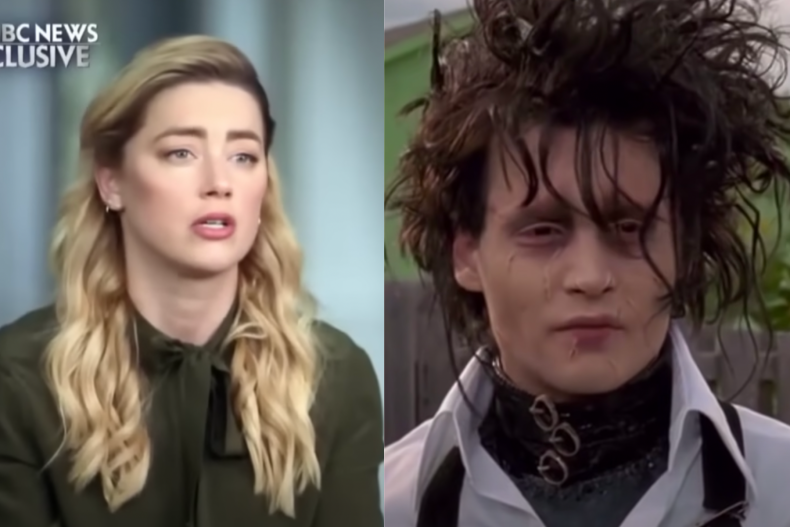 Attorney for Depp, Camille Vasquez, said in her closing statement that Heard was "acting" and described her testimony as the "performance of a lifetime."
Responding to this, Heard told Guthrie: "Says the lawyer for the man who convinced the world he had scissors for fingers? I'm the performer?
"I had listened to weeks of testimony insinuating or saying directly that I'm a terrible actress. So I'm a bit confused how I could be both."
Depp famously played the character Edward Scissorhands in the 1990 Tim Burton film of the same name.
9News Australia shared the clip to TikTok where several fans are commenting on the bizarre Edward Scissorhands reference.
"Next thing she'll say he's not actually a pirate," one fan joked, referencing Depp's role in Pirates of the Caribbean.
While another added: "So he doesn't own a chocolate factory," in reference to his role as Willy Wonka. "You're telling me the scissors for fingers isn't real," joked another.
Meanwhile, on Twitter, one fan tweeted the clip with 4.7 million views with the caption: "AHAHAHA WHAT THE ACTUAL F***."
While another added: "Amber Heard went on live TV in an attempt to do damage control and said, dead seriously, that Johnny's lawyers convinced the world he was Edward Scissorhands/had scissors for hands. Being SPEECHLESS is an understatement. She thought she did something there??"
The interview comes after Heard's high-profile court battle with Depp, who sued her for $50 million over a 2018 op-ed for The Washington Post, in which she said she was a domestic abuse survivor—a claim the jury found to be false and defamatory.
Following a six-week trial, the jury on June 1 awarded Depp $10 million in compensatory damages and $5 million in punitive damages.
Heard, who had countersued for $100 million, was awarded $2 million after it was found that Depp's former attorney, Adam Waldman, had made defamatory comments about her.
Despite such huge interest in the trial, Heard's Guthrie interview proved to be a ratings low for Dateline NBC.