Fans Point Out Halle Bailey Is Not Disney's First Black Mermaid
Since the trailer for Disney's live-action version of The Little Mermaid dropped September 9 at the D23 Expo, the movie has been causing a splash on social media—but for all the wrong reasons.
Although many fans were excited to see Disney's first live-action black princess on screen, the clip has reignited negative reactions, which have been called racist, against star Halle Bailey. In 2019, the decision to cast the then-18-year-old singer and actress as Ariel was slammed by a subset of fans. Now, negative commenters have again taken to social media to share their disapproval.
Despite the furor, Bailey's Ariel isn't the first time Disney has introduced a black mermaid, as one Reddit user pointed out.
Posting to r/s*****moviedetails on Wednesday, user u/PeterPorky shared a film still of Ariel alongside Gabriella, a black character from the Little Mermaid animated TV series, which CBS ran from 1992 to 1994.
"In the Little Mermaid...Ariel meets an African mermaid from the Ivory Coast. This is because mermaids are fictional and can be black," the user wrote alongside the image.
Many fans were surprised by this new piece of Mermaid history, with the post receiving over 100,000 upvotes.
#NotMyAriel Trends on Twitter
While Bailey has donned Ariel's iconic green tail, red hair and purple shell bra for the role, there have been complaints against Disney for not casting a white actress to match the 1989 animated film. The #NotMyAriel hashtag began trending on Twitter once the trailer went live, and within 48 hours the clip had received 1.5 million dislikes on YouTube. The video-sharing site disabled the dislike button, but those upset took to the comments section instead to share their fury.
The arguments for why a Black actress can't play Ariel have become increasingly bizarre. Even though she's a fictional character whose best friend is a talking fish, right-wing commentator Matt Walsh said a black Ariel isn't "scientific."
"With The Little Mermaid, can we just mention that, from a scientific perspective, it doesn't make a lot of sense to have someone with darker skin who lives deep in the ocean," he said on his podcast. Walsh has since said he was making a "joke."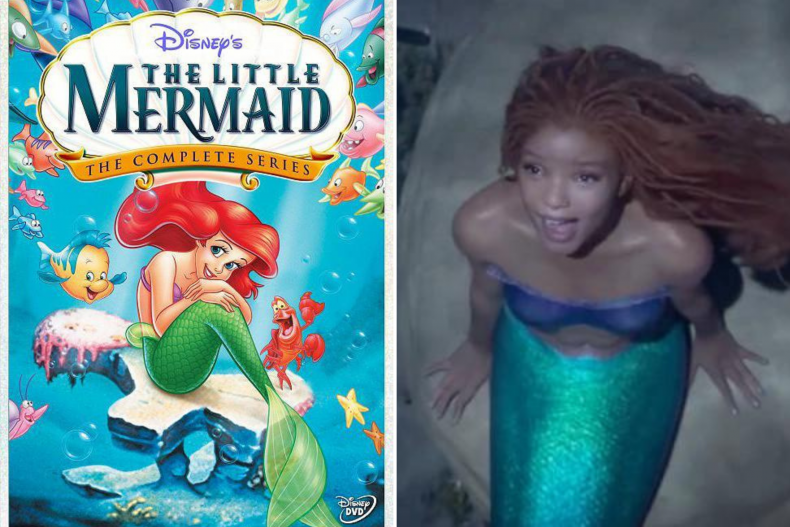 Director Rob Marshall was watching the 2019 Grammys on TV when he first saw Bailey. One-half of the R&B duo Halle x Chloe, she was singing "Where Is the Love" alongside her sister at the awards show.
Marshall was entranced by the young star's unique voice and asked her to audition for the film. She sang Ariel's signature tune, "A Part of That World," which left Marshall "in tears."
He told Variety: "You could tell right away that she was able to harness Ariel's passion, her fire, her soul, her joy and her heart."
Despite the negative reactions to the casting, it is having a positive impact. People of color have been sharing videos of their children's excited reactions to the new Ariel, and reactions posted online showed the importance of diverse representation.
In the Little Mermaid TV series, Gabriella was a Black mermaid who looked up to Ariel as a big sister. A great singer, Gabriella was deaf and communicated in sign language, and she was specifically created to improve representation.
Mermaids of All Colors
Reddit users seemed to agree it's absurd to argue over a fictional creature's race, with VaderSkywalker2007 writing that "they're all green."
"They can also be blue or purple," said IndraBlue.
Meanwhile, user Agreeable-Weather-89 wrote that mermaids are "delusions of sex deprived sailors who mistook manatees for women."
The Little Mermaid is coming to cinemas on May 26, 2023, and is expected to arrive on Disney+ shortly afterward.