How Much Screen Time Does Katherine Waterston Get In 'Fantastic Beasts 3'?
Katherine Waterston plays Porpentina "Tina" Goldstein in the Fantastic Beasts franchise, but you wouldn't really know it in the third film, The Secrets of Dumbledore.
The actor first appeared in 2016's Fantastic Beasts and Where To Find Them as Tina, a powerful witch who also became a love interest for lead Newt Scamander (Eddie Redmayne).
Tina then returned in 2018 flick The Crimes of Grindelwald, but she doesn't even appear in promotional material for The Secrets of Dumbledore.
Fans will no doubt be wondering how much screen time she actually gets in the third film, and Newsweek has all you need to know.
**Warning: This article contains spoilers for Fantastic Beasts: The Secrets of Dumbledore**
How Much Screen Time Does Katherine Waterston Get In 'Fantastic Beasts 3'?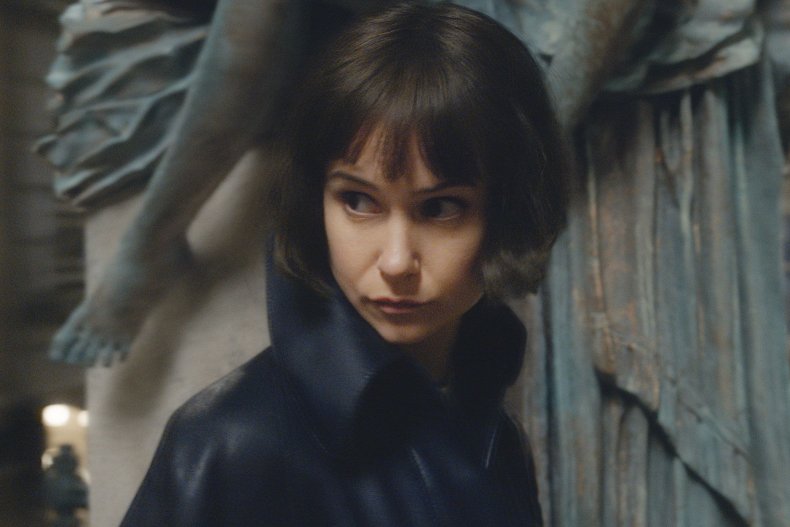 The short answer to this question is not a lot.
Waterston's screen time makes up barely a minute in Fantastic Beasts: The Secrets of Dumbledore—heck, she only gets one line of dialogue.
Tina's absence in the third film is explained by Newt early in the story when he meets with his brother Theseus (Callum Turner), Jacob Kawolski (Dan Fogler), Professor Eulalie "Lally" Hicks (Jessica Williams), French wizard Yusuf Kama (William Nadylam) and his assistant Bunty Broadacre (Victoria Yeates).
Jacob asks why Tina isn't joining them on their mission to find and stop Geralt Grindelwald (Mads Mikkelsen) on behalf of Professor Dumbledore (Jude Law), and Newt explains that she's simply too busy.
Tina has been promoted as the head of the Aurors in MACUSA (Magical Congress of the United States of America), and therefore she has too much on her plate to step in and help with Dumbledore's mission.
Despite this, Tina is still on Newt's mind as a picture of her is shown on the inside of his suitcase where he keeps all his magical creatures safe.
This image is pretty much the only time fans will see Tina until the very end of the film when she finally makes two very brief in-person appearances.
In a blink-and-you'll-miss-it scene, Tina is seen watching from MACUSA offices as Grindelwald is named the leader of the Magical World— a feat quickly undone by Newt and his crew when they prove he cheated to get the role.
Tina then finally sees Newt again in the closing moments of the film when both of them attend Jacob's wedding to Tina's sister Queenie (Alison Sudol).
It is outside Jacob's bakery, where the impromptu nuptials are taking place, that Tina finally speaks to Newt by saying hello and smiling before heading inside.
That is literally all there is to Waterston's appearance in the third Fantastic Beasts film, and the reason behind her lack of scenes has not been given.
Fantastic Beasts: The Secrets of Dumbledore comes to theaters on Friday, April 8 in the U.K. and on April 15 in the U.S.