Father of Deceased Veteran Says Trump Ran Away When it Was His Turn to Serve, Family Has 'No Idea How to be Honorable'
The Gold Star father of a U.S. Army captain killed in the Iraq War has doubled down on his attacks on President Donald Trump, saying he ran away when it was his turn to serve.
Khizr Khan's comments came as he rebuked comments made by Donald Trump Jr. in his new book, adding that the Trump family has "no idea what service and sacrifice is."
Khan joined a number of veterans who criticized the book after the president's son likened the financial sacrifice he claimed his family made when his father decided to run for office to the sacrifice made by U.S. service members killed in war.
Trump Jr. made the comments in his book following a visit to Arlington National Cemetery, where Khan's son Humayun Khan is buried. Khan was killed in 2004 defending fellow soldiers from a suicide car bomb.
In the book, Trump Jr. wrote: "As we drove past the rows of white grave markers, in the gravity of the moment, I had a deep sense of the importance of the presidency and a love of our country.
"In that moment, I also thought of all the attacks we'd already suffered as a family, and about all the sacrifices we'd have to make to help my father succeed—voluntarily giving up a huge chunk of our business and all international deals to avoid the appearance that we were 'profiting off of the office.'"
He later added: "Frankly, it was a big sacrifice, costing us millions and millions of dollars annually. Of course, we didn't get any credit whatsoever from the mainstream media, which now does not surprise me at all."
When asked by MSNBC's Kendis Gibson what he made of Trump Jr.'s comments on Sunday, Khan said: "I say only one thing, that it's all about business with Donald Trump and his family."
"They have no idea what service and sacrifice is. When his turn, meaning Donald Trump's turn, came to serve, he ran away. They have no idea how to be honorable."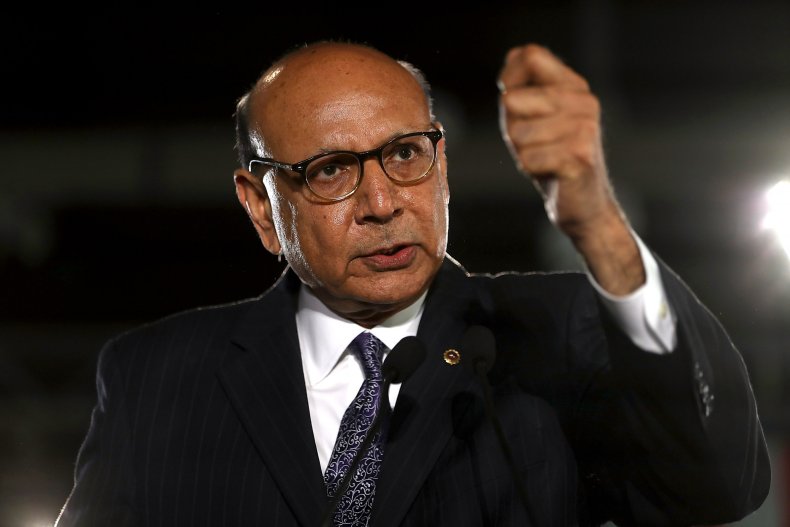 When pressed by Gibson to comment on how it feels to have his son's death and the death of others buried at Arlington compared to the loss of financial interests, Khan said: "It's disgusting!
"It's shameful, but we don't expect any better from Donald Trump or Donald Trump Jr. because they have sacrificed nothing.
"They have gained from all of this, holding the office, the highest office that they have corrupted and history is being written.
"And I say this to those who stand beside, stand as [an] enabler of Donald Trump, that history is being written," Khan continued. "You could be on the side of this demagogue in the White House or on the side of [the] Constitution."
Khan rose to prominence after a speech he made at the 2016 Democratic National Convention highlighting the service of Muslim Americans in which he was heavily critical of President Trump.
In 2018, despite sparring with the family during the presidential election, Trump named a post office in honor of Captain Humayun Khan.