Fauci Says U.S. Not 'Turning The Corner' in COVID Crisis as Trump Claimed at Debate
Dr. Anthony Fauci has again put himself at odds with President Donald Trump suggesting the commander-in-chief was incorrect to suggest the United States is "turning the corner" amid the COVID-19 pandemic.
Fauci, the director of the National Institute of Allergy and Infectious Diseases (NIAID), and the president have clashed on several occasions over the course of the pandemic with differing opinions on the situation as well as how to handle it.
Speaking in the final presidential debate this week, Trump said: "It will go away and as I say, we're rounding the turn, we're rounding the corner. It's going away."
Speaking to the BBC, Fauci had this quote put to him and was asked: "Is that so?"
He responded: "No, it's not. I mean I think if you just look at the numbers, you can have opinions about what's going on but the data speak for themselves.
"Yesterday we had over 70,000 cases additional cases in a day and we had about 100, oh I would say about a thousand deaths, excuse me, a thousand deaths. And if you look at the map of the United States there are areas that when it gets above a certain percentage, that is an indication, percentage of tests that are positive, that is an indication that you're actually going in the wrong direction."
In regards to how to respond to this, he said "there's no appetite whatsoever" for "shutting down in any strict way."
"But there are certain public health measures that you could implement that would go along way to turning around these increases that we're seeing," he said.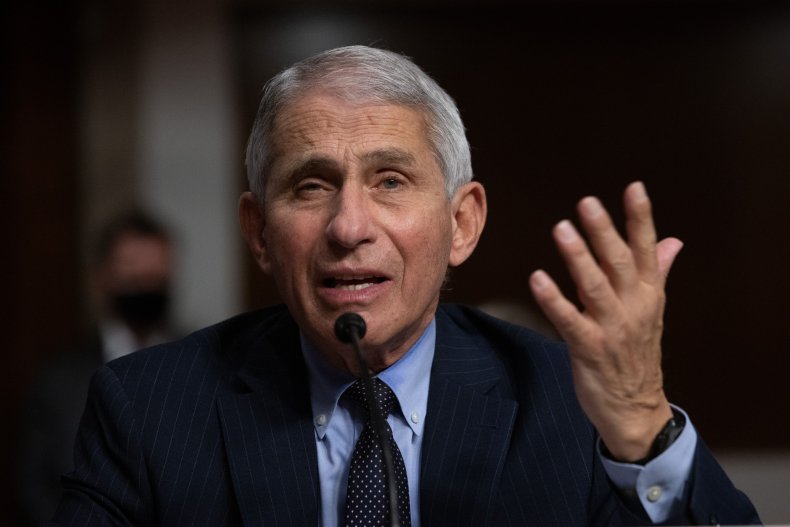 Newsweek has contacted the White House and the NIAID for comment.
According to figures collated by The New York Times there were around 78,000 confirmed cases in the U.S. on October 24 and 871 related deaths. The day prior, the U.S. recorded its highest ever daily toll of confirmed COVID-19 cases, with more than 83,000 reported Friday, according to Reuters.
Fauci and Trump have recently clashed on the issue of mask wearing, with the president continuing to mock their use.
He also suggested it was "totally nonsense" to consider withholding information amid a pandemic to stop the public panicking, despite Trump having proposed this as an explanation to having downplayed the severity of the crisis early on.
The president has also suggested people are tired of hearing about COVID-19 from experts such as Fauci.
According to Johns Hopkins University figures there have been more than 8.5 million confirmed cases of COVID-19 in the United States, the highest number of any nation worldwide.
The below graphic, from Statista, compares rolling averages of new cases between the U.S. and the European Union in seven days prior to October 22.