Fauci Praises New Slo-Mo Video Demonstrating Need for Masks as Trump Continues Mocking Them, Cases Soar
Anthony Fauci, the nation's top infectious disease expert, praised a new slow-motion YouTube video demonstrating the need for face masks, as President Donald Trump continued to mock mask wearing Friday—despite the U.S. recording its highest ever daily toll of new COVID-19 cases that same day.
The video, posted Thursday on The Slo Mo Guys, opens to host Gavin Free filming himself sneezing, coughing and counting to four both with and without a face mask.
Free filmed his video in 1,000 frames per second, approximately 40 times slower than how things appear in real time. He also backlit his face to better show the particles leaving his mouth in each take.
Free then spoke to Fauci about the difference in the takes with and without the use of face masks.
"I think what you've just shown is a graphically beautiful demonstration of the importance of wearing masks and face coverings," said Fauci. "As the film shows, you're saying the same thing—'one, two, three, four'—and very little is coming out from the mask."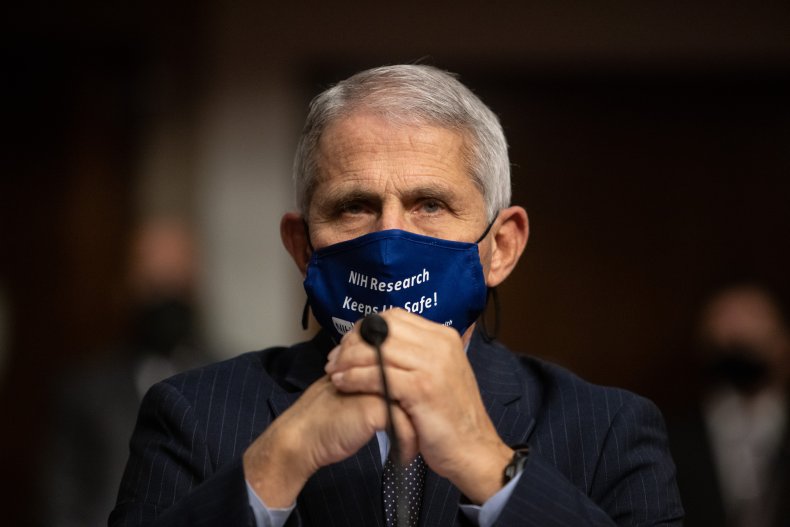 Fauci continues: "If you are speaking, you have these particles that come out and can stay in the air for a period of time. Some of them dropped to the ground, which is the reason why we say keep 6 feet of distance, but some of them are aerosolized and can hang around the air for a period of time. For that reason, it's so important to wear face coverings particularly when you think you're in a situation where nobody is sneezing or coughing. It doesn't matter. You prove that beautifully by just saying 'one, two, three, four.'"
In an interview with CNN's Erin Burnett on Friday, Fauci was asked if he thought Democratic presidential candidate Joe Biden's plan to push for a face mask mandate across the U.S. would be beneficial.
Fauci said that it would be a "great idea" to mandate face masks in the U.S. considering the latest surge in cases, although in the interview the public health expert stated that he has no affiliation to either the Democratic or Republican party.
"If everyone agrees that this is something that's important and they mandate and everybody pulls together and says, 'We're going to mandate it, let's just do it,' I think that would be a great idea to have everybody do it uniformly," said Fauci.
Although Fauci advocates for the use of masks, Trump continues to openly criticize them. On Friday, the president mocked Reuters White House correspondent Jeff Mason for wearing a face mask during an Oval Office conference call with Israeli Prime Minister Benjamin Netanyahu.
With COVID cases and deaths continuing to rise, polls show a majority of Americans disapprove of Trump's handling of the pandemic.
More than 8.5 million coronavirus cases have been confirmed in the US, according to data compiled by Johns Hopkins University. As of Saturday morning, the nation has seen more than 224,000 COVID deaths.