Fauci Says He Won't Quit or 'Walk Away From This Outbreak' After Trump Campaign Ad Complaint
White House coronavirus task force member Anthony Fauci said on Monday he will not quit his post, after his words were taken out of context in a Trump 2020 election campaign ad.
A Trump campaign video that aired Friday showed Fauci saying "I can't imagine that anybody could be doing more" in a way that made it appear as if he was commenting on the president's approach to the pandemic.
Responding to the video on Sunday, Fauci told CNN that his comments were attributed to him without his permission, and taken out of context from a broad statement he made "months ago about the efforts of federal public health officials." He said he had never endorsed a political candidate in almost five decades of public service. Fauci has been the director of the National Institute of Allergy and Infectious Diseases since 1984, and served under six presidents.
Asked by CNN's Jake Tapper on Monday what he would say if he knew the campaign was preparing to feature him in another ad, Fauci said "that would be terrible, I mean, that would be outrageous if they do that. In fact that might actually come back to backfire on them. I hope they don't do that because that would be kind of playing a game that we don't want to play."
Newsweek has contacted the White House for comment on whether it plans to feature Fauci again, and why it showed him in the initial clip.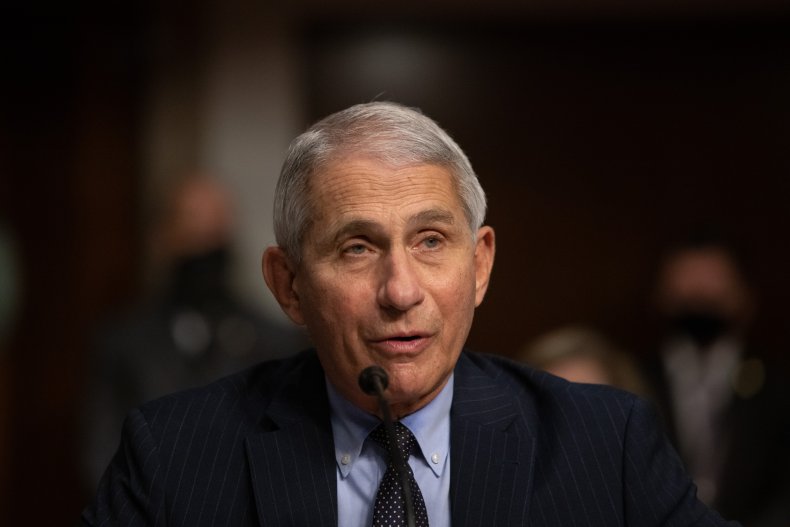 On Monday, The Daily Beast asked Fauci if he was threatening to quit by stating the move could "backfire." He said: "Not a chance."
Fauci told the outlet: "Not in my wildest freakin' dreams," adding: "did I ever think about quitting."
Asked what he meant by "backfire," Fauci told The Daily Beast: "By doing this against my will they are, in effect, harassing me."
He said: "Since campaign ads are about getting votes, their harassment of me might have the opposite effect of turning some voters off."
Fauci also made his position clear in an interview with CNBC on Monday. Asked by host Shepard Smith whether he would commit to continuing his work should the president be re-elected.
"Absolutely. I'm not going to walk away from this outbreak no matter who's the president," Fauci said.
The Trump campaign's use of Fauci's words appears to be an attempt to inject some of the top immunologist's credibility into the president's bid for re-election. A poll released on Sunday showed more voters trust Democratic presidential candidate Joe Biden to deal with the pandemic rather than Trump.
Last month, a Kaiser Family Foundation poll found 68 percent of Americans had a "fair amount" of trust in Fauci—who has become an unlikely celebrity since the start of the pandemic—compared with 40 percent in Trump.
In the past, the president has hit out at Fauci, stating in a tweet in August that he was "wrong" for suggesting the U.S. had seen a spike in cases because it did not shut down its economy as fully as other countries. The president has also called the top immunologist "a little bit of an alarmist," though added that they have a "very good relationship."
Biden has previously urged Americans to follow Fauci's advice over Trump's. And last week, Democratic vice presidential candidate Kamala Harris said during a debate with Vice President Mike Pence that she would take a vaccine approved under the Trump administration "if the public health professionals, if Dr. Fauci, if the doctors tell us we should take it, I'll be the first in line to take it, absolutely."
Steven Webster, an assistant professor of political science at Indiana University Bloomington told the Associated Press: "The fact that both candidates are grasping at Dr. Fauci is revealing."
He said: "It sort of serves as a microcosm of where we're at in American politics: Americans at either side of the political divide can look at the same thing and come away with vastly different interpretations of it."